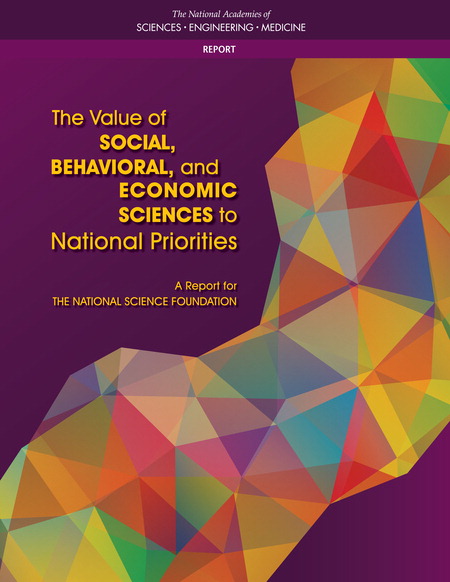 Report
Report Highlights
Press Release
Powerpoint Presentation
In response to a request from the National Science Foundation (NSF), the National Academies of Sciences, Engineering, and Medicine appointed an expert committee to help determine whether the federal government should fund research in the social, behavioral, and economic (SBE) sciences at NSF. Specifically, the committee was asked to examine whether SBE research furthers the mission of NSF and those of other federal agencies and advances business and industry.
In its report, the committee concludes that the social, behavioral, and economic sciences advance the missions of NSF and other federal agencies and serve well many of the most important needs of society. SBE research also can be applied to business and industry and has enhanced the U.S. economy.
The report also offers recommendations to better enable SBE research to meet the nation's priorities—for example, urging NSF to undertake a strategic planning process to articulate the most important scientific questions in SBE disciplines and to prepare the next generation of scientists to be more data intensive, interdisciplinary, and team oriented. NSF should also undertake more systematic efforts to communicate the results and value of the SBE research it supports.

Sponsor: National Science Foundation


---
Public Discussion Event

Wednesday, July 19, 2017

Members of the committee will present key findings followed by Q&A with the audience. A panel of experts will offer brief commentary and engage in a roundtable discussion with committee members about the report recommendations, followed by general audience discussion.

This event will be webcast live—the webcast will be available on this page on the day of the event.

Agenda

Archived Webcast


ALAN I. LESHNER (Chair),
American Association for the Advancement of Science (emeritus), Washington, DC

JOHN S. CARROLL,
Sloan School of Management, Massachusetts Institute of Technology

IVY ESTABROOKE,
Utah Science, Technology and Research Agency, Salt Lake City

RALPH GARRUTO,
Department of Biomedical Anthropology, State University of New York, Binghamton

KATHLEEN MULLAN HARRIS,
Department of Sociology, University of North Carolina at Chapel Hill

RON HASKINS,
Economic Studies and Center on Children and Families, The Brookings Institution, Washington, DC

EDWARD H. KAPLAN,
School of Management, Yale University

RONALD D. LEE,
Department of Economics, University of California, Berkeley

ROBERT MOFFITT,
Department of Economics, Johns Hopkins University

DUNCAN WATTS,
Microsoft Corporation, New York, NY

YANNIS C. YORTSOS,
Viterbi School of Engineering, University of Southern California




Melissa Welch-Ross,

Study Director
Holly Rhodes, Program Officer
Natalie Nielsen, Senior Program Officer
Dixie Gordon, Information Officer