BAST Impacts
The Board on Army Science and Technology is not currently active, but you can learn more about the board's impacts on this page. Download past BAST reports on the NAP website.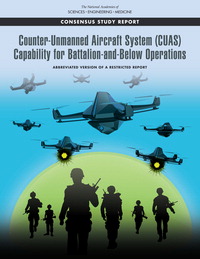 Counter-Unmanned Aircraft System (CUAS) Capability for Battalion-and-Below Operations
As widely reported in the media, the threat from small unmanned aircraft systems (sUASs, a.k.a. drones) is increasing worldwide. sUASs have been used for surveillance and reconnaissance (e.g., by Russia against Ukraine). They have delivered weapons (e.g., ISIS used them in Iraq to drop explosives). And they have been used domestically for smuggling (e.g., smuggling contraband over prison walls) and to interfere with U.S. airspace (e.g., an sUAS hovered above a landing jet in Las Vegas; another crashed into an Army helicopter in New York City).
At the request of the Assistant Secretary of the Army (Acquisitions, Logistics and Technology), the BAST conducted a study that examined the state of the art in sUASs, examined where the technology is heading over the next 8 years, and developed a high-level road map to guide counter-sUAS science and technology efforts. The study focused on the threat to, and approaches for protecting, dismounted infantry and lightly armored vehicles. The full, classified, report has been widely distributed in the Army and is changing the way the Army views and is responding to the sUAS threat, from shaping programs and their execution down to what is taught in soldier schoolhouses. The report has also been distributed within the Marine Corps, the Navy, the Air Force, various Department of Defense agencies, and the intelligence community, as well as to Congress, the Federal Aviation Administration, the Department of Homeland Security, and the White House's National Security Council. A public, abbreviated version of the report can be downloaded at nap.edu/catalog/24747.