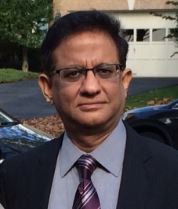 Striking Seasonality in the 20th-Century Warming over North America and Africa: Insights and Impacts
Sumant Nigam
[view bio]

August 1, 2017

The linear trend in 20th-century surface air temperature (SAT) – a key secular warming signal – exhibits striking seasonal variations over the North American and African Continent: SAT trends are pronounced in winter-spring but notably weak in summer-fall, except over northern Africa and southwest Asia where the timing is reversed. The striking seasonality warrants an explanation as the winter-summer difference in the greenhouse gas (GHG) concentration trends is relatively insignificant. The seasonality of North America trends is shown to result from the winter dormancy and summer vigor of the hydrologic cycle which leads to different disposition mechanisms for the radiative energy incident on the land-surface from increasing GHG concentrations.
Over northern Africa, SAT trends are largest in the warm season, leading to increased heat stress. Declining precipitation trends are found in the Gulf of Guinea rim countries, especially in the source region of Niger river, and in the Congo River basin. Rainfall over the African Great Lakes – one of the largest freshwater repositories – has, fortunately, increased. In contrast, the Sahara Desert has expanded significantly over the 20th century – by 12-20% depending on the season; southward in summer and northward in winter.
Finally, the SAT and precipitation trends in historical (20th century) simulations of climate by models whose projections inform the IPCC's fifth assessment (and the Paris climate accord) often show unrealistic strength and structure, including notably weaker seasonal variations, indicating the challenge in projecting regional hydroclimate change.