---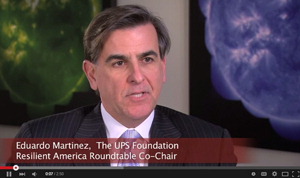 A message from our co-chairs
Eduardo Martinez, UPS Foundation
M. Granger Morgan, Carnegie Mellon University

Welcome to Resilient America, a new program of the National Academies of Sciences, Engineering, and Medicine.

Weather and other extreme events are becoming more destructive and costly in the United States and around the world. In the United States alone, floods, hurricanes, wildfires, windstorms, and other natural hazards collectively kill or injure thousands of people each year and cost communities and the United States government billions of dollars in damages.

The academic, public, and private sectors share a need to increase understanding of risk and extreme events; to better communicate, manage, and mitigate exposure associated with extreme events; and to develop strategies that build resilience to such events. Over the past few years, the National Academies have begun to address this need. In September 2011, the National Academy of Sciences convened A Summit for Managing Extreme Events to foster long-term collaboration among the public, private, and academic sectors to harness research, policy, and private sector expertise to better understand risk of and mitigate the impacts of extreme events.

In 2012, The National Research Council released a report, Disaster Resilience: A National Imperative, about critical issues and strategic steps the United States can take to reduce impacts on the nation's communities from natural and human-induced disasters. This report generated strong interest across the country for follow-on projects to test or implement the recommendations laid out in the report. To meet this demand, Resilient America was established in 2014 for an initial three-year period to help communities build resilience to extreme events.

The 2012 report articulated four pillars for building community resilience. These pillars provide the foundation for Resilient America's work:

Manage and communicate risk;

Measure resilience;

Share data and information within and between communities;

Build community partnerships and coalitions.
Through meetings, workshops and other activities, the Roundtable brings together experts from the public, private, nonprofit and academic sectors to advance discussions about resilience; incubate ideas and projects; and conduct education, outreach and community exchange that builds community and national resilience to disasters and extreme events. Roundtable activities are designed to help decision makers build approaches for (1) deciding how and where to invest resources to reduce their risk and build resilience and to (2) explain or defend those investment decisions. The Roundtable also partners with communities across the United States to support their efforts to build resilience.