What We Do
---
Workshop

Building Resilience in the Puget Sound Region

August 23, 2016
Seattle, WA

Through meetings with diverse stakeholders in our Seattle pilot community, transportation, climate adaptation, and equity were identified as key priorities for our resilience work in the Seattle/Puget Sound region. The ResilientAmerica program partnered with the Puget Sound Regional Council and the City of Seattle to host a workshop that brought together diverse stakeholders from multiple jurisdictions in the Central Puget Sound region and cities and counties in other states to share lessons learned and explore solutions for building resilience.

The workshop had four objectives:
Explore the key issues, big questions, and potential impacts of climate change, new technologies, and equity in the Puget Sound region.

Learn about the current state of practice for integrating climate adaptation and equity into transportation/land use planning to build more resilient transportation/land use systems

Identify actions communities could take to incorporate climate adaptation and equity into their transportation/land use plans

Identify challenges faced when trying to incorporate wider climate variability, new technologies, and equity into transportation/land use planning.
Welcome and Introductions
Lauren Alexander Augustine

, Director of the

Resilient

America

a Roundtable talked about the National Academies and its role in the community resilience space, focusing on the community pilot work of the

Resilient

America

program. She highlighted a few things we have learned in the past two years:
Local government is a critical partner in building community resilience.

There is a lot of enthusiasm and momentum right now for resilience.

Communities are less interested in talking about natural disasters and more interested in talking about other issues such as social equity and economic

resilience.

People are motivated to do something, but sometimes they need a catalyst to bring different people together and facilitate the conversation.

The process of building community resilience may be more important than the outcomes or the product.

Because there is a lot going on in communities to build resilience, synthesizing, integrating, and connecting are important elements of Resilient America's work in communities.

Sharing knowledge, data, and information is crucial.
She also talked about some of the
key themes for building resilience:
Connect: How do we connect short-term actions with long-term change and impacts?

Measure: How can we effectively measure resilience? How can measures the illuminate return on investment for building community resilience?

Communicate: How do we effectively communicate risk and resilience in ways that people can understand and take action?
Climate Change in the Puget Sound Region

Lara Whitely Binder
, Senior Strategist, Climate Impacts Group, College of the Environment, University of Washington, talked about what climate change means for communities, specifically focusing on current and future climate impacts in the Puget Sound region based on the report, Climate Change in Puget Sound. She summarized her presentation with a few key points:

Climate matters

: Expectations about climate are embedded in our economy, infrastructure, culture, and management of natural systems.

Significant changes in Northwest climate are expected

: These changes are a result of rising greenhouse gas emissions.

Climate change will affect many important systems in the Puget Sound region

: Includes water resources, forests, species and ecosystems, oceans and coasts, infrastructure, agriculture, and human health.

Preparing can reduce climate risks, but mitigation is required

: We have the knowledge and tools to begin adapting to climate impacts.
Binder suggested two additional reports to look at:
Climate Change in the Northwest
and
Climate Change Impacts and Adaptation in Washington State
.


Panel 1: Setting the Stage - The Puget Sound Region

Moderated by
Steve Moddemeyer
, Principal, CollinsWoerman


The first panel explored key issues and challenges of resilience in the Puget Sound, specifically in relation to how climate change adaptation and new technologies may influence transportation planning, land use, and equity.

Carol Lee Roalkvam, Policy Branch Manager in Washington State Department of Transportation's (WSDOT) Environmental Services Office, talked about WSDOT's resilience work conducting statewide climate vulnerability assessments and working with Skagit County and the city of Mt. Vernon on a flood study. Roalkvam ended with some tips for building a climate-ready transportation system:
Understand the climate forecast

Assess the risks

Integrate into planning and design

Look for co-benefits

Partner with others
Mark Hallenbeck
, Director of the Washington State Transportation Center, University of Washington, discussed the intersection of technology, land use, and transportation. He talked about the pros and cons of automated vehicles, the impact technology is having on our lives from a transportation perspective, and how our travel behavior changes in different land settings.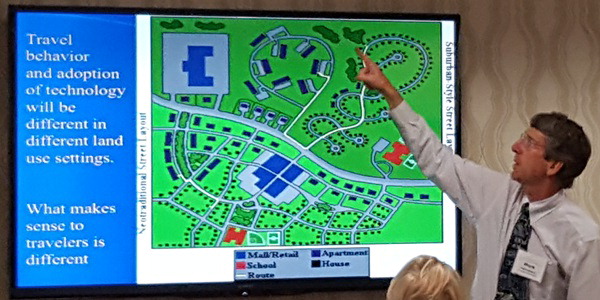 Mark Hallenbeck discusses travel behavior.
Basing her presentation on the report,
Our People, Our Planet, Our Power
,
Ubax Gardheere
, Program Director, Puget Sound Sage, talked about how transportation contributes to climate change, how it is impacted by climate change, and how transit-oriented development (TOD) will lead to climate resiliency. One of Puget Sound Sage's strategies is bringing "equitable" to TOD (ETOD) by emphasizing affordability, access and community control of development, and is planning to pilot an ETOD project.
Panel 2: Current State of Practice – How are other regions integrating climate change, new technologies, and/or equity into their transportation/land use planning?
Moderator:
Steve Moddemeyer
, Principal, CollinsWoerman

The second panel highlighted how other regions in the country are addressing uncertainties from climate change and are incorporating climate adaptation into their resilience planning.

Claire Bonham Carter, Director of Sustainable Development, AECOM, discussed two projects about resilient planning. Stronger Housing, Safer Communities: Strategies for Seismic & Flood Risks looked at what made San Francisco Bay Area housing and communities more vulnerable to earthquakes and sea level rise related to flooding, and what strategies could reduce those vulnerabilities. Silicon Valley 2.0 project was a regional effort to minimize climate change impacts within the boundary of Santa Clara County, California that identified climate adaptation solutions and strategies for individual agencies, cities, and/or regional partnerships.



Hilary Papendick

, Chief Resiliency Specialist, San Mateo County, talked about San Mateo County's sea level rise initiative. This initiative is working across 20 cities to understand what is at risk across multiple sectors now and in the future; build partnerships; and inform communities about sea level rise and how they can get involved.



Rhys Roth

, Director, Center for Sustainable Infrastructure, discussed the importance of investing in sustainable infrastructure that is resilient and affordability, while at the same time providing co-benefits to the community such as social equity, public health, and economic development. For more information about the future of sustainable infrastructure and guiding principles for innovation, read Roth's publication, Infrastructure Crisis, Sustainable Solutions: Rethinking Our Infrastructure Investment Strategies.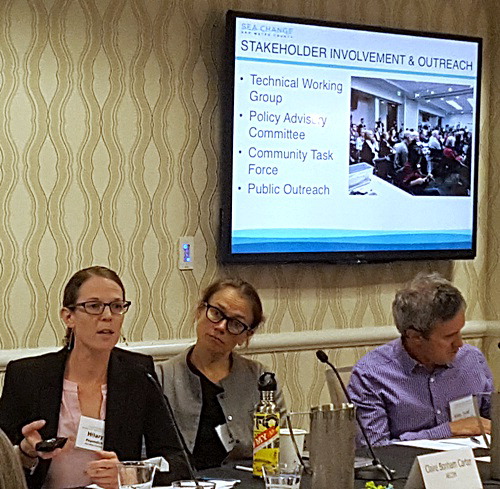 Hilary Papendick (left) talks about the importance of stakeholder involvement and public outreach to effectively address sea level rise.
Breakout Session

Moderators:
Nicole Faghin
, Coastal Management Specialist, Washington Sea Grant and
Aleka Seville
, Director of Community Adaptation, Four Twenty Seven

In the afternoon, attendees from local jurisdictions gathered into groups to discuss what climate impacts they are most concerned about and why, and what actions are needed to address or mitigate these impacts. These groups identified potential actions to address climate change.

Potential actions to address climate impacts at the regional level:
Prioritize funding to address adaptation issues

equitable access to transportation

resilience in planning

planning strategies for greenhouse gas reduction

transportation oriented development

adaptation and mitigation efforts
Potential actions to address climate impacts at the local level:
Prioritize/increase active transportation systems (e.g., walking, biking)

Develop financing and capital improvement programs that encourage adaptation measures

Design more green infrastructure

Conduct climate vulnerability assessments

Identify ways to educate elected officials about how to take action

Aleka Seville and Hilary Papendick (standing) moderate the discussion about how to address climate impacts at the local level.

Nicole Faghni (left) moderates the discussion about how to address climate impacts at the local level.
This website contains unedited papers by individuals and is not an official report of the National Academies of Sciences, Engineering, and Medicine. Opinions and statements included in this material are solely those of the individual authors. They have not been verified as accurate, nor do they necessarily represent the views of the National Academies of Sciences, Engineering, and Medicine.