Day 1, September 21, 2015
8:00 – 8:15 a.m. Welcome, introductions, purpose of the Summit: Rodney Adkins, (Chair) Former Senior Vice President for Strategy, IBM Corporation.

8:20 – 8:40 a.m. Welcome from the sponsor: Dr. France Cordova, Director, National Science Foundation

8:45 – 9:15 a.m. The Link Between STEM Education and Workforce Productivity: Dr. Rush Holt, CEO, American Association for the Advancement of Science.

9:15 – 9:45 a.m. "Revisiting the STEM Workforce." An overview of the new report of the National Science Board. Dr. Kelvin Droegemeier, NSB Vice Chair and Chair of its Science & Engineering Indicators Committee

9:45 – 10:30 a.m. "America's Skills Challenge: Millennials and the Future." Dr. Irwin Kirsch, Director of the Center for Global Assessment, Educational Testing Service

10:45 – 11:30 a.m. Panel 1. The Student Voice and Recent Graduate Voice: "What Works--And What Doesn't Work--In Terms of Workforce Preparation?"
--Tom Rudin, Director, Board on Higher Education & Workforce National Academies (Moderator)
--Abby Estabillo, Electrical Engineering Student at the University of Maryland, College Park.
--Kenneth Gibbs, Cancer Research Fellow, National Cancer Institute
--Camila Ballesteros, IT Cybersecurity Student, Montgomery College, MD

11:30 – 12:30 p.m. Panel 2. Key Challenges Facing U.S. Employers in High Demand Fields
--Greg Camilli, Professor of Educational Psychology, Graduate School of Education, Rutgers University (Moderator)
--Melvin Greer, Chief Senior Fellow and Chief Strategist at Lockheed Martin Information Systems and Global Solutions
--Jennifer McNelly, President, Manufacturing Institute
--Olivia Khalili, Director, Yahoo for Good, Yahoo, Inc.
--Ted Childs, Jr., Founder, Ted Childs, LLC.

12:30 – 1:30 p.m. Lunch. Keynote Speaker: Freeman Hrabowski, President, UMBC. "What do we mean by 'STEM-Capable' students and workers?"

1:30 – 2:30 p.m. Panel 3. Successful Strategies for Aligning Higher Education Programs, Curricula and Lab Experiences with Workforce Needs.
--Dan Atkins, Professor Emeritus of Information, School of Information and Professor Emeritus of Electrical Engineering and Computer Science, College of Engineering, University of Michigan (Moderator)
--William Rudman, Executive Director of the American Health Information Management Association, and Representative from National Network
--Sanjay Rai, Senior Vice President of Academic Affairs, Montgomery College, Maryland
--Christine Ortiz, Dean For Graduate Education, MIT

2:45 – 4:00 p.m. Panel 4. Alternative Pathways and Alternative Providers—Helping the New "Traditional Student" Prepare for Success in the STEM Workforce.
--Mary Alice McCarthy, Senior Policy Analyst, New America Foundation (Moderator)
--Liz Simon, Vice President, Legal & External Affairs, General Assembly
--Adam Enbar, President, The Flatiron School
--Ruan Pethiyagoda, Chief Strategy Officer, Hack Reactor
--Maureen Grasso, Dean of the Graduate School, NC State University

4:00 – 5:00 p.m. Panel 5. Focusing on K-12 STEM Education and Workforce Readiness: How do We Lay the Groundwork Early for Success in STEM Careers?
--Russell Rumberger, Professor of Education in the Gevirtz Graduate School of Education, UC-Santa Barbara (Moderator)
--June Atkinson, Superintendent of Public Instruction, North Carolina
--Gary Hoachlander, President, Connect Ed: The California Center for College and Career
--Jeff Livingston, Former SVP for Education Policy and Strategic Alliances, McGraw-Hill Education Group

5:00 – 5:30 p.m. Brief overview of the of six high priority themes for federal agency support and investment by the session moderators—to lay the groundwork for day two's breakout group discussions

Group 1. New/Innovative Pathways: Mary Alice McCarthy and Kim Green
Group 2. Professional Skills or Employability Skills: Becca Dernberger
Group 3. STEM Career Awareness: DeRionne Pollard and Russ Rumberger
Group 4. STEM University Faculty Development: Debra Stewart
Group 5. Broadening Diversity: Holly Zanville and Shelley Westman
Group 6. Emerging Priority Content Areas: Dan Atkins and Greg Camilli

5:30 p.m. Adjourn Day 1

5:30-6:30 Reception


Day 2, September 22, 2015
8:30 -- 9:45 a.m. Concurrent Breakout Groups: To discuss, dissect and prioritize topics.

10:00 – 11:15 a.m. Round 2 of Concurrent New Breakout Groups (Same Topics & Rooms)

11:30—12:30 p.m. Report out from each breakout group on the topics, priorities, and strategies that surfaced during the discussions, as well as the key remaining questions that merit additional research/consideration

12:30 – 1:15 p.m. Lunch

1:15 – 3:00 p.m. Full group discussion of priority topics, considerations for federal investment, and identification of remaining questions that merit further research and analysis.

3:00 Meeting adjourns.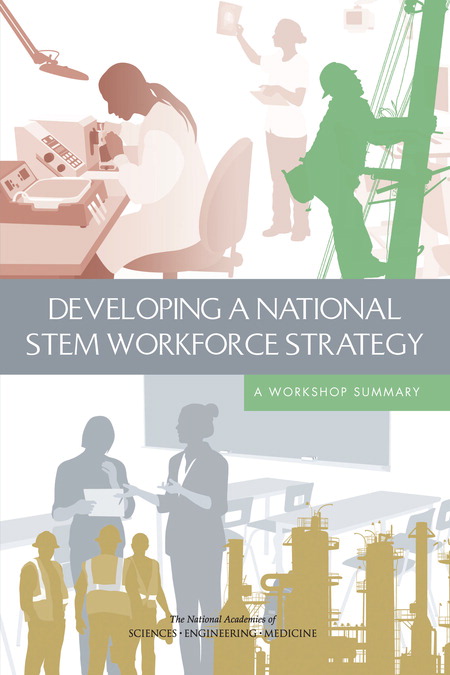 The future competitiveness of the United States in an increasingly interconnected global economy depends on the nation fostering a workforce with strong capabilities and skills in science, technology, engineering, and mathematics (STEM). STEM knowledge and skills enable both individual opportunity and national competitiveness, and the nation needs to develop ways of ensuring access to high-quality education and training experiences for all students at all levels and for all workers at all career stages.

The National Science Foundation (NSF) holds a primary responsibility for overseeing the federal government's efforts to foster the creation of a STEM-capable workforce. As part of its efforts in this endeavor, NSF's Directorate on Education and Human Resources asked the National Academies of Sciences, Engineering, and Medicine to convene a workshop that would contribute to NSF's preparation of a theoretical and evidence-based STEM Workforce Development R&D Core Framework. Participants discussed research themes, identified gaps and emerging research opportunities, and recommended refinements in the goals of the framework. This report summarizes the presentations and discussions from the workshop. View the report.





Chair:

Rodney C. Adkins, Senior VP of Strategic Partnerships, IBM (Retired)
Members:
Dan Atkins, Professor of Information and Professor of EECS, University of Michigan
Gregory Camilli, Professor, Department of Educational Psychology in the Graduate School of Education, Rutgers University
Kim Green, Executive Director, National Association of State Directors of Career and Technical Education consortium (NASDCTEc)
Russell Rumberger, Professor of Education in the Gevirtz Graduate School of Education, UC-Santa Barbara
Mary Alice McCarthy, Senior Policy Analyst, New America Foundation
DeRionne Pollard, President, Montgomery College, Maryland
Debra Stewart, Former President, Council of Graduate Schools
Holly Zanville, Strategy Director, The Lumina Foundation for Education