REPORT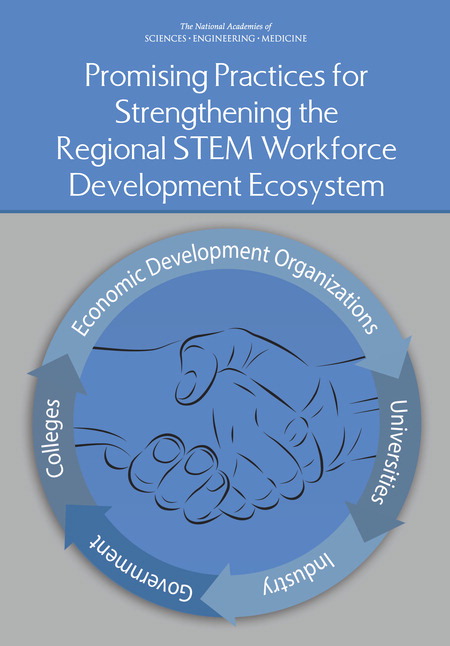 The breadth and the depth of student experiences in STEM courses, labs, and applied learning activities ensures they move into their careers with the skills and competencies necessary to be successful workers and learners prepared to meet a region's STEM workforce needs. The most effective way to attain this outcome is by encouraging colleges and universities to work in collaboration with local business, industry and non-profit employers—with governments and third-party intermediaries also playing key active roles. These are the major messages of this study, Promising Practices for Strengthening the Regional STEM Workforce Development Ecosystem, co-chaired by former Ohio Governor Richard Celeste and current University of Virginia President Teresa Sullivan.

Five regional workshops across the nation—Phoenix, AZ; Cleveland, OH; Montgomery, AL; Los Angeles, CA; and Fargo, ND—formed the committee's basis for collecting and analyzing evidence of promising practices. In each location, the committee convened leaders and employers from the business community; administrators, faculty, and students from 2-year and 4-year colleges and universities; regional economic development experts; chambers of commerce; state and county policy makers; government officials; and philanthropic foundations. Three overarching findings emerged:

• Significant numbers of university students are graduating with STEM degrees, but many lack the right combination of technical and employability skills needed to thrive in the workplace. This situation is particularly acute with minority students and female students, who remain significantly underrepresented in the STEM workforce.

• Employers are increasingly focused on the skills and abilities new hires possess, rather than the specific field in which an individual has obtained a degree or credential. While there is a critical need for STEM graduates who will work as professional, research, and development scientists and engineers (so-called STEM narrow skills), there is a growing need for individuals who apply STEM knowledge and skills in technologically sophisticated occupations that require a facility with STEM concepts, but not necessarily a bachelor's degree (so-called STEM broad skills). There is also a growing need for students with a breadth of skills outside of their core STEM discipline, including skills that are perhaps best developed through an education that includes STEM courses, as well as humanities courses and experiences in the arts. These skills include problem solving, critical thinking, teamwork and collaboration, communication, and creativity.

• A robust and effective STEM workforce development ecosystem requires proactive steps on behalf of university leaders, local employers, and intermediary organizations to build and sustain alliances that benefit students and regional economic development.

The report recommends concrete steps that various stakeholders can take to initiate and expand university-employer partnerships. For example:
• College and University Presidents should designate a high-level administrator or faculty member to serve as the initial point of contact with local businesses, and give this individual the power and authority to enter into formal relationships with them (and, where appropriate, with third-party intermediaries).

• College and University Provosts and Deans should encourage the creation of one or more STEM advisory boards on campus—housed in various academic departments and coordinated by the individual with responsibility for serving as the point of contact for business—for the purpose of regularly and deliberately engaging the local employer community in discussions about current and prospective workforce needs, collaboration, engagement, and mutual support.

• Faculty should recognize that the workplace is often characterized by challenging multilayered problems that require teamwork and collaboration and good interpersonal relationships to identify possible solutions—and provide classroom and work-based experiences to all students that enable them to develop these problem-solving, critical thinking, and teamwork skills.

• Employers should prioritize the development of as many work-based learning opportunities as possible for students and faculty—including paid internships, apprenticeships, and other experiences that provide hands-on, experiential learning at the worksite. They should also encourage their employees to serve as mentors to local college and university students— especially to underrepresented minority students and female students who may not have exposure to many role models pursuing this career pathway.

• Governors should work with universities, employers and third-party intermediaries to organize and facilitate a rigorous data analysis effort to understand the current and future workforce needs in the state and across its regions. Further, governors should pursue strategies to incentivize partnerships, collaboration, internships, and other activities that bring students and faculty into regular and sustained contact with local employers.

• Third-Party Intermediaries (e.g., chambers of commerce, workforce investment boards, economic development organizations, and industry consortia) should facilitate the creation of effective workforce development partnerships among local employers and universities by bridging some of the cultural and communication barriers that can present obstacles to partnerships, helping employers and universities understand a region's competitive advantages by addressing data needs, and bringing promising partnership activities to scale.

Many more concrete steps for all stakeholder groups are laid out in detail in the report.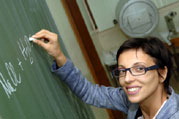 An ad hoc committee will explore the effectiveness of selected higher education institutions in educating STEM-trained workers in response to regional workforce needs and identify effective practices in achieving this goal. In this context, effectiveness will be judged, in part, on the number of STEM graduates and the extent to which these individuals graduate from educational programs with degrees that address local STEM workforce needs. The committee will conduct a series of regional meetings, commission work to analyze data on STEM degree production, convene a concluding workshop, and produce a report that compiles insights from all these sources to address the following questions:

1. What data and measurements are available to assess the effectiveness of higher education institutions in educating STEM-trained workers in response to regional labor market needs, and what do such measurements say about differences in effectiveness across regions?

2. To what extent can regional profiles be created that link STEM educational resources and postsecondary degree pathways with workforce needs, including retraining of professionals in order to meet current, in-demand needs in STEM fields? Is there sufficient resolution in the data to specify regional STEM degree needs by discipline or degree level?

3. What practices and policies are educational institutions adopting to respond to local industry STEM workforce needs, both individually and as part of regional coalitions, and which effective practices and policies are replicable and scalable? What barriers, if any, exist that inhibit educational institutions from meeting regional STEM workforce needs?

4. What further actions are needed to assist higher education institutions, industry, and state or federal policymakers in fostering improved linkages between higher education resources and STEM workforce needs at the regional level?

While the main focus of the study will be on four-year STEM degrees, the role of community colleges and graduate institutions in meeting regional STEM workforce needs and transitions between institutions will also be examined.
Committee Meeting
September 23-24, 2014
Washington, DC

Regional Meeting
January 22-23, 2015
Phoenix, Arizona

Regional Meeting
April 1, 2015
Cleveland, Ohio

Regional Meeting
May 11, 2015
Montgomery, Alabama

Regional Meeting
May 27, 2016
Los Angeles, California

Regional Meeting
June 30, 2015
Fargo, North Dakota

Committee Meeting
September 30 - October 1, 2015
Washington, DC
CO-CHAIRS

Richard Celeste
President Emeritus, Colorado College
Former Governor, State of Ohio

Teresa A. Sullivan
President
University of Virginia


MEMBERS

Rita Colwell
Distinguished University Professor
Center for Bioinformatics & Computational
Biology, University of Maryland College Park and Bloomberg School of Public Health
Johns Hopkins University

Brian Fitzgerald
CEO
Business-Higher Education Forum

Elsa Garmire
Sydney E. Junkins Professor of Engineering
Thayer School of Engineering
Dartmouth College

William Kirwan
Chancellor
University System of Maryland

Susan Lavrakas
Director, Workforce
Aerospace Industries Association

Nicole Smith
Research Professor and Senior Economist
Georgetown University Center on Education and the Workforce

Mary Wright
Program Director, Building Economic Opportunity
Jobs for the Future