WHAT'S NEW





USNC/MI Members to Present and Hold Discussion Group at ICME-14


Congratulations to USNC/MI vice chair Soloman Friedberg and member Chris Rasmussen, whose abstracts have been accepted for ICME-14 in Shanghai, China. Solomon Friedberg will be presenting "Developing and supporting exemplary mathematics educators in high need schools," while Chris Rasmussen will be presenting as a co-author on "Course coordinators as change agents for active learning in university precalculus to calculus 2."

Dr. Friedberg will also be hosting a discussion group entitled "Roles for Mathematicians in Mathematics Education" along with Patricio Felmer (Universidad de Chile), Carlos Kenig (University of Chicago), JongHae Keum (Korea Institute for Advanced Study), and Jürg Kramer (Humboldt-Universität zu Berlin).

More information about these presentations will be posted as it becomes available.

ICMI Awards Announced in November 2019 Newsletter
The International Commission on Mathematical Instruction has announced the recipients of its esteemed 2019 and 2020 awards. The USNC/MI congratulates Professor Emeritus Tommy Dreyfus (2019 Felix Klein Medal), Professor Gert Schubring (2019 Hans Freduenthal Medal), and the National Council of Teachers of Mathematics (2020 Emma Castelnouvo Medal). The awardees were announced in the November 2019 edition of the ICMI newsletter, which can be viewed in PDF format here: https://www.mathunion.org/fileadmin/ICMI/ICMINewsletter/ICMI%20Newsletter_November%201.2019.pdf

USNC/MI Fall Meeting
The fall meeting of the U.S. National Committee for Math Instruction was held on Saturday, December 7, 2019 Washington, D.C. Below, members of the committee pose with BISO Senior Program Officer Ana Ferreras and Administrative Assistant James Manning in the Great Hall of the NAS Building.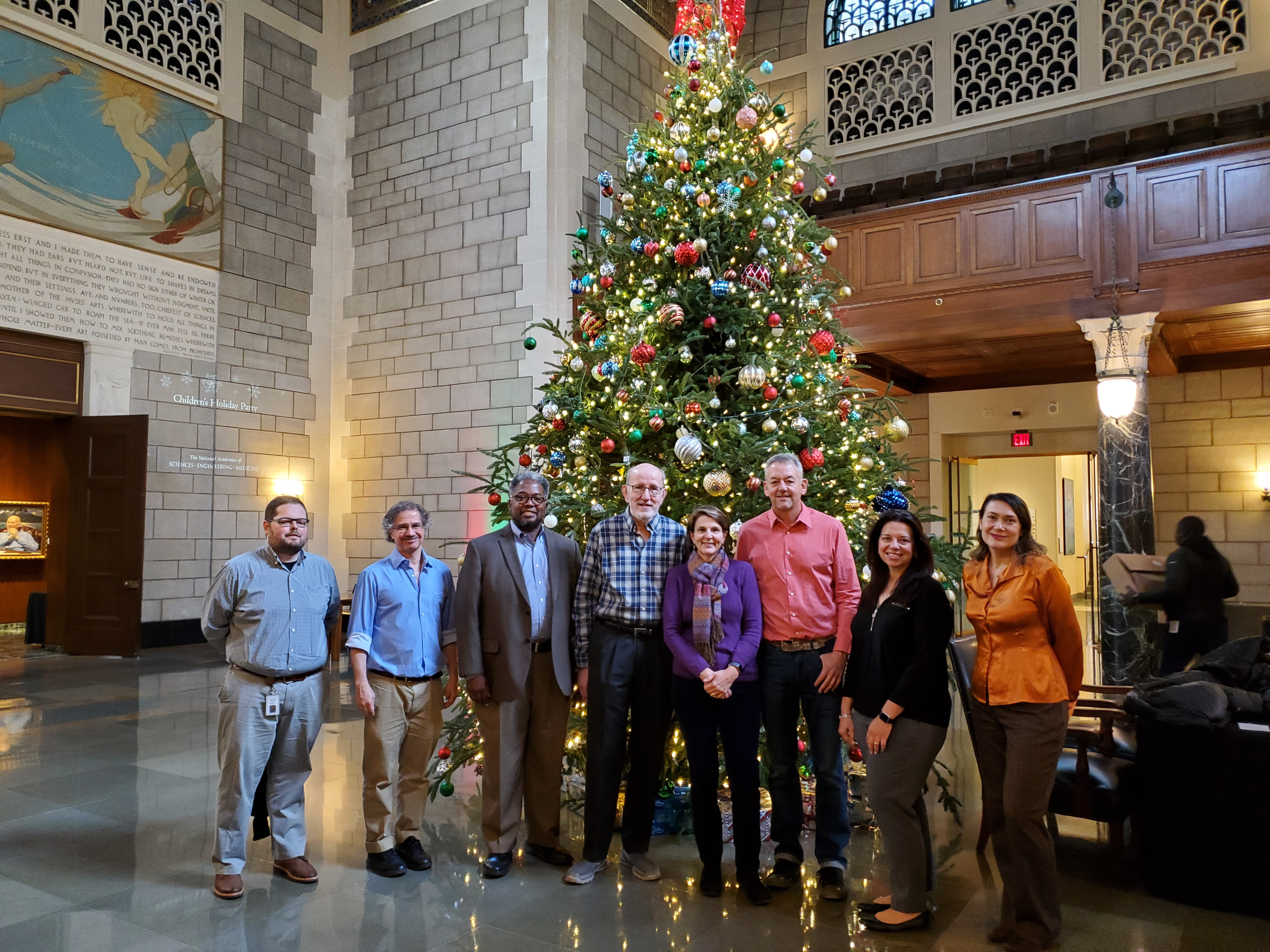 ICMI Study 25


The International Commission on Mathematical Instruction is pleased to announce the next ICMI Study Conference. The ICMI Study 25 Conference on Teachers of Mathematics Working and Learning in Collaborative Groups will be held in Lisbon, Portugal, February 3--7, 2020. For information on the ICMI Study series, visit https://www.mathunion.org/icmi/activities/icmi-studies.


The idea of mathematics teachers working and learning through collaboration is gaining increasing attention in educational research and practice, particularly since the report on Lesson Study in Japan from the TIMSS classroom video study. Across education systems and at all educational levels, mathematics teachers work and learn through various forms of collaboration, which might contribute to their learning and development in different ways. Efforts to understand what teachers do as they work in collaborative groups, and how this leads to improvement in their practice and expertise, has led to increasing interest in examining the different activities, processes, and contexts for teacher collaboration around the world. The work completed by the ICME-13 Survey Team on this theme is evidence of the considerable international interest in research on teachers working and learning through collaboration. However, the ICME-13 Survey also identified several gaps and limitations, not only in the existing research base but also in the Survey's coverage of relevant topics within the theme, which highlights the need for the proposed ICMI Study.


The Study's theme implies a focus on teachers as they work within teams, communities, schools and other educational institutions, teacher education classes, professional development courses, local or national networks – that is, in any formal or informal groupings. Teachers' collaborative work might also include those who support their learning and development, such as trainers or coaches, mentors, or university academics. Collaboration can extend over different periods of time, and take place in face-to-face settings or at a distance. The role of online platforms and technology-enabled social networks is an additional focus in supporting "virtual" collaboration.


Because there are different ways of understanding teacher collaboration and its characteristics, enablers, and consequences, the Study would include multiple theoretical, methodological, and contextual perspectives. It will be particularly important to solicit contributions from teachers as well as researchers, so that teachers' voices are given equal prominence in accounts of their learning. Likewise, the Study will acknowledge that learning is mutual, that is, that those who work collaboratively with teachers to develop their practice are also learning from these interactions.

Some of the areas and questions that the Study would investigate are:


- Conceptualising and enacting collaboration
- Supporting and researching teachers' work and learning through collaboration
- Goals of collaboration
- Resources for teacher collaboration
- Cultural and political contexts for teacher collaboration
- Cross cutting issues in studying and supporting teacher collaboration


The International Program Committee appointed by the ICMI Executive Committee is constituted by the following researchers and mathematics educators with experience in this theme:

Hilda Borko (Co-Chair, Stanford University, USA)
Despina Potari (Co-Chair, Athens State University, Greece)
Joao Pedro da Ponte (University of Lisboa, Portugal)
Shelley Dole (University of the Sunshine Coast, Australia)
Cristina Esteley (National University of Cordoba, Argentina)
Rongjin Huang (Middle Tennessee State University, USA)
Ronnie Karsenty (Weizmann Institute of Science, Israel)
Takeshi Miyakawa (Joetsu University, Japan)
Ornella Robutti (University of Turin, Italy)
Luc Trouche (Ecole Normale Supérieure de Lyon, France)
Ex Officio members: Jill Adler (ICMI President), Abraham Arcavi (ICMI Secretary General).

For more information on ICMI Study 25, please visit

https://easychair.org/cfp/ICMI25ICME-13 Publications Now Available on Open Access


The ICME-13 program has resulted in 38 books, ten of which are now open access. Math education practitioners and researchers are encouraged to make use of these materials at

https://www.springer.com/series/15585

.

USNC/MI Hosts Two Sessions at NCTM 2019

The 2019 NCTM Annual Meeting and Exposition was held in San Diego, California, from April 3--6. The USNC/MI hosted two sessions at the NCTM:
"Connecting Math Educators from Across the Globe: Resources, Lessons, and Future Work"
Speakers: Maria Hernandez (Lead Speaker), Gail Burrill, and Soloman Friedberg
Description: The International Seminar on Math Education has been a venue where teachers from many countries learn how math teaching is affected by factors such as culture, language, and policies. We will share resources and activities and lessons learned, and brainstorm ideas for moving forward with the work of connecting math educators from around the globe.

"Looking Ahead: ICME-14 Shanghai"
Speaker: John Staley, speaking for Jim Roznowski
Description: The 14th International Congress on Mathematical Education (ICME-14) will be held in Shanghai from July 12--19, 2020. Although it is fourteen months away, this session will provide an overview of what congress attendees may experience and what you as an educator can gain by attending.



2019 National Math Festival Held in Washington, DC


The National Math Festival, sponsored by the National Science Foundation and the American Mathematical Society, was held in D.C. on May 4, 2019. The festival featured a number of national and regional professional societies, math circles, and math education vendors. For more information, click here to download the flyer.



USNC/MI Member Receives Honorary Doctorate


The U.S. National Committee for Math Instruction congratulates Padhu Seshaiyer on his honorary doctorate for scientific excellence from Vrije Universiteit Brussel. Dr. Seshaiyer, a member of the USNC/MI, is one of multiple recipients honored this year for being "committed scientists who transcend the boundaries of their own disciplines." Lists of past awardees can be found here.

Conference on ICMI Study 24
"School Mathematics Curriculum Reforms: Challenges and Changes," is the 24th ICMI Study and was launched in February 2017. The study was co-chaired by Renuka Vithal (South Africa) and Yoshinori Shimizu (Japan), and American mathematics education expert Al Cuoco (Education Development Center) also participated. During 2018, the papers submitted were reviewed and invitations to the conference were issued. The Study Conference was held from November 25--30, 2018, in Tsukuba, Japan. For more information on ICMI Study 24, please visit the study conference website.

Math Education Webinar Series from the USNC/MI
The USNC/MI is proud to announce that it will be organizing a series of webinars on math education. The first webinar, hosted by the American Mathematical Association for Two-Year Colleges (AMATYC) focused on issues in language and learning mathematics. The webinar, which took place on Thursday, August 30, 2018, was attended by a total of 63 participants. A YouTube recording of the event, PowerPoint slide PDFs, and handout PDFs are all available on the AMATYC webinar page, located here.

Featured presenters were Dr. Judit Moschkovich (University of California, Santa Cruz) and Dr. Richard Barwell (University of Ottawa). Using research in mathematics education, second language acquisition, and sociolinguistics, the presenters used examples to explore common myths about mathematics and language. The complete webinar, uploaded by AMATYC, is available on YouTube.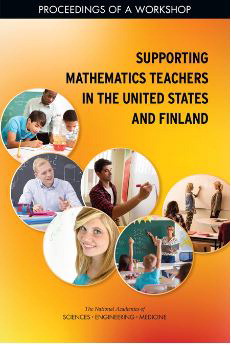 Proceedings of the Workshop on Supporting Mathematics Teachers in the United States and Finland: Now Available!
Workshop on Supporting Mathematics Teachers and Teaching in the United States and Finland, a bilateral meeting of U.S. and Finnish mathematics educators, was held July 31--August 2 at the University of Helsinki in Helsinki, Finland. Approximately 15 American professionals and 15 Finnish professionals attended in person, while several online participants engaged remotely via the webcast.

The workshop proceedings are now available for download (PDF) or purchase (hard copy) on the National Academies Press website.

CLICK HERE to visit the U.S.--Finland Workshop subpage and view session videos, download presentations, and more.