What's New
IIASA Now Accepting YSSP 2020 Applications

Are you a PhD student interested in one of IIASA's research programs? Applications for the next Young Scientists Summer Program (YSSP) cohort are now being accepted through
January 11, 2020
. Selected applicants will spend the summer at the Institute, and
this video from 2019 YSSP cohort member Paul Ruess
is a great preview of what to expect.
Visit the
YSSP webpage
to apply!


Regional Conference for the Americas
In fall 2019, IIASA launched a series of regional conferences. The regional conference for the Americas was held on September 5-6, 2019 in Rio de Janiero, Brazil. Co-hosted by IIASA, CAPES, the US National Academy of Sciences, and the Getulio Vargas Foundation, the conference identified challenges shared by countries in the region and explored how the multilateral application of systems analysis can be used to address those challenges. Individuals representing IIASA's three member countries in the Americas—the United States, Brazil, and Mexico—were featured. See
http://www.iiasa.ac.at/web/home/about/regional/americas/americas.html
.
Connections with NASEM's Sustainability Program
The U.S. NMO Committee encourages connections between IIASA and other parts of the National Academies of Sciences, Engineering and Medicine (NASEM). This is particularly true for the Science and Technology for Sustainability (STS) Roundtable, directed by Franklin Carrero-Martinez. Nebojsa (Naki) Nakicenovic, former Deputy Director of IIASA, now serves a member of the Roundtable, and a September 2019 organized by IIASA and STS is being planned.
Outreach to the U.S. Research and Policy Community
In early 2018, the U.S. NMO Committee, the Friends of IIASA, and IIASA itself decided to concentrate on outreach to the U.S. scientific community through professional society meetings. The Committee sought to spread awareness of IIASA's research and models, and promote opportunities for U.S. scientists and policymakers to work with IIASA. Two meetings quickly were identified as primary foci: the American Geophysical Union (AGU) meeting on December 10-14, 2018, and the American Association for the Advancement of Science (AAAS) meeting on February 14-17, 2019. Information on IIASA-related sessions at both these meetings can be found on the Activities page.
Cooperation with Friends of IIASA (FOI)
The U.S.-based Friends of IIASA (FOI) provides a place where U.S. donors can make tax-deductible contributions to IIASA programs. With considerable overlap in the membership of FOI and the U.S. NMO Committee, and the two groups work very closely with each other. Current FOI priorities include
the
Women in Science Fund
to support IIASA women in science
,
the
Peter E. de Jánosi Postdoctoral Fellowship Program
,
the
Howard Raiffa Fellows Program in Decision Science
, and the
YSSP Fund
. The FOI plans to issue a challenge to U.S. YSSP and IIASA alumni to support one to three YSSP participants in 2020. FOI Board Members have agreed to match contributions. The FoI-funded YSSP Fellowships will be in honor of YSSP Founder, former IIASA Director General, and U.S. NMO Committee member Roger Levien. This will in addition to funding currently provided by NSF for U.S. YSSP participants.
The U.S. National Committee Welcomes New IIASA Director General
The U.S. National Committee held a welcome reception in honor of Albert van Jaarsveld, the new IIASA Director General, on the evening of December 13, 2018. Three former IIASA Director Generals attended as well, and Marcia McNutt gave welcoming remarks. Attendees included local IIASA alumni and former U.S. YSSPers.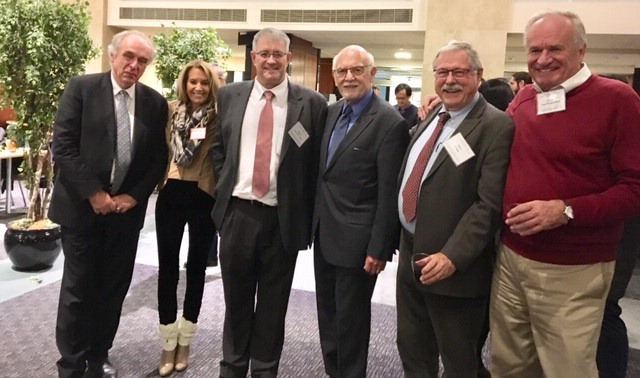 Four IIASA Director Generals and NAS Representatives, NAS Welcome Reception for Albert van Jaarsveld
NAS Keck Building, Washington, DC, December 14, 2019
From left to right: Pavel Kabat, Marcia McNutt (NAS President), Albert van Jaarsveld, Roger Levien, Michael Clegg (NAS, and IIASA Council Chair), Detlof von Winterveldt
IIASA Developing New Strategic and Science Plans
IIASA is currently developing its next ten-year strategic plan. IIASA will share the draft strategic plan with its National Member Organizations in early fall 2019. Feedback will be incorporated into a revised plan that will be considered by the IIASA Council in November 2019. Upon completion of the Strategic Plan, IIASA will turn to the drafting of a 5-year Science Plan. The U.S. NMO Committee will review and comment on this document as well.
IIASA External Review and Report Implementation
An external review of IIASA was conducted in 2017-2018, and the External Review report was accepted by the IIASA Council in June 2017. By December 2017, the IIASA Council had formed an External Review Implementation Task Force. Former U.S. NMO Chair Simon Levin (Princeton University) served on the Task Force. Throughout 2018, the Implementation Task Force was in regular contact with NMO members, including the United States. Two draft implementation plans were shared, and the U.S. NMO committee reviewed and commented on both. Its comments on the second draft can be found
here
. Most of the recommendations made by the U.S. National Committee have been adopted.
IIASA's Young Scientist Summer Program (YSSP)
Each summer, IIASA hosts about 50 advanced graduate students from around the world in its Young Scientists Summer Program (YSSP). The YSSP program allows promising young U.S. researchers to further their research, develop new skills, and establish or broaden their international networks. Twelve students at U.S. universities were selected by IIASA program directors for the 2019 YSSP session. The 2019 U.S. YSSPers are:
Helene Benveniste, Princeton University: Population (POP) and Energy (ENE)
Regina Buono, University of Texas: Risk and Resilience (RISK)
Felicia Chiang, University of California, Irvine: Water (WAT)
Nicholas Choquette-Levy, Princeton University: Advanced Systems Analysis (ASA), Population (POP), and Risk (RISK)
Brent Eldridge, Johns Hopkins University: Advanced Systems Analysis (ASA)
Daniel Johnson, U.S. citizen studying abroad: Ecosystems Services and Management (ESM)
Christopher Krapu, Duke University: Advanced Systems Analysis (ASA)
Alexandra Nutkiewicz, Stanford University: Energy (ENE)
Paul Ruess, University of Illinois: Water (WAT)
Jun Shepard, Duke University: Energy (ENE)
Gabriel Smith, Stanford University: Ecosystems Services and Management (ESM)
Kathie Bailey and Mike Clegg met with the U.S. YSSPers during the June 2019 IIASA Council meeting.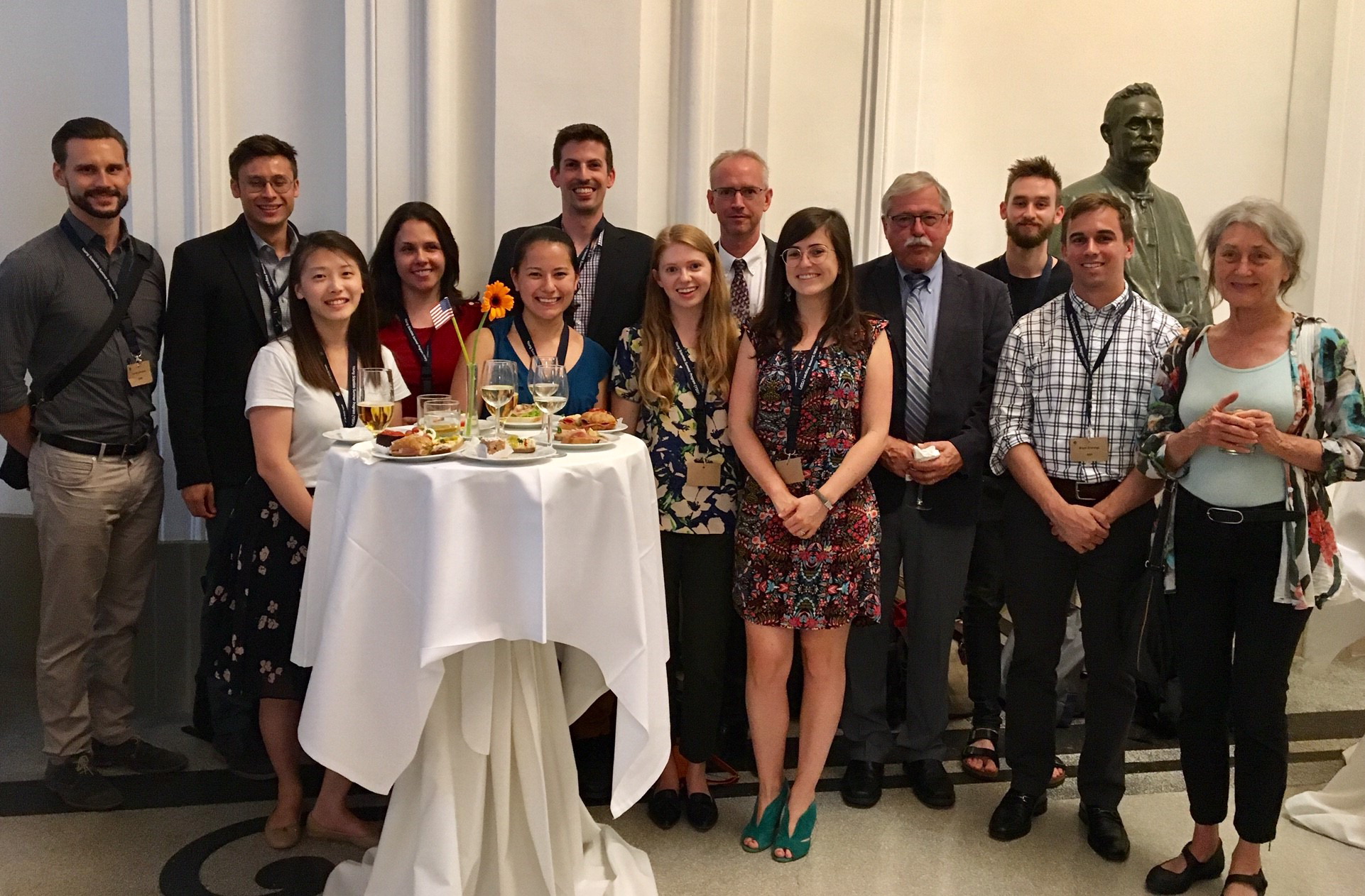 2019 U.S. YSSPers on June 17, 2019
with Brian Fath (University of Maryland, College Park, and IIASA), Michael Clegg (NAS), and Joanne Linnerooth-Bayer (IIASA)
2018 YSSPer Awarded Peccei Prize
Each year, IIASA awards the Peccei Prize for an exceptional paper from the previous year's YSSP cohort. The prize provides funds for the recipient to return to IIASA for an additional three months to continue his/her research. Matthew Cooper (University of Maryland), one of the 2018 U.S. YSSPers, was awarded the Peccei Prize for his study: "Which children are most vulnerable to climate change? Mapping the effects of meteorological extremes on child stunting." See
http://www.iiasa.ac.at/web/home/about/news/190211-YSSP-awards.html
.
IIASA's Posdoctoral Fellowship Program
IIASA also offers a Postdoctoral Fellowship Program. This is an ongoing program that provides funding for several postdoctoral researchers for a 12-24 month period. Annual application deadlines are
April 1
and
October 1
. Further information can be found on IIASA's website. Successful candidates are expected to conduct their own research within one of IIASA's research programs or special projects on topics related to IIASA's agenda.
U.S.-IIASA Fact Sheet
Interested in learning more about the research collaborations between the United States and IIASA? IIASA participates in more activities related to the U.S. than with any of its other member countries. To learn more about these collaborations and connections, please consult the
U.S.-IIASA Fact Sheet (PDF)
.