The U.S. National Committee for the International Union for Quaternary Research (USNC/INQUA) represents the interests of the U.S. Quaternary community in INQUA, advances Quaternary research both in the United States and abroad, and formally represents the United States in INQUA through the National Academy of Sciences (NAS), the U.S. adhering body to INQUA.

The USNC/INQUA plans and arranges for U.S. participation in INQUA congresses and programs. The INQUA congresses are held every four years and provide the only forum in which the multidisciplinary, international Quaternary research community can collaborate and exchange ideas. The committee normally holds one meeting each year.

This committee has organized a series of biennial "Teaching Climate Change" teaching workshops in collaboration with On The Cutting Edge and AMQUA. This committee is also active in the organization of scientific sessions at professional society meetings with the other U.S. National Committees for Geosciences, and is very interested in supporting the development of early career Quaternary scientists through mentoring activities linked to its travel fellowship programs, and through stand-alone mentoring activities at the AMQUA meetings.


WHAT'S NEW

USNC/INQUA Session at the 2017 GSA Annual Meeting
An oral topical session, "A Call to Arms: Applying Quaternary Science in the 21st Century," was led by USNC/INQUA Chair Rolfe D. Mandel (University of Kansas) and USNC/INQUA member Julio Betancourt (USGS). This session addressed how profound environmental, technological, and societal trends and their interactions pose formidable consequences, requiring a repurposing and retooling of applied Quaternary science.

This session was sponsored by the U.S. National Committee-International Union for Quaternary Research (INQUA); the American Quaternary Association (AMQUA); the GSA Quaternary Geology and Geomorphology Division; the GSA Geology & Society Division; the GSA Soils IIG; and the GSA Environmental & Engineering Geology Division.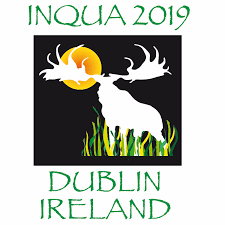 Next INQUA Congress to be Held in Dublin
The 20th meeting of the INQUA Congress will take place from July 25 through July 31, 2019. Congress organizers are already accepting preliminary session ideas that ideally fit with the theme, "Life of the Edge." A list of topics already under consideration is located on the INQUA 2019 website.

For regular updates leading up to the Congress, you can subscribe to the INQUA 2019 newsletter.

24th Biennial Meeting of the American Quaternary Association: June 28-July 1, 2016, in Santa Fe, New Mexico
The 24th AMQUA Biennial Meeting addressed the theme "Retooling the Quaternary to Manage the Anthropocene," and kicked off on Tuesday, June 28, 2016 with three field trips addressing ongoing research in the area.

Over two and a half days, 25 invited plenary speakers addressed different aspects of the "Retooling" challenges. The remaining presentations were contributed posters, which were featured in one-minute lightning talks (1-2 slides) during the technical program and remain up for the entirety of the meeting. For more information, please visit http://www.amqua2016santafe.com.

ECR Presentations and Posters Earn Awards at 2016 INQUA Early Career Conference and Summer School
Five early career researchers took home awards for their original work at this summer's INQUA ECR Conference and Summer School in Reading, UK. The summer school, held September 5--9, 2016, presented the next opportunity for young palaeo-observational and climate-modeling researchers, featuring hands-on training, conference sessions, and practical activities. More details can be found on the University of Reading Tropical Palaeoecology Research Group Blog and the Summer School website.

The INQUA ECR was established to support and connect young scientists and help them to become involved in INQUA activities. The most recent INQUA Early Career Researcher inter-congress was held December 2 through December 6, 2013, at Wollongong University, New South Wales, Australia. The meeting provided an avenue for MSc/PhD candidates, Post-Doctoral Researchers, and research-active academics in the early stage of their careers (within 5 years of obtaining their PhD) to attend valuable workshops designed to assist ECRs with career development, to present their science, and to gain invaluable mentoring from more senior scientists. For details, visit the INQUA Early Career Researcher inter-congress meeting website.

To become involved in INQUA ECR, please visit and "Like" the INQUA ECR on Facebook to share links and find jobs! You can also follow INQUA ECR on Twitter through @INQUA_ECR. For additional information, e-mail inqua16@reading.ac.uk.

INQUA Executive Committee Members Convene in Washington, DC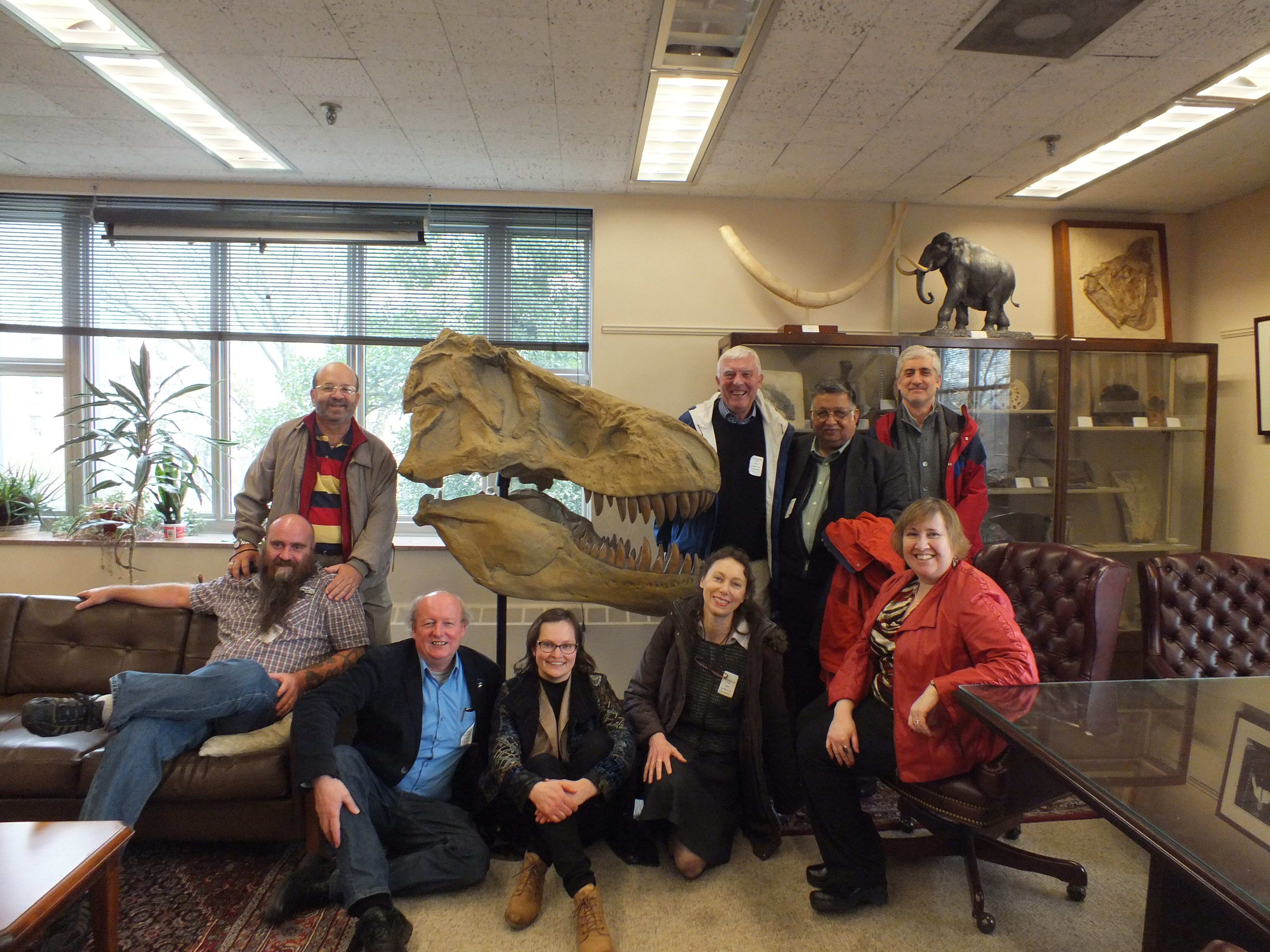 INQUA Executive Committee members and USNC/INQUA senior program officer Ester Sztein
at the Smithsonian National Museum of Natural History
From Wednesday, March 16 through Friday, March 18, 2016, members of the INQUA Executive Committee held their annual meeting at the National Academies' Keck Center. Agenda topics included the review of current and future union and commission activities, review of international proposals, and plans for communications outreach. The EC members also enjoyed a visit to the Smithsonian National Museum of Natural History on Tuesday, March 15, where they examined fossil specimens and toured the Hall of Human Evolution. On Thursday, the committee members attended a talk given by Becca Peixotto, a PhD student at American University, who was part of the recent Homo naledi excavation team in South Africa.

For regular INQUA news updates, visit the INQUA Blog.
Arctic Matters Day Held at NAS Building
The Polar Research Board of the National Academies of Sciences, Engineering, and Medicine held its "
Arctic Matters Day
" on Thursday, January 14, 2016 in the NAS Building at 2101 Constitution Avenue, Washington, DC. The event was part of a larger initiative to raise awareness about rapid change in the Arctic and how it affects us all, including our coastlines, weather, ecosystems, and more. The
agenda
featured lively "TED-like" talks from top experts who study Arctic change, artistic displays, and interactive exhibits. Please take a look at our free Arctic Matters educator resources, including a booklet, classroom poster, and interactive web tool on the
Arctic Matters website
.
USNC/INQUA Committee Member Publishes Research in Nature Climate Change Journal
A USNC/INQUA member since 2012, Professor Feng Sheng Hu of the University of Illinois - Urbana-Champaign has published an article in the journal
Nature Climate Change
. Professor Hu, along with five other scientists, closely examined the Yukon Flats region of Alaska. Their study concludes that the recent fires plaguing the Yukon Flats and other boreal forests around the world are sending an unprecedented amount of carbon into the atmosphere. Mass amounts of carbon in the atmosphere accelerate warming temperatures, which in turn lead to an increase in forest fires.
Dr. Hu's research has been cited in a
recent article
for
The Washington Post
, as well as a University of Illinois
press release
. To read the full study,
click here
.
American Allan Ashworth Elected INQUA President; Three U.S. Scientists Elected as INQUA Commission Officers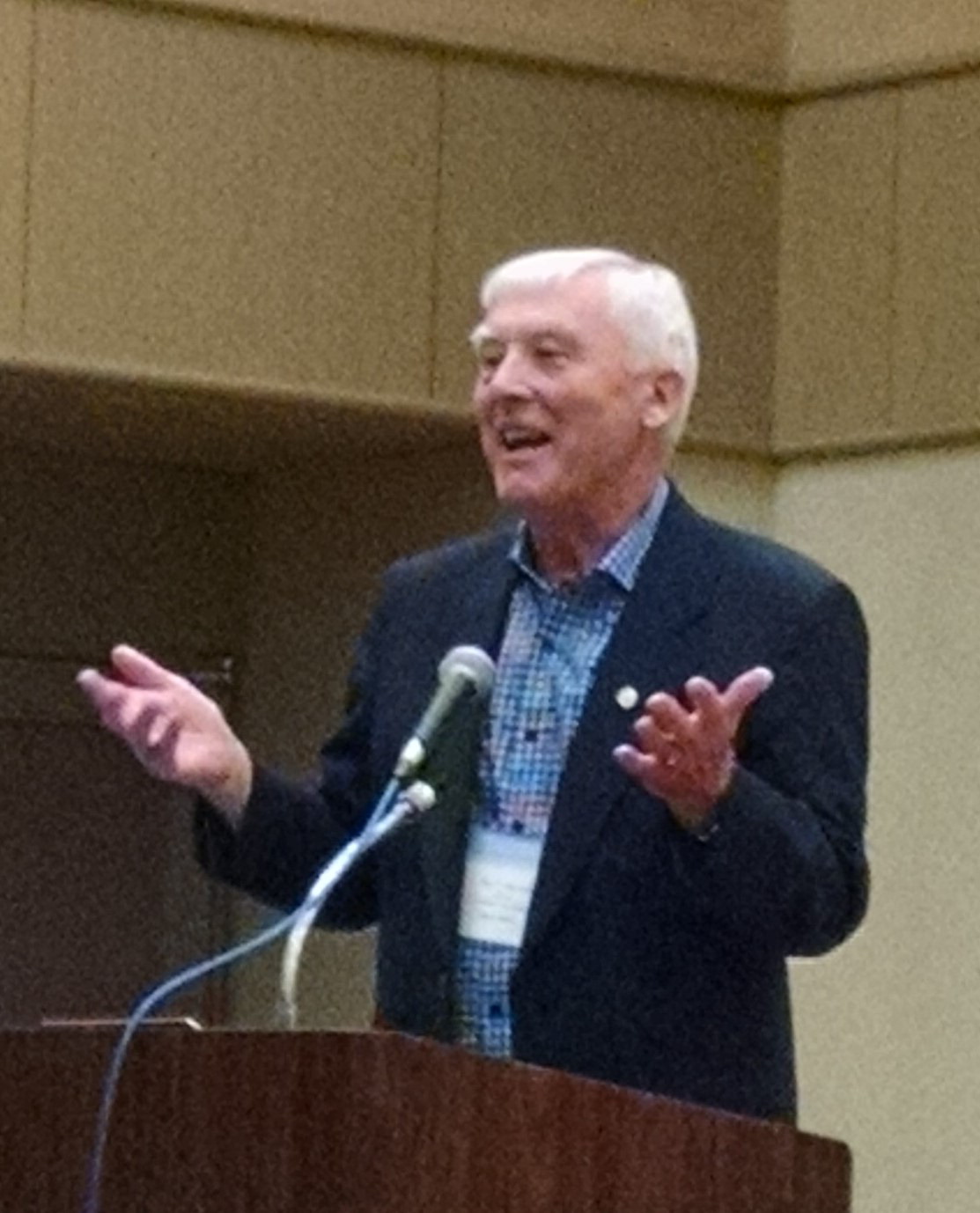 Dr. Allan C. Ashworth (pictured on the right), research professor and distinguished professor emeritus in North Dakota State University's Department of Geosciences, was elected the new INQUA President at the 2015 Congress in Nagoya. Professor Ashworth is a paleoecologist specializing in fossil insects, with a long record of excellence in teaching and geology.
In addition to Dr. Ashworth's election, three Americans now hold positions of leadership in three of the five INQUA commissions. Dr. Anders Carlson (Oregon State University) is the new Vice-President of the Coastal and Marine Processes Commission (CMP). Dr. Jennifer Marlon (Yale University) was elected Vice-President of the Paleoclimate Commission (PALCOMM), and Dr. Lewis Owen (University of Cincinnati) was elected Vice-President of the Commission on Stratigraphy and Chronology (SACCOM).
The USNC/INQUA extends its warmest congratulations to the U.S. representatives.
USNC/INQUA Hosts Two Scientific Sessions at the 2015 INQUA Congress
The USNC/INQUA proudly hosted an oral session and a poster session titled Interdisciplinary Quaternary Research: Past, Present, and Future at the 2015 Congress in Nagoya, Japan on Saturday, August 1. The presentations included previous and ongoing research from very complex projects to relatively small endeavors, with a focus on those involving international collaboration. New directions in interdisciplinary research were also addressed.

Rolfe D. Mandel and Ester Sztein were the session conveners. Anders Carlson (U.S.), Christine S. Lane, Luiz C.R. Pessenda, Julie Brigham-Grette (U.S.), Laura Lamair, Erik J. DeBoer, Iain Robertson, Lourdes Lopez-Merino, and Agustin Scanferla, and Claire E. Krause gave oral presentations, while posters were presented by Fiona McRobie, Alexandre V. Andronikov, Erika Schreiber, Vladimir G. Trifonov, and new INQUA President Allan Ashworth.



Contact the USNC/INQUA

Ester Sztein, Assistant Director
Pam Gamble, Administrative Associate
SYMPOSIA AND PRESENTATIONS
2016 AGU Session (PDF):
"The U.S. Government Role in Preserving Geoscience Sample and Data Collections"

---
December 16, 2015 AGU Session (PDF):
"Arctic Science Diplomacy: Opportunities for International Collaboration and Policy-Engaged Scholarship" by Ester Sztein and Melody Brown Burkins

---
February 15, 2014 AAAS Session: "Santa's Revenge: The Impacts of Arctic Warming on the Mid-Latitudes"
---
December 12, 2013 AGU Session (PDF): "Science Diplomacy in the Geosciences"

---
February 15, 2013 AAAS Session: "U.S. Climate and Weather Extremes: Past, Present, and Future"

---
December 7, 2012 AGU Town Hall (PDF): "International Geoscience"

---
February 19, 2012 AAAS Session: "Causes and Effects of Relative Sea-Level Changes in the Northeast Pacific"

---
February 17, 2012 AAAS Session: "Toward Stabilization of Net Global Carbon Dioxide Levels"

---
February 20, 2011 AAAS Session: "The Practice of Science Diplomacy in the Earth Sciences"

---
February 19, 2010 AAAS Session: "Dust in the Earth System"

---
December 17, 2009 AGU Poster Sessions: "Extreme Natural Hazards: Risk Assessment, Forecasting, and Decision Support"

---
February 16, 2009 AAAS Session: "Global Sea Level Rise: Observation, Causes, and Prediction"

---
September 25, 2008 BISO Symposium (PDF): "Global Connections among Earth Sciences, Health, and Policy"

---
February 15, 2008 AAAS Session (PDF): "Planet Earth: Lessons Ignored, Lessons Learned"