USNC/IUPsyS Member Gives Talk as part of a USNC/IUPsyS Workshop
Charles Super, a member of the USNC/IUPsyS, presented a talk at the "U.S. Psychological Science in a Globalizing World" invitational workshop organized by the USNC/IUPsyS and held at Pace University in July 2017. Dr. Super is Professor of Human Development and Family Studies at the University of Connecticut. His talk,
"U.S. Psychology in a Globalizing World,"
can be viewed
here
.
Travel Grants for 2016 International Congress of Psychology Awarded to 18 Psychology Students and Professionals

The following students and professors participated in the APA and USNC/IUPsyS mentoring program at this year's
International Congress of Psychology in Yokohama, Japan
:
Mentees

Brian Davis, CUNY
Yarrow Dunham, Yale University
Marisa Franco, University of Maryland, College Park
Gwen Gardiner, University of California, Riverside
Brielle James, Georgia State University
Jiin Jung, Claremont Graduate University
Shiang-Yi Lin, Lehigh University
Lindsey Matt, Kent State
Wei Ming Jonathan Phan, University of Illinois, Urbana-Champaign
Carlos Santos, Arizona State University
Jonathan Stange, Temple University
Elena Stepanova, University of Southern Mississippi
Ying Tang, Youngstown State University
Mentors

Jeanne Marecek, Swarthmore College
Sherri McCarthy, Northern Arizona University
Yuri Miyamoto, University of Wisconsin
Bruce Overmier, University of Minnesota
Yoko Yamamoto, Brown University
Program Sponsors and Co-Sponsors
Merry Bullock, APA Office of International Affairs
Amanda Clinton, APA Office of International Affairs
Sonia Suchday, Pace University
Ester Sztein, National Academies of Sciences, Engineering, and Medicine
Sponsored by APA and the U.S. National Committee for Psychology (USNC), this program will support graduate student/early career psychologists and midcareer/senior psychologists. Participants will present and discuss their research to an international audience, and engage in a mentoring program to promote the development of international collaborations and networking. This program is funded by the National Science Foundation (NSF). Funding is exclusively available to support scholars working in science areas supported by programs in the NSF Division of Behavioral and Cognitive Sciences, including cognitive neuroscience, learning sciences, developmental sciences, perception action and cognition, social psychology, psycholinguistics, and judgment and decision-making.
The USNC/IUPsyS congratulates all travel award recipients. For more information, email
APA's Office of International Affairs
with "APA-USNC" in the subject line.
USNC/IUPsyS Report Cited in Numerous Journals
"Building Infrastructure for International Collaborative Research in the Social and Behavioral Sciences" (2014) and "International Collaborations in Behavioral and Social Sciences Research" (2008) are being downloaded frequently from the National Academies Press site. As of September 2015,
the 2014 report
has been downloaded 562 times, while
the 2008 report
has been download 948 times. Additionally, "International Collaborations" (2008) has been cited in an array of journals since its release, including
The Journal of Engineering Education
,
American Psychologist
, and
Early Human Development
. View a complete list of citations
here
.
USNC/IUPsyS Workshop Reviewed in SRCD and IUPsyS Newsletters
"Building Infrastructure for International Collaborative Research in the Social and Behavioral Sciences," a USNC/IPsyS workshop held at the National Academy of Sciences in Washington, D.C. in September 2013, was highlighted in two recent newsletters. The
January 2014 edition
of the Society for Research in Child Development newsletter provides an overview of the workshop's four panels, while the
April 2015 edition
of the International Union of Psychological Science newsletter links to both the full workshop report and report in brief.
Building Infrastructure for International Collaborative Research in the Social and Behavioral Sciences: Summary of a Workshop
In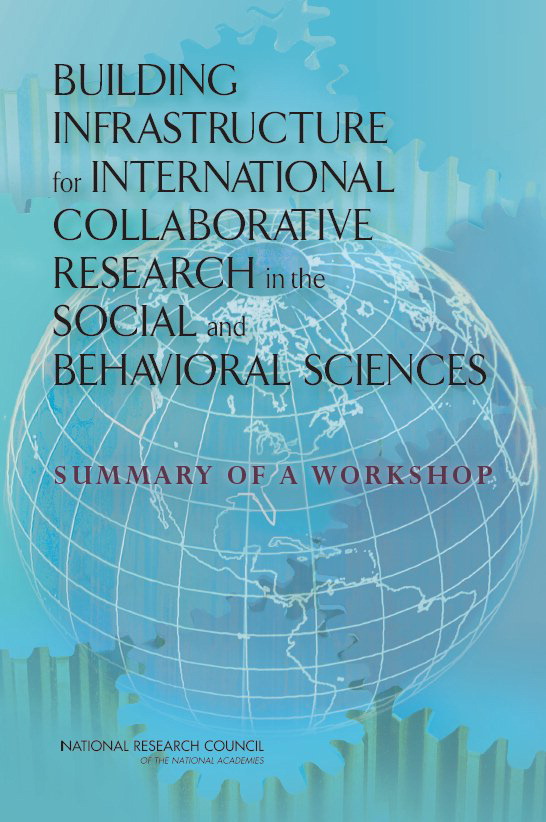 September 2013, the USNC/IUPsyS convened a workshop to address ways of overcoming challenges to effective international collaborative research in the social and behavioral sciences and education. This workshop was a follow-up to a 2006 workshop on the benefits of and obstacles to international collaborations. Participants at the 2013 workshop discussed ways that universities and other organizations can address common challenges. These include strengthening infrastructure to support international collaboration, fostering relationships with potential collaborators, dealing with cross-cultural dissemination and authorship, developing strategies for anticipating and resolving conflicts, the advantages and challenges of new technologies, and building cultural competence. Judith Torney-Purta and Oscar Barbarin co-chaired the workshop. The workshop was held with support from the Spencer Foundation. The report was released at a public meeting on January 28, 2015, along with a presentation of a related NRC workshop summary,
Culture Matters: International Research Collaboration in a Changing World
.
Building Infrastructure
two-page
report-in-brief
(PDF). The full report may be purchased or downloaded free from
National Academies Press
.
Culture Matters
is also available from
NAP
.