THE BOARD ON INTERNATIONAL SCIENTIFIC ORGANIZATIONS
The Board on International Scientific Organizations (BISO) strengthens U.S. participation in international scientific cooperation through overseeing a network of U.S. national committees (USNCs) and working with a variety of projects connected to the International Institute for Applied Systems Analysis (IIASA), the International Science Council (ISC), and ISC-related unions. More details can be found on the About BISO Page.

Follow us on Twitter at @NASEM_BISO!

Upcoming Congresses and General Assemblies

IUGS
36th International Geological Congress
March 2--8, 2020, Delhi, India
Website: https://www.36igc.org/

ICMI
14th International Congress on Mathematical Education (ICME-14)
July 12--19, 2020, Shanghai, China
Website: https://www.icme14.org/static/en/index.html

PSA
24th Pacific Science Congress
July 13--19, 2020, Shantou, China
Website: http://pacificscience.org/24th-pacific-science-congress/

IUPsyS
32nd International Congress of Psychology
July 19--24, 2020, Prague, Czech Republic
Website: https://www.icp2020.com/

IUCr
25th General Assembly and Congress of the International Union of Crystallography
August 22--30, 2020, Prague, Czech Republic
Website: https://www.xray.cz/iucr/

IUTAM
25th International Congress of Theoretical and Applied Mechanics (ICTAM)
August 23--28, 2020, Milan, Italy
Website: https://iutam.org/event/ictam-2020/

URSI
33rd General Assembly and Scientific Symposium (GASS) of the International Union of Radio Science
August 29--September 5, 2020, Rome, Italy
Website: https://www.ursi2020.org/

IUSS
IUSS Inter-Congress
August 31--September 4, 2020, Glasgow, Scotland

ICO
25th Congress of the International Commission for Optics (ICO) and 16th International Conference on Optics Within Life Sciences (OWLS)
August 31--September 4, 2020, Dresden, Germany
Website: https://www.ico25.org/Default.asp

IUPAP
30th General Assembly of the International Union of Pure and Applied Physics
October 12--14, Beijing, China
The ISC Global Funders Forum
On July 8 and 9, 2019, BISO and the National Academies of Sciences, Engineering, and Medicine (NASEM) hosted the Global Funders Forum organized by the International Science Council (ISC). This invitation-only meeting brought together leaders of national research funding agencies, philanthropic foundations, and development aid agencies from around the world. These organizations came together to build strategic partnerships that will increase and accelerate the impact of science and science funding on the achievement of the 2030 Agenda for Sustainable Development.
CODATA-RDA Summer School in Italy
The third and fourth CODATA-RDA Research Science Summer Schools was held in August 2019 at the International Centre for Theoretical Physics, Trieste, Italy. The CODATA-RDA Research Data Science Summer Schools provide training in the foundational skills of Research Data Science. Contemporary research -- particularly when addressing the most significant, transdisciplinary research challenges -- cannot be done effectively without a range of skills relating to data. This includes the principles and practice of Open Science and research data management and curation, the use of a range of data platforms and infrastructures, large scale analysis, statstics, visualization and modeling techniques, software development, annotation, and more.

More information about past schools can be found at: http://www.codata.org/working-groups/research-data-science-summer-schools.
Watch a video about the Schools of Research Data Science here: https://vimeo.com/232209813.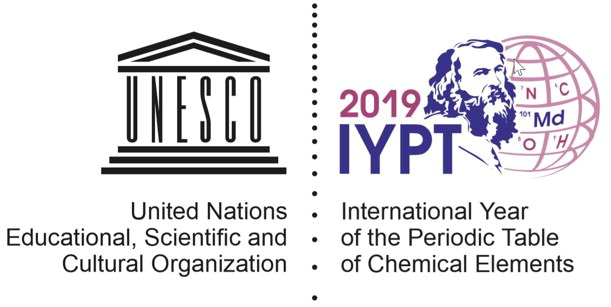 2019 International Year of the Periodic Table

On 20 December 2017, the United Nations (UN) General Assembly has declared 2019 to be the International Year of the Periodic Table of Chemical Elements (IYPT 2019). IYPT 2019 coincides with the 150th anniversary of the discovery of the Periodic System by Dmitry Mendeleev in 1869, and with the centenary of the International Union of Pure and Applied Chemistry (
IUPAC100
). The Periodic Table is one of the most significant achievements in science and a uniting scientific concept, with broad implications in astronomy, chemistry, physics, biology, and other natural sciences. IYPT 2019 is designed to raise global awareness of how chemistry promotes sustainable development and provides solutions to global challenges in energy, education, agriculture, and health.
More information can be found on the website
https://www.iypt2019.org/
.
Gender Gap in Science: A Multi-Union Initiative
BISO strongly supports the multi-union, three-year initiative, "Gender Gap in Science: A Global Approach to the Gender Gap in Mathematical, Computing, and Natural Sciences: How to Measure It, How to Reduce It?" This project, funded by the International Science Council (ISC), seeks to bring attention to and raise the amount of participation by women in the sciences. Project partners include IMU (through its Committee for Women in Mathematics), IUPAC, IUPAP, IAU, the International Union of Biological Sciences (IUBS), UNESCO, and
several more organizations
. The project consists of three parts: a global survey (currently underway with technical and administrative support provided by the American Institute of Physics), a study of publication patterns, and the identification of best practices. For more on the Gender Gap project, visit
https://icsugendergapinscience.org/
.
Americans Elected to International Leadership Positions in 2017-2018
Mike Clegg
(University of California, Irvine), IIASA Governing Council, Chair
Melody Brown Burkins
(Dartmouth College), ISC Governing Board, Member
Debra Elmegreen
(Vassar College), IAU President-Elect
Carlos Kenig
(University of Chicago), IMU President-Elect
Andrei Okounkov
(Columbia University), IMU Member at Large
Piergiorgio Uslenghi
(University of Illinois, Chicago), URSI Vice President
Kennedy Reed
(Lawrence Livermore National Laboratory), IUPAP President
Laura Greene
(University of Illinois, Urbana-Champagne), IUPAP Vice President
Kent Choquette
(University of Illinois, Urbana-Champagne), ICO Vice President
John Howell
(University of Rochester), ICO Vice President
Carmina Londono
(National Science Foundation), ICO Vice President
Joe Niemela
(American Physical Society), ICO Treasurer
BISO Mission and Vision Statements and Strategic Plan, 2019-2024
In late 2018, BISO adopted revised Mission and Vision Statements, as well as new Strategic, Action, and Evaluation Plans.
·
BISO's mission is to strengthen science for the benefit of society through U.S. leadership, collaboration and representation in international scientific organizations and programs.
·
BISO's vision for the future is to optimize and leverage international scientific organizations for the benefit of the U.S. and global scientific community.
The Strategic Plan for 2019-2024 has four goals:
NETWORKS: Provide vibrant leadership for and participation in the world's scientific organizations, creating and enhancing opportunities for U.S. scientists to contribute to international networks.
SCIENCE - Advance and promote STEM research, education, and policy.
WORKFORCE DEVELOPMENT: Grow a globally-engaged and diverse U.S. STEM workforce.
INTERNATIONAL MOBILITY: Bring U.S. scientists to the world and bring global science to the U.S. by promoting the U.S. as a destination for high-impact international scientific meetings.
See the full plan here
.
International and External Reviews of BISO, 2017-2018
In 2017 and 2018, BISO underwent three reviews. The first, in 2017, was an internal review that focused on BISO's fit within the NAS mission, as well as its future challenges and opportunities. A summary of that review
can be read here
. The second, an external review conducted by Joe Taylor at BSCS in Colorado Springs, CO, examined BISO's role, collaborations, contributions, and effectiveness. It may be read here. The third review was a Committee of Visitors (COV) organized by NSF to review past proposals from and awards to BISO. It may be read at
https://www.nsf.gov/od/oia/activities/cov/oise/2018/OISE_BISO_2018_COV_Report.pdf
.
BISO Conducts Union Adherence Review
The question of how the National Academies decides whether to adhere to each union came up in both the external and COV reviews (see above). The same issues had been raised by BISO staff numerous times in recent years.
The last major change of BISO's portfolio occurred in 2010 when the NAS ceased participation in all five unions in the biological sciences. At the time, this was due to a number of organizational and programmatic concerns, and the cessation of funding support from NSF's Biological Sciences Directorate.
Several additional factors have arisen in the last two years making a reexamination timely. These factors included:

·
The merger of the International Council for Science (ICSU) with the International Social Science Council (ISSC) in July 2018 to form the new International Science Council (ISC). The ISC now involves unions and organizations from both the former ICSU and ISSC.
·
A NSF decision in 2017 to no longer financially support U.S. involvement in the International Union for Crystallography (IUCr), which led directly to a show of significant community support.
·
Requests from the U.S. National Committees for CODATA and the International Commission on Illumination (CIE) to align with BISO. CODATA was previously in the BISO portfolio, but the USNC for CIE is currently located outside of the NASEM.
·
Requests from the International Union of Biological Sciences (IUBS) and the International Union of Pure and Applied Biophysics (IUPAB) to reconsider membership.

In addition, NSF's COV report specifically raised the following questions:

·
Given the merger between the former International Council for Science and the International Social Science Council and the creation of the new ISC, are there other ISC-related unions or organizations for which national support should be considered?
·
Given that BISO's portfolio has remained constant since 2010, are the unions and organizations in it still strong and effective? Should any be dropped or added?

These questions, as well as an understanding that funds for international memberships and the necessary programmatic and administrative support are not limitless, led BISO to conduct a review of the ISC-related unions and programs currently in its portfolio and those that might potentially be included. The review consisted of two parts: 1) a review of ISC members, and 2) a union review.
Part I Results: When current ISC organizations were reviewed against four criteria (i.e. national membership model, area of interest to the NASEM, area within the jurisdiction of the NSF, and currently without U.S. representation), all but two are already represented by the NAS and funded by the NSF. These two are CIE and IUBS.
Part II Recommendations: (1) The NAS should continue to adhere to all the existing reviewed organizations, including the IUCr, and responsibility for CODATA should be transferred back to BISO, as per the BRDI Board Director's request. (2) For four organizations (i.e. PSA, ICO, CIE and IUBS), a provisional period of five years is recommended, at which time U.S. funding and adherence should be reexamined.

The report can be read here.
International Science Council Formed from Merger of ICSU and the ISSC
The International Science Council (ISC) was formally established in July 2018 following the merger of the International Council for Science (ICSU) and the International Social Science Council (ISSC). An inaugural General Assembly of the new organization was held in Paris, France on July 3-5, 2018. The U.S. delegation consisted of John Hildebrand (chair), Robert Axelrod, Melody Brown Burkins, and Emilio Moran. The delegation's report
can read here
, and more information can be found at
https://www.icsu.org/current/news/the-icsuissc-merger-explained
.
One of the many activities undertaken by the ISC since the merger is the development of a Science Action Plan. BISO commented extensively on the first draft, as did other member organizations, and a revised version is being prepared.