INTERNATIONAL RESEARCH COLLABORATIONS
GUIRR's International Research Collaborations Working Group, or "I-Group", is planning a workshop to be held in the spring of 2018. The workshop will focus on the role of data and ethics in the context of international research agreements, and follows on previous I-Group workshops on (1) core elements of international research agreements, and (2) culture in international research agreements. Also informing the discussion will be foundational meetings held by GUIRR on Big Data and Smart Cities, among others.
Project Co-Chairs: Dr. Barbara Mittleman and Dr. Arturo Pizano
I-Group members convene bimonthly by teleconference. If you would like to join the ad hoc planning committee, please send a note to guirr@nas.edu.
---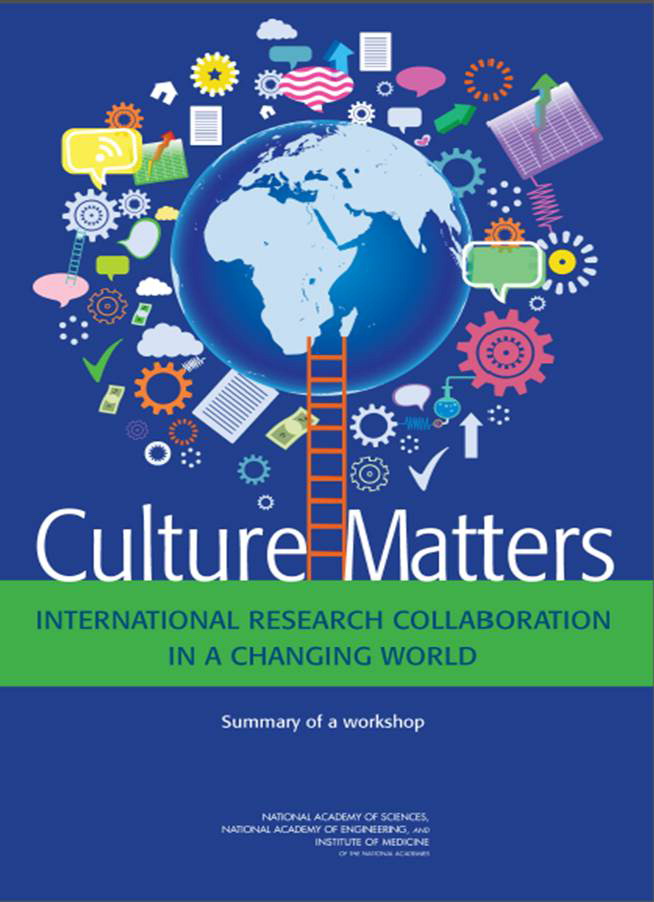 Culture Matters: International Research Collaboration in a Changing World--Summary of a Workshop
In an increasingly interconnected world, science and technology research is more often transecting international boundaries and involving researchers from multiple nations. This paradigm provides both new opportunities and new challenges. The GUIRR International Research Collaborations Working Group (known as the I-Group) has set out to explore ways to advance and improve international research collaborations.

In an increasingly interconnected world, science and technology research often transects international boundaries and involves researchers from multiple nations. This paradigm provides both new opportunities and new challenges. As science and technology capabilities grow around the world, United States-based organizations are finding that international collaborations and partnerships provide unique opportunities to enhance research and training. At the same time, enhancing international collaboration requires recognition of differences in culture, legitimate national security needs, and critical needs in education and training.

View this report or download a free pdf



RELATED EVENT:

Culture Matters: An Approach to International Research Agreements
Washington, DC - July 29-31, 2013

This GUIRR workshop addressed how culture and cultural perception influence and impact the process by which research agreements are made and negotiated across international boundaries.

Agenda (includes speaker presentations)
Speaker Bios
Final Participant List
Photos
Related Materials
NCURA Article (Reprinted with permission of the National Council of University Research Administrators and NCURA Magazine)
Workshop Report (forthcoming)

---
Examining Core Elements of International Research Collaboration
The globalization of science, engineering, and medical research is proceeding rapidly. The globalization of research has important implications for the U.S. research enterprise, for the U.S. government agencies, academic institutions, and companies that support and perform research, and for the world at large. As science and technology capabilities grow around the world, U.S.-based organizations are finding that international collaborations and partnerships provide unique opportunities to enhance research and training. At the same time, significant obstacles exist to smooth collaboration across national borders. Enhancing international collaboration requires recognition of differences in culture, legitimate national security needs, and critical needs in education and training.

The goal for the workshop and the summary, Examining Core Elements of International Research Collaboration, is to serve as an information resource for participants and others interested in international research collaborations. It will also aid I-Group in setting its future goals and priorities.

View this report



RELATED EVENT:

Examining Core Elements of International Research Collaboration: A Workshop


Washington, DC

On July 26-27, 2010, a highly energized GUIRR working group ("I-Group") hosted a tightly focused workshop on core elements of international research collaborations.

View Agenda
Speaker Bios
List of Participants
Testimonials
Related Reports
Report Release
Project Origins
"I-Group" Core Member List
Statements of Purpose
NCURA Article
EARMA link


Special thanks to the workshop supporters:

• Air Force Office of Scientific Research
• Office of Naval Research
• US Army International Technology Center – Atlantic
• National Institutes of Health


Back to Current Projects