Early Career Astronomer and Astrophysicist Focus Session: The Decadal Survey


On October 8th and 9th, the National Academies of Sciences, Engineering, and Medicine will host a focus session for early career astronomers and astrophysicists under the auspices of the Committee of Astronomy and Astrophysics (CAA). The principle goal of this focus session is to engage early career astronomers and astrophysicists in the decadal survey planning and input process by assembling early career scientists, National Academy of Sciences members, and the National Academies staff to exchange perspectives on past and future decadal surveys.

This focus session presents an excellent opportunity for astronomers and astrophysicists to contribute to a decadal survey early in their career in a direct and guided way. Our goal is for the participants to come away from the event with a deeper understanding of the decadal survey and process, knowing that they have contributed to the current survey, and be equipped to contribute to future decadal surveys.

This focus session will be conducted through a two-fold approach - information and discussion sessions. First, the participants will acquire a thorough understanding of past and present astronomy and astrophysics decadal survey processes and its context through presentations given by experts. The informational topics will provide an overview of science policy, the National Academies, and the decadal survey process and will set the stage for participants to have informed discussions. Second, through group discussion sections, participants will provide their perspectives and suggestions concerning the structure and process of a decadal survey. The participants will divide into smaller groups for discussion, which will be guided by questions provided to them. These subgroups will then reconvene as one group to go over common themes that arose during group discussions.

There will also be a session that is a hybrid of both the information and discussion sessions. This will focus on educating participants on how to write compelling white papers and the process. First, a senior astronomer will discuss the purpose and format of a white paper with the participants. Then participants will investigate and discuss the techniques of the white papers they read in advance and exchange ideas on what makes an effective and influential white paper. In addition, a senior astronomer will provide insight from their experience with writing and reading white papers.
After the focus session in October, a team of three participants will travel to give a summary presentation to the decadal survey committee. The team will be composed of the event organizer, one postdoc, and one early tenure track professional. These three scientists will each be responsible for taking notes of different themes that come up during the group discussions, coagulating and distilling the groups' notes, and submitting the final document as input into the survey. Their travel to give the presentation are covered by the National Academies. The exact date of this presentation is yet to be determined as the decadal survey is still in the planning stage. If an applicant is interested in becoming a part of this team, please indicate this in the appropriate section of the application.
back

(Photo credit Emily Moravec)

Event Products
Agenda Book
Contents: agenda, discussion questions, and list of delegates, speakers, and facilitators
Introduction: Emily Moravec, University of Florida
View Video I View Slides

Session 1: Science and Technology Policy for Astronomers by an Astronomer, Ashlee Wilkins, AAS Bahcall Public Policy Fellow
View Video I View Slides

Session 2: The National Academies, James Lancaster, BPA Director
View Video I View Slides

Session 3: The Decadal Survey, Marcia Rieke, University of Arizona
View Video I View Slides

Session 6: White Papers, Lee Hartmann, University of Michigan
View Talking Points (pdf) I View Slides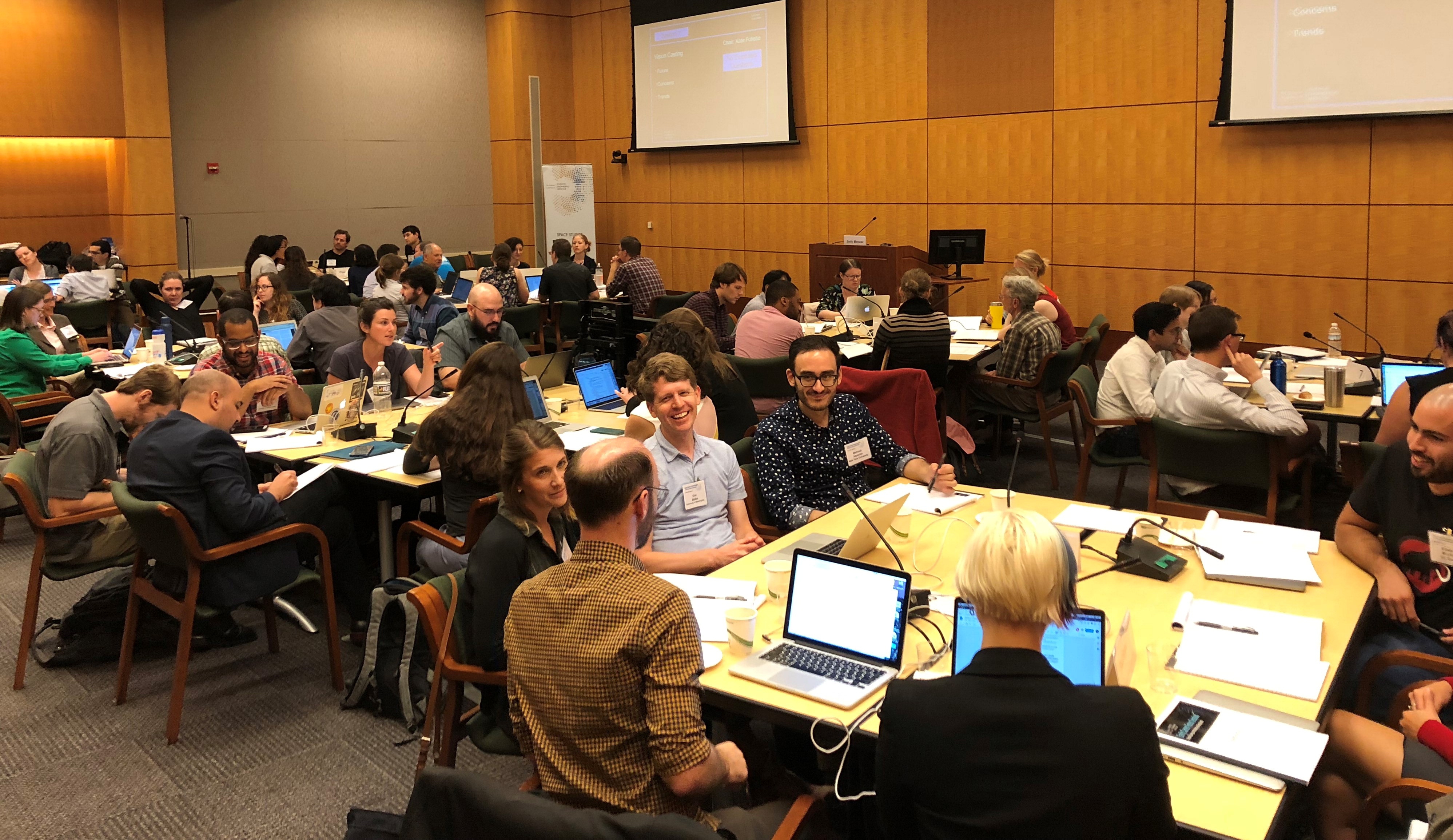 (Photo credit Emily Moravec)

Preparatory Reading

The participants will be required to do the following preparatory readings:
Participant Demographics & Schedule

Demographics
Participants will be chosen through an application process to participate in this focus session. Each participant will receive full travel support. The career status of the participants will be 50% early career post postdoc (early tenure-track and equivalent), 35% postdocs, and 15% senior graduate students (see definitions below). The participants will be chosen to represent a breath research interests, institutions, demographics, and perspectives within the field. Women and minorities are encouraged to apply.

Schedule
The focus session will be a full day on October 8th and a partial day on October 9th. Click here to download the PDF of the schedule. Note that details are subject to change.

Discussion Session Implementation
There will be tables with 8 astronomers/astrophysicists. At each table there will be one graduate student (who will be asked to be the scribe and presenter during small group discussion), a few postdocs, a few early-tenure track (or equivalent), and one senior astronomer. Small group discussions will last 30-60 minutes and large group discussions will be 30-60 minutes.

Eligibility
You must be an employee and/or student of a U.S. institution.
You must be an early career researcher conducting research in astronomy or astrophysics. Early career is defined by the following:
a. Researchers that are early in their career defined as post-postdoc positions (i.e. early tenure track professors, junior research scientists, etc.)
b. Postdoc
c. Senior graduate student (passed your institutional requirements to become a PhD Candidate)
Deadline and Timeline
The application deadline is July 16, 2018 at 5pm EST. Accepted participants will be notified by August 13, 2018.

Logistics

Location
The meeting will be held at the Keck Center of the National Academies, 500 5th Street, NW, Room 100, Washington, DC 20001.

Getting to Keck: Transportation by Metrorail: Judiciary Square stop (Red line): Take F St/Arena/Police Memorial exit. Turn left, travel half block towards 5th St. Cross street, turn left in front of the fire station--entrance on your right. Gallery Place/Chinatown stop (Red/Green/Yellow lines): Take the Arena (Verizon Center) exit at 7th & F Sts. Travel 2 blocks on F St towards 5th St., make a right on 5th (at fire station). Entrance is on your right.

Travel
Travel is fully covered for accepted participants.

Food
Breakfast and lunch will be provided on both days. Dinner will be provided on the 8th.

Contact

Contact Mia Brown if you have any questions.