Webinar Series on Science and Engineering for Grades 6-12




Archived Webcast



February 12th STEM Education Stakeholder Event


Related Reports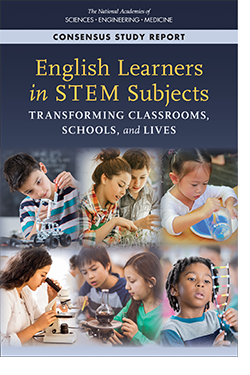 English Learners in STEM Subjects: Transforming Classrooms, Schools, and Lives (2018)
Released in October 2018, this publication from the Board on Science Education and the Board on Children, Youth, and Families calls for a shift in how science, technology, engineering, and mathematics (STEM) subjects are taught to students in grades preK-12 who are learning English. The report recommends strategies for instruction in the classroom, requisite tools educators need, and ways for building capacity in schools and districts so that English learners have opportunities to develop proficiency in both STEM subjects and language.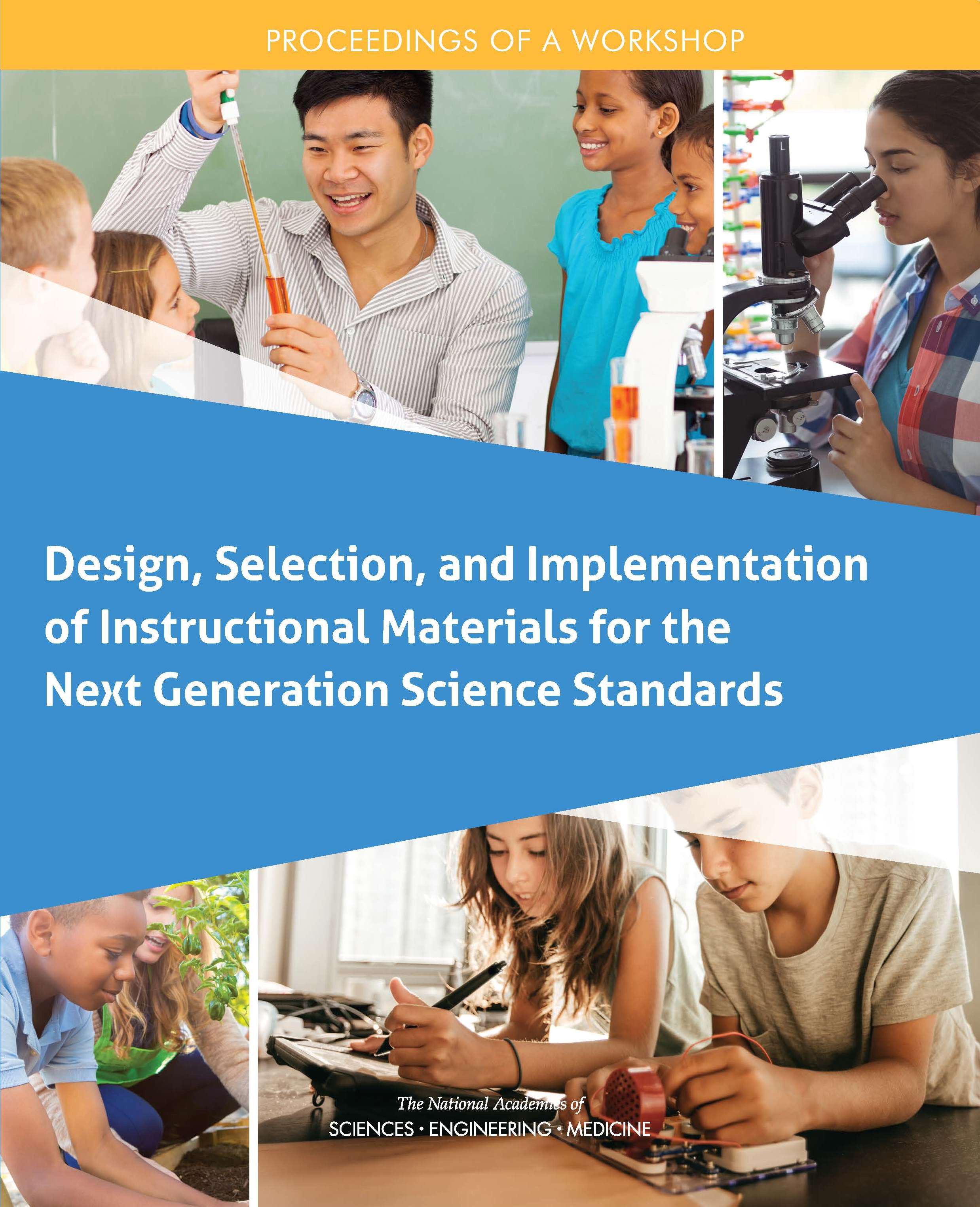 Design, Selection, and Implementation of Instructional Materials for the Next Generation Science Standards
(2018)
Instructional materials are a key means to achieving the goals of science education—an enterprise that yields unique and worthwhile benefits to individuals and society. As states and districts move forward with adoption and implementation of the Next Generation Science Standards (NGSS) or work on improving their instruction to align with A Framework for K–12 Science Education (the Framework), instructional materials that align with this new vision for science education have emerged as one of the key mechanisms for creating high-quality learning experiences for students. In response to the need for more coordination across the ongoing efforts to support the design and implementation of instructional materials for science education, the National Academies of Sciences, Engineering, and Medicine convened a public workshop in June 2017. The workshop focused on the development of instructional materials that reflect the principles of the Framework and the NGSS. This publication summarizes the presentations and discussions from the workshop.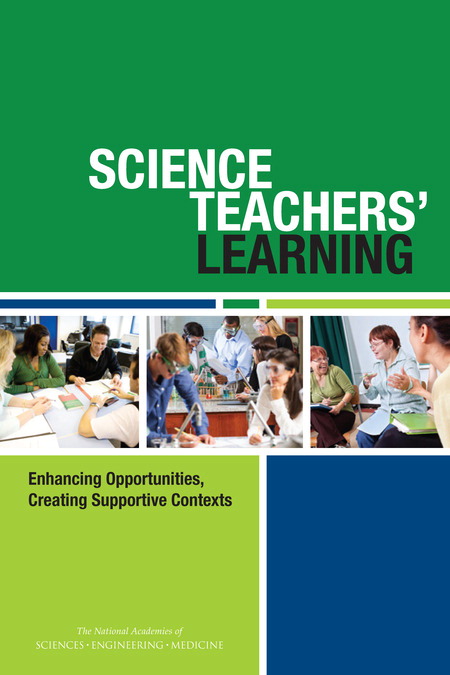 Science Teacher's Learning: Enhancing Opportunities, Creating Supportive Context (2015)
Currently, many states are adopting the Next Generation Science Standards (NGSS) or are revising their own state standards in ways that reflect the NGSS. For students and schools, the implementation of any science standards rests with teachers. For those teachers, an evolving understanding about how best to teach science represents a significant transition in the way science is currently taught in most classrooms and it will require most science teachers to change how they teach. The challenge of developing the expertise teachers need to implement the NGSS presents an opportunity to rethink professional learning for science teachers. Science Teachers' Learning will be a valuable resource for classrooms, departments, schools, districts, and professional organizations as they move to new ways to teach science.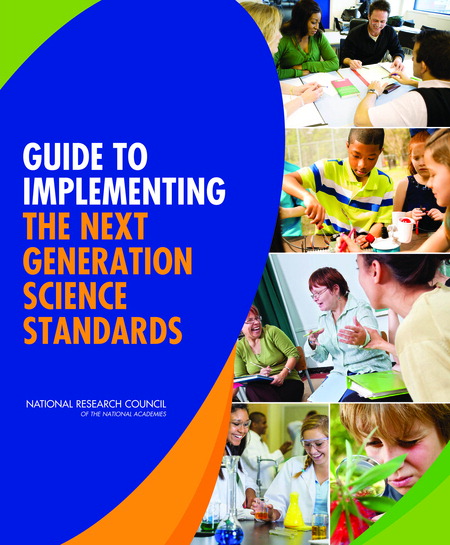 Guide to Implementing the Next Generation Science Standards
(2015)
Guide to Implementing the Next Generation Science Standards provides guidance to district and school leaders and teachers charged with developing a plan and implementing the NGSS as they change their curriculum, instruction, professional learning, policies, and assessment to align with the new standards. For each of these elements, this report lays out recommendations for action around key issues and cautions about potential pitfalls. As a foundation for that process, Guide to Implementing the Next Generation Science Standards identifies some overarching principles that should guide the planning and implementation process.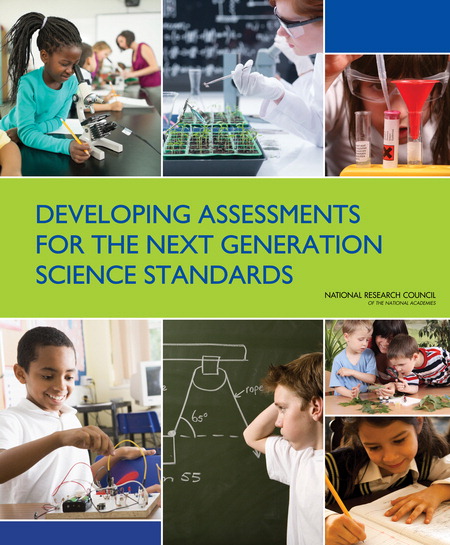 Developing Assessments for the Next Generation Science Standards (2014)
Developing Assessments for the Next Generation Science Standards develops an approach to science assessment to meet the vision of science education for the future as it has been elaborated in A Framework for K-12 Science Education (Framework) and Next Generation Science Standards (NGSS). This report recommends strategies for developing assessments that yield valid measures of student proficiency in science as described in the new Framework. The report offers a systems approach to science assessment, in which a range of assessment strategies are designed to answer different kinds of questions with appropriate degrees of specificity and provide results that complement one another. The recommendations of this report will be key to making sure that the dramatic changes in curriculum and instruction signaled by Framework and the NGSS reduce inequities in science education and raise the level of science education for all students.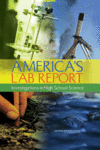 America's Lab Report: Investigations in High School Science (2006)
With increased attention to the U.S. education system and student outcomes, no part of the high school curriculum should escape scrutiny. This timely book investigates factors that influence a high school laboratory experience, looking closely at what currently takes place and what the goals of those experiences are and should be. Science educators, school administrators, policy makers, and parents will all benefit from a better understanding of the need for laboratory experiences to be an integral part of the science curriculum�and how that can be accomplished.
Commissioned Papers

The Nature of the Teacher's Role in Supporting Student Investigations in Middle and High School Science Classrooms: Creating and Participating in a Community of Practice
Matthew Kloser, University of Notre Dame
Read Now


Data Use by Middle and Secondary Students in the Digital Age: A Status Report and Future Prospects
Victor R. Lee and Michelle H. Wilkerson
Utah State University, University of California-Berkeley
Read Now
A Summary of Inclusive Pedagogies for Science Education
Felicia Moore Mensah and Kristen Larson, Teachers College, Columbia University
Read Now
The Role of Interest and Motivation in Science Investigation and Engineering Design Instruction
Joseph E. Michaelis, University of Wisconsin
Read Now
Engineering Approaches to Problem Solving and Design in Secondary School Science: Teachers as Design Coaches
Senay Purzer, Purdue University
Read Now
Designing NGSS-Aligned Curriculum Materials
William R. Penuel and Brian J. Reiser,
University of Colorado, Boulder, Northwestern University
Read Now
---

Committee Information
Committee Biographies

Brett Moulding(Co-Chair), Partnership for Effective Science Teaching and Learning
Nancy Songer (Co-Chair), Drexel University
Juan-Carlos Aguilar, Georgia Department of Education
Anne E. Egger, Central Washington University
Erin Furtak, University of Colorado Boulder
Kenneth L. Huff, Mill Middle School
Joseph Krajcik, Michigan State University
Michael Lach, UChicago STEM Education, University of Chicago
Ronald Latanision, Exponent
Mitchell Nathan, University of Wisconsin-Madison
Eileen Parsons, University of North Carolina, Chapel Hill
Cynthia Passmore, University of California, Davis
Helen Quinn, Stanford University
Andrea Tracy, Lawton High School


Kerry Brenner, Study Director
Greg Pearson, Scholar
Amy Stephens, Program Officer
Tiffany Taylor, Research Associate
Jessica Covington, Senior Program Assistant (since January 2018)
Coreetha Entzminger, Program Assistant (until November 2017)
Heidi Schweingruber, Director, BOSE

Mailing Address
Keck Center
500 Fifth Street, NW
Washington, DC 20001