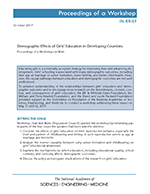 Educating girls is a universally accepted strategy for improving lives and advancing development. Girls' schooling is associated with many demographic outcomes, including later age at marriage or union formation, lower fertility, and better child health. However, the causal pathways between education and demographic outcomes are not well understood.

This publication briefly summarizes presentations and discussion from a workshop that tried to explore the relationship between girls' education and demographic outcomes and to encourage more research on the determinants, content, context, and consequences of girls' education.

Sponsors: the Bill & Melinda Gates Foundation, the David and Lucile Packard Foundation, and the William and Flora Hewlett Foundation.




---
Project Description
A steering committee under the guidance of the Committee on Population has organized a two-day public workshop that will feature invited presentations and discussion on the association among grade attainment, school quality and reproductive outcomes among women in low-income countries. Length of education is associated with delayed marriage and childbearing, and healthier birth outcomes. However, as school enrollment has expanded, there is some evidence of decreased educational quality as well as changes in education's links to reproductive outcomes. This workshop will be an occasion to discuss important new data analyses and will encourage more attention and better research on the determinants, content, and consequences of girls' education. Workshop participants will discuss what is known and research that may be useful to answer questions about the factors that shape the effects of girls' education on fertility and health. A brief proceedings of the workshop will be prepared by a designated rapporteur in accordance with institutional guidelines.
Steering Committee Members
Ann K. Blanc
(Chair), The Population Council
Jere Behrman, Department of Economics, University of Pennsylvania
Cynthia B. Lloyd, Independent Consultant

Workshop

Agenda
May 11-12, 2017

The Arnold and Mabel Beckman Center
Board Room
100 Academy Way
Irvine, CA


Presentations


Anne Goujon, Wittgenstein Centre for Demography and Global Human Capital (IIASA, VID/OEAW, WU) - Exploring the link between structural adjustment programs, education discontinuities and stalled fertility in Sub-Saharan Africa

Elisabetta Aurino, Imperial College London and Young Lives, University of Oxford & Whitney Schott, Population Studies Center, University of Pennsylvania - Education and Adolescent Motherhood: Evidence from Ethiopia, India, Peru and Vietnam

Julia Behrman, New York University - Educational assortative mating and demographic outcomes in Eastern Africa

Catalina Herrera Almanza, Northeastern University - Early Childbearing, School Attainment and Cognitive Skills: Evidence from Madagascar


Letícia Marteleto, Population Research Center and Department of Sociology, University of Texas at Austin -
The Effects of Adolescent Childbearing and Union Formation on Women's Education in Brazil

Erin Murphy-Graham & Alison Cohen, University of California, Berkeley - Examining the Connections Between Schooling and Quality, Early Marriage, and Early Pregnancy Among Adolescents in Rural Honduras

Sarah Baird, The George Washington University - Effects of a Cash Transfer Program for Young Women in Malawi on Human Capital Accumulation

Gretchen Donehower, University of California, Berkeley and NTA Network - Unpaid Care Work as a Barrier to Girls' Participation in Secondary Education

Mónica L. Caudillo, Maryland Population Research Center, University of Maryland - School Progression Relative to Age and Family-Related Transitions among Teenage Women in Mexico

Barbara S. Mensch, Population Council - School Related Violence, Sanitation Facilities at School, and Menstrual Hygiene Management: What is the Evidence for their Effect on School Attendance and Learning, and How Might Population Scientists Advance this Research Agenda?




For more information, please contact Mary Ghitelman,
Senior Program Assistant
(202-334-1654).
Related Report

Fertility rates and population growth influence economic development. The marked declines in fertility seen in some developing nations have been accompanied by slowing population growth, which in turn provided a window of opportunity for rapid economic growth. For many sub-Saharan African nations, this window has not yet opened because fertility rates have not declined as rapidly there as elsewhere.
View, buy, or download:
Workshop Summary

French Translation of the Workshop Summary