Graduate STEM Education for the 21st Century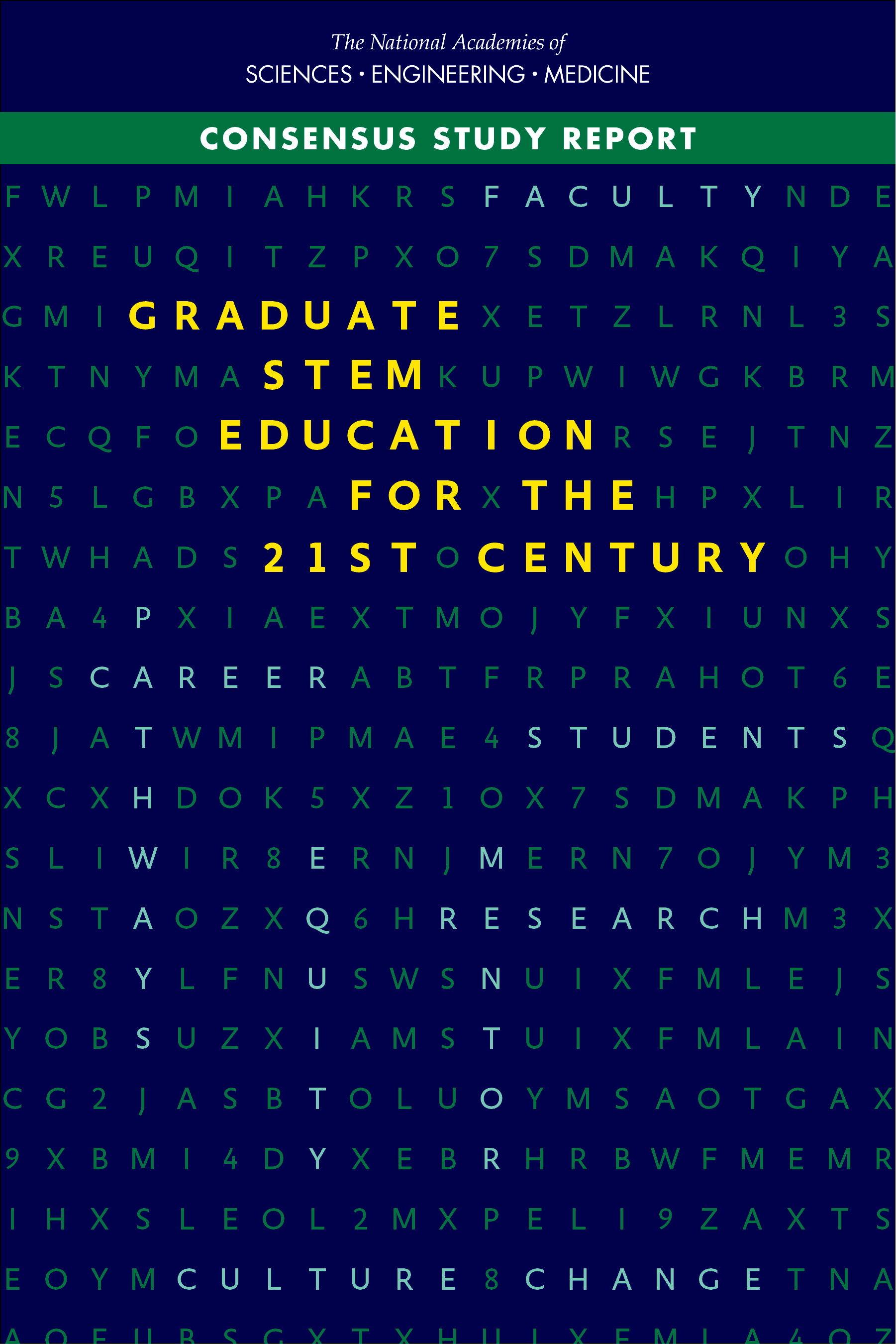 Full publication available for free download
Press Release
Report Highlights
---
An ad hoc committee, under the auspices of BHEW (Board on Higher Education and Workforce) and COSEPUP (Committee on Science, Engineering, and Public Policy), and liaising with GUIRR (Government-University-Industry Research Roundtable) and TAC (Teacher Advisory Council), will lead a study of STEM graduate-level education in the U.S., revisiting and updating a similar COSEPUP study completed 20 years ago.

Specific tasks will include:
• Conduct a systems analysis of graduate education, with the aim of identifying policies, programs and practices that could better meet the diverse education and career needs of graduate students in coming years (at both the master's and Ph.D. levels—understanding the commonalities and distinctions between the two levels), and also aimed at identifying deficiencies and gaps in the system that could improve graduate education programs.

• Identify strategies to improve the alignment of graduate education courses, curricula, labs and fellowship/traineeship experiences for students with the needs of prospective employers--and the reality of the workforce landscape--which include not only colleges and universities but also industry, government at all levels, non-profit organizations, and others. A key task will be to learn from employers how graduate education can continue to evolve to anticipate future workforce needs.

• Identify possible changes to federal and state programs and funding priorities and structures that would better reflect the research and training needs of graduate students.

• Identify policies and effective practices that provide students and faculty with information about career paths for graduates holding master's and Ph.D. degrees and provide ongoing and high quality counseling and mentoring for graduate students.

• Identify the implications of the increasingly international nature of graduate education and career pathways, reflecting both the numbers of foreign students who enroll in U.S. graduate schools and the increasing global migration of U.S. STEM graduates.

• Investigate the many new initiatives and models that are influencing graduate education, including MOOCs, other digital learning programs, increasing numbers of alternative providers of master's and Ph.D. degrees, and opportunities to secure credentials through multiple sources.

• Create a set of national goals for graduate STEM education that can be used by research universities, Congress, federal agencies, state governments and the private sector to guide graduate level programs, policies and investments over the next decade, and ensure that this "blueprint" for graduate education reform is revisited and updated on a periodic basis to reflect changing realities.

The products of this study will be an interim report and a final report that is widely disseminated for analysis and adoption of new programs, policies, and practices that enhance STEM graduate education. This may include dissemination activities on campuses, at professional society meetings and in other venues to share the report's findings and recommendations and to engage stakeholders in discussions around implementing new strategies, programs and models.

For more information on this project please contact Layne Scherer (lscherer@nas.edu), study director and Board on Higher Education and Workforce program officer.

The Committee issued a Discussion Document and Call for Committee Input in Aug. and Sept. 2017. While the feedback period has closed, please use this link to review the document.

Provide feedback through the National Academies' Current Project System


MEETINGS & EVENTS
---
Upcoming Committee Meeting Information
November 6-7, 2017: Fifth Committee meeting
The Keck Center in Washington, DC
September 14-15, 2017: Fourth Committee meeting
University of California, San Francisco
May 22-23, 2017: Third Committee meeting
North Carolina State University in Raleigh, NC
March 23-24, 2017: Second committee meeting
National Academies Keck Center in Washington, D.C.

March 17, 2017: Listening session at the Transforming Post-Secondary Education Math (TPSE-Math) Chairs +1 Conference (open to all registrants)
1:30-2:00pm Ballroom (College Park Marriott, Hyattsville, MD)
The National Academies' Revitalizing Graduate STEM Education for the 21st Century project: Input from the Math Community

March 3, 2017: Listening session at the Emerging Researchers National Conference (open to all registrants)
10:00am-12:30pm in Maryland C (Marriott Washington, Washington, D.C.)
Open Forum: Perspectives on the Future of STEM Graduate Education

February 18, 2017: Listening session at the AAAS 2017 Annual Meeting (open to all registrants)
2:00-3:00pm at the Independence Ballroom East (Sheraton Boston, Boston, MA)
Open Forum: Perspectives on the Future of STEM Graduate Education

January 12-13, 2017: First Committee meeting
National Academies Keck Center in Washington, D.C.

December 16, 2016: Listening Session at the Institute of Education Sciences PI Meeting (open to all registrants)
8:00-9:30am at the Georgetown West (Washington Hilton, Washington, D.C.)
Listening Session: Perspectives on the Future of STEM Graduate Education

December 13, 2016: Introductory committee conference call
Call closed to committee members only
Agenda

LinkProvide feedback throu National Academies' Current Project System

This website contains unedited papers/verbatim presentations by individuals and is not an official report of the National Academies of Sciences, Engineering, and Medicine. Opinions and statements included in this material are solely those of the individual authors. They have not been verified as accurate, nor do they necessarily represent the views of the committee or the National Academies of Sciences, Engineering, and Medicine.


MEMBERS
---
Alan I. Leshner (NAM)
Committee Chair
Chief Executive Officer Emeritus
AAAS

Sherilynn Black
Assistant Professor of the Practice, Medical Education; Associate ViceProvost for Faculty Advancement; and Co-Principal Investigator, Duke University BioCoRE Program
Duke University


Mary Sue Coleman
President
Association of American Universities (AAU)

Jaime Curtis-Fisk
Scientist and STEM Education Advocate
Dow Chemical Company

Kenneth Gibbs, Jr.
Program Director
National Institute of General Medical Sciences

Maureen Grasso
Professor of Textile Sciences and Former Dean of the Graduate School
North Carolina State University

Sally Mason
President Emerita
University of Iowa

Mary Maxon
Associate Laboratory Director for Biosciences
Lawrence Berkeley National Laboratory

Suzanne Ortega
President
Council of Graduate Schools

Christine Ortiz
Morris Cohen Professor of Materials Science and Engineering, Massachusetts Institute of Technology
Founder, Station1

Melanie Roberts
Director of State and Regional Affairs
Pacific Northwest National Laboratory

Henry Sauermann
Associate Professor of Strategy and Peter Pühringer Chair in Entrepreneurship, European School of Management and Technology, Berlin
Research Associate, National Bureau of Economic Research


Barbara Anna Schaal
Dean of Arts and Sciences and Professor
Washington University in St. Louis

Subhash Singhal
Battelle Fellow and Fuel Cells Director
Pacific Northwest National Laboratory

Kate Stoll
Senior Policy Advisor
MIT Washington Office

James M. Tien
Distinguished Professor and Dean Emeritus
University of Miami College of Engineering

Keith Yamamoto
Vice Chancellor for Science Policy & Strategy
Director of Precision Medicine
Professor of Cellular & Molecular Pharmacology
University of California, San Francisco


PAPERS ASSOCIATED WITH THE REPORT
---
SPONSORS
---
The Burroughs Wellcome Fund
The Institute of Education Sciences
The National Science Foundation
The Spencer Foundation


COMMITTEE PRESS
---