The Science of Effective Mentoring in Science, Technology, Engineering, Medicine, and Mathematics (STEMM)


The quality, vigor, and innovation of the U.S. science, technology, engineering, mathematics, and medicine (STEMM) enterprise depend on increasing the diversity of individuals, research teams, and leadership in STEMM fields. This in turn requires the advancement of women, individuals from racial/ethnic groups historically underrepresented in STEMM, and first-generation students at the undergraduate and graduate levels. Effective, high-quality, and sustainable mentoring relationships for diverse individuals across career stages are essential in supporting student success (e.g., performance, persistence) in STEMM fields, especially for many members of these underrepresented populations.

While access to and engagement with a strong mentor are known to be influential factors in the academic and career development of undergraduate and graduate students in STEMM, there has not been adequate attention to ensuring that mentors and mentees are educated and trained with the evidence-based knowledge and skills necessary to ensure highly productive and sustainable mentoring relationships. It is increasingly clear that successful mentoring relationships can be nurtured using existing and emerging research on the characteristics, competencies, and behaviors identified for being effective mentors and mentees. What is missing is a systematic compilation and analysis of the current research on mentorship in STEMM as well as a practical resource guide that enables mentoring practitioners—institutions, departments, programs, and individual faculty members—to create and support viable, sustainable mentoring support systems. This study proposes to addresses these two gaps.




REPORT



---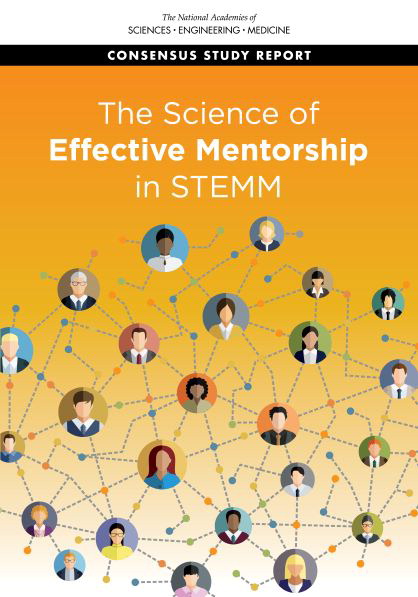 The report is now available as a pre-publication (uncorrected proofs) from the National Academies Press.
You can read it on-line or download a PDF at
www.nap.edu/MentorshipInSTEMM
ONLINE GUIDE
---

RELEASE EVENT
---
---

Under the auspices of BHEW and CWSEM, and in collaboration with BOSE, an ad hoc committee will conduct a study of STEMM (science, technology, engineering, mathematics, and medical) mentoring programs and practices at the undergraduate and graduate levels. The study will have a particular focus on identifying evidence (or lack thereof) regarding successful programs for mentoring of individuals traditionally marginalized in STEMM fields, including women, individuals from racial/ethnic groups historically underrepresented in STEMM, and first-generation college students. Guiding questions for the study will include the following:
What are common definitions and differentiations among the various models of mentoring in STEMM?
What are the most successful elements of effective mentoring relationships in STEMM education at the various stages of career development?
How can and should mentees and mentors be trained to be more effective in the mentor-mentee relationship?
The committee will issue a final report and also create an online interactive guide of effective programs and practices that can be adopted and adapted by institutions, departments, and individual faculty members.
MEETINGS, WORKSHOPS, AND AGENDAS
---
First Committee Meeting
December 19-20, 2017
Health Sciences Learning Center at the University of Wisconsin—Madison in Madison, WI
Open Session Information


Workshop on Inclusive Mentorship Excellence in STEMM: New Knowledge, Ideas, and Practice
April 11-12, 2018
National Academy of Sciences Building in Washington, DC
More Information
Participatory Workshop on Metrics, Models, and Identities in STEMM Mentoring Relationships: What Works and Why?
October 8, 2018
National Academy of Sciences Beckman Center in Irvine, CA
More Information
Making Evidence-based Networks Through Online Resources

February 5, 2019
Vanderbilt University in Nashville, TN
More Information


Closed Committee Writing Meeting

March 18-19, 2019
North Carolina State University in Raleigh, NC


LISTENING SESSIONS
---
We hosted a series of 45-90 minute-long "listening sessions" at professional societies and on campuses across the country. Each session included an overview of the science of mentorship and an opportunity for participants to provide input to the committee for the online guide.

American Psychological Association
San Francisco, CA
9:00 a.m. August 11, 2018
AAMC Group on Graduate Research, Education, and Training (GREAT)
Atlanta, GA
11:00 a.m. September 28, 2018
BEST Consortium
Bethesda, MD
October 24, 2018
Mentoring Institute
Albuquerque, NM
10:00 a.m. October 25, 2018
SREB Institute
Arlington, VA
11:30 a.m. & 3:45 p.m. October 27, 2018
University of California, Irvine
Irvine, CA
November 28, 2018
AGU
Washington, DC
6:15 p.m. December 10, 2018
University of Virginia PhD Plus
Charlottesville, VA
January 17, 2019
American Association for the Advancement of Science (AAAS)
Washington, DC
10:00 a.m. February 16, 2019
American Association of Hispanics in Higher Education (AAHHE)
Cosa Mesa, CA
1:00 p.m. February, 28, 2019
International Mentoring Institute
University of Florida
10:00 a.m. March 12, 2019
National Society of Black Engineers
Detroit, MI
5:00 p.m. March 29, 2019
---
Angela Byars-Winston (Chair)
Professor of Medicine in the Division of General Internal Medicine at the University of Wisconsin-Madison

Laura Gail Lunsford
Professor and Chair of the Department of Psychology at Campbell University

Tammy D. Allen
Professor of Psychology, University of South Florida (until March 2018)

Richard (Rick) McGee
Associate Dean for Faculty Recruitment & Professional Development and Professor of Medical Education at Northwestern University Feinberg School of Medicine
Erin Dolan
Professor of Biochemistry & Molecular Biology and Georgia Athletic Association Professor of Innovative Science Education at the University of Georgia

Christine (Chris) Pfund
Researcher with the Wisconsin Center for Education Research and Director of the Center for the Improvement of Mentored Experiences in Research (CIMER) at the University of Wisconsin-Madison
Joe G.N. Garcia (NAM)
Dr. Merlin K. DuVal Professor of Medicine, University ofArizona (until November 2018)

Christiane Spitzmüller
Professor of Psychology and Managing Director of the Center for ADVANCING UH Faculty Success at University of Houston
Juan E. Gilbert
Andrew Banks Family Preeminence Endowed Professor and Chair of the Computer & Information Science & Engineering Department at the University of Florida and Director Institute for African American Mentoring in Computing Sciences (iAAMCS)
Keivan G. Stassun
Stevenson Professor of Physics & Astronomy, Senior Associate Dean for Graduate Education and Research for the College of Arts and Science, and Director of the Vanderbilt Center for Autism & Innovation at Vanderbilt University

Sylvia Hurtado
Professor of Education at the Graduate School of Education & Information Studies of the University of California, Los Angeles
Renetta Tull
Vice Chancellor, Diversity, Equity, and Inclusion, University of California, Davis

---
Maria Lund Dahlberg, Study Director
John Veras, Senior Program Assistant
Austen Applegate, Research Associate
Allison Berger, Senior Program Assistant (until January 2018)
Fredric Lestina, Senior Program Assistant (until October 2018)
Elizabeth Garbee, Christine Mirzayan Science and Technology Policy Fellow, 2018
Kilan Ashad-Bishop, Christine Mirzayan Science and Technology Policy Fellow, 2019
Adriana Courembis, Senior Financial Business Partner
Thomas Rudin, Board Director, Board on Higher Education and Workforce
Joe Alper, Consultant Writer
Jeremy Waisome, Website Implementation Consultant
SPONSORS
---

Additional funding providing by:
National Academy of Sciences Kobelt Fund
National Academy of Sciences Scientists and Engineers for the Future Fund
National Academy of Sciences Coca–Cola Foundation Fund
---
---