WHAT'S NEW

USNC/TAM Past Chair Elected to the National Academy of Engineering
The U.S. National Committee for TAM congratulates past chair Gareth McKinley on his 2019 election to the National Academy of Engineering. Dr. McKinley was formally inducted into the NAE in October 2019, among 86 new members and 18 new foreign associates. For more about Dr. Kinley's election, click here to read the MIT news release.

USNC/TAM Releases Fall 2019 Newsletter
The U.S. National Committee for TAM is pleased to share its Fall 2019 newsletter, an annual publication that will be issued each fall. Click here to read a welcome from USNC/TAM Chair Dr. Ravi-Chandar (University of Texas, Austin), invites for proposals, reports, fellowship announcements, and much more.

ICTAM 2020 in Milan, Italy
The next IUTAM Congress will be held in Milan, Italy on August 23--28, 2020. The USNC/TAM will be submitting a proposal to NSF requesting support for travel fellowships to ICTAM 2020, which would increase the U.S. representation of early-career and mid-career engineers.

American members of the Congress Committee have already given their input on a series of decisions regarding the meeting program. The Opening Lecturer will be Nicola Pugno (University of Trento, Italy), and the Closing Lecturer will be Elisabeth Guazzelli (IUSTI, Aix-Marseille, France). The list of thematic sessions at ICTAM 2020 have also been released, and is available at https://www.ictam2020.org/.

Presentations for 2019 USNC/TAM Meeting Available for Download
The USNC/IUTAM held its annual meeting on March 29--30, 2019 in Washington, DC. This meeting is essential for the committee to not only respond to and prepare for IUTAM meetings and activities, but also to plan national initiatives that advance the field and groom the future generation of American mechanicians. Members of the USNC/TAM discuss delegations, nominations, proposals, programs, and activities each year at the annual meeting. This allows the United States to be active and well represented, and to utilize opportunities through our adherence to IUTAM. The USNC also discusses topics of scientific research, which may vary from Communicating Science in the 21st Century to Accelerating Materials and Discovery using AI and Machine Learning.

All six videos of the presentations from the 2019 meeting are available for viewing at https://vimeo.com/album/5894286 .

2018 Additive Manufacturing Events
As a result of the 2015 USNC/TAM workshop, "Predictive Theoretical and Computational Approaches for Additive Manufacturing," multiple additive manufacturing events are taking place in 2018.

A US-EU workshop was held from October 24--26, 2018 in Germany. "Integrated Mechanistic Data-Driven Modeling for Additive Manufacturing," was led by Michelle Schwalbe, NAS Director of the Board on Mathematical Sciences and Analytics. The workshop convened leading additive manufacturing experts in online monitoring, science of materials and mechanics, optimization and controls, and qualification and certification, as well as experts from relevant mathematics, statistics, and data science communities, from both the United States and the European Union. Click here to read the workshop agenda (PDF).

The next event will take place in Washington, DC on November 7 and 8, 2018. The 3rd ASTM Symposium on Structural Integrity of Additive Manufactured Parts will, according to the event organizers, provide a forum for the exchange of ideas regarding the fatigue and fracture behavior of materials and components fabricated using additive manufacturing with a focus on the lack of industry standards, design principals, as well as qualification and certification criteria. This event is designed for professionals within the AM community including industrial (aerospace, medical, automotive, and defense), academic, government, and regulatory capacities.

Earlier this year, an IUTAM symposium was held in Dalian, China. The October 7--12, 2018 symposium aimed to promote the interactions among top level researchers, as well as to discuss the challenging issues and corresponding solution approaches, in the area of topology optimization and AM. To view the complete symposium handbook, click here (PDF).

The AM-Bench conference was held at NIST in Gaithersburg, Maryland, from June 18--21, 2018. This conference was hosted by the AM-Bench group, an organization devoted to the development of benchmark tests for validating computational situations for additive manufacturing. Brandon Lane and Lyle Levine of NIST co-chaired the organizing committee of the conference.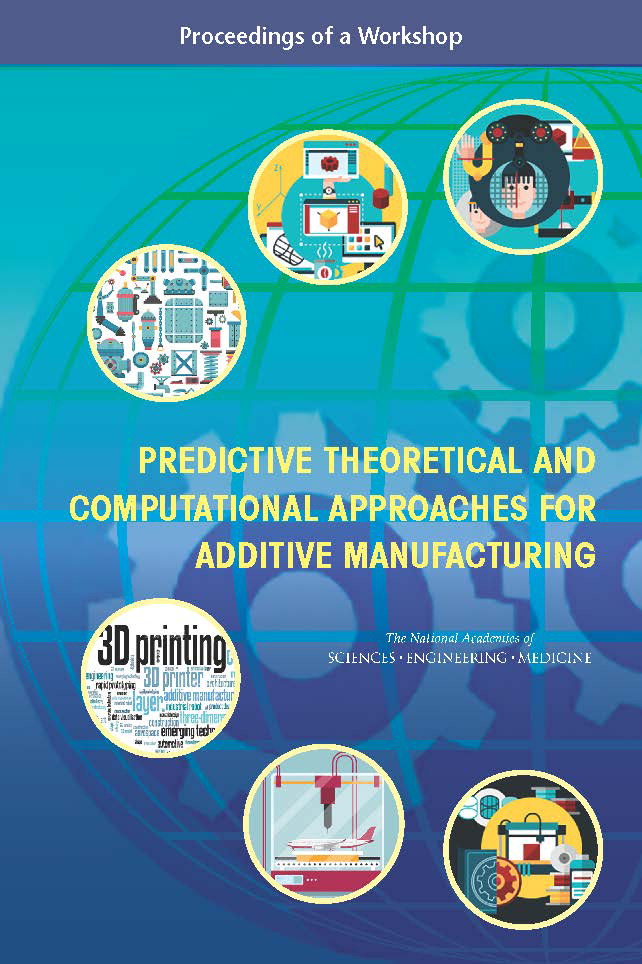 Predictive Theoretical and Computational Approaches for Additive Manufacturing: Proceedings of a Workshop is now available for download or purchase.





IUTAM 2018 General Assembly
The USNC/TAM delegation of five to the General Assembly consisted of Gareth McKinley (MIT; Delegation Chair), Wendy Crone (University of Wisconsin-Madison), Linda Franzoni (Duke University), Wing Kam Liu (Northwestern University), and Krishnaswamy Ravi-Chandar (University of Texas at Austin). With the assistance of the USNC/TAM, the delegation prepared U.S. nominations, including nominations to the Congress Committee, and proposals for IUTAM activities and programs such as IUTAM Symposia, IUTAM Summer Schools, and ICTAM Thematic Sessions. More information is available on the General Assembly website.

The call for 2020-2021 IUTAM Symposia proposals resulted in 19 applications. The USNC/TAM reviews the proposals and submits the top applications to the IUTAM General Assembly. The three proposals presented by the United States are listed below:

SO.04 Optimal guidance and control for autonomous systems (Honolulu, Hawaii)
SO.07 Mechanics of smart and tough gels (Austin, Texas)
SO.08 Mechanics of liquid crystal elastomers (Houston, Texas)

An important decision related to IUTAM publications was made at the General Assembly. The Union is creating a new IUTAM book series developed in conjunction with Springer, and five volumes have been contracted. IUTAM is abandoning the IUTAM Proceedia developed with Elsevier. The chair of the U.S. delegation drafted a report, which is included as supplemental material.