PARTNERSHIPS FOR ENHANCED ENGAGEMENT IN RESEARCH (PEER) HEALTH
Cycle 1


Newborn Infection Control and Care Initiative for Health Facilities to Accelerate Reduction of Neonatal Mortality (NICCI)
Principal Investigator: Chivorn Var, National Institute of Public Health (NIPH), Cambodia
NIH-Supported Collaborator: Robert Oberhelman, Tulane School of Public Health and Tropical Medicine
Title of NIH Award: Inter American Training for Innovations in Emerging Infectious Diseases
Project Overview
Newborn mortality continues to be unacceptably high in Cambodia, despite reductions in maternal and under five year old mortality. Evidence exists that a large proportion of newborn mortality globally and in Cambodia is attributable to infections and sepsis and must be addressed. A surge in the number of births at Health Centers unprepared for increased caseloads has likely contributed to substandard hygiene practices and referral. The goal of the project is to implement and evaluate a linked intervention to reduce newborn mortality and morbidity by addressing infection control in the perinatal period, improving recognition of newborn illness, and facilitating prompt referral to appropriate care. The project has two objectives: 1) to improve infection control behavior by staff in selected Health Centers and train health workers in infection control messages to be delivered to pregnant and newly delivered women; 2) to improve referral of sick newborns by Village Health Support Group (VHSG) volunteers and HC staff through: a) increased recognition of danger signs, b) shorter time between recognition of danger signs and care seeking at an appropriate health facility; and 3) to describe the causes of sepsis among infants with possible sepsis from a subset of health center catchment areas. The study will use an experimental design to evaluate a package intervention for the reduction of newborn mortality. The study will incorporate mixed methods including: formative (qualitative) research, a stepped wedge cluster randomized intervention trial and process evaluation. It is anticipated that the results of this study will provide data for policy level actions on newborn survival in Cambodia and in other settings with similar health outcomes. The study may contribute to the potential scale up of a linked model of community-facility care for newborns.
Summary of Recent Activities: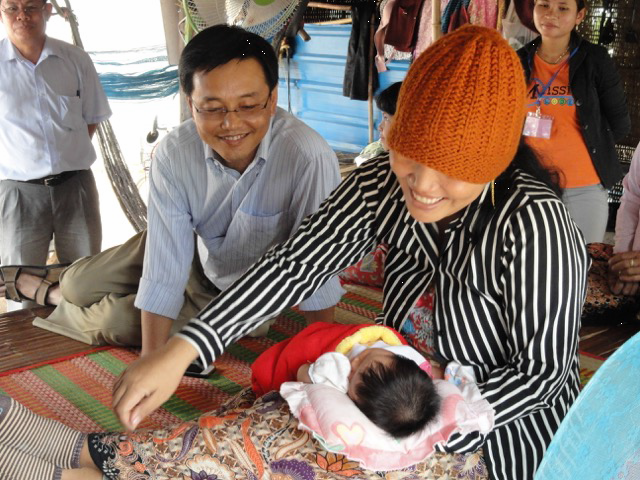 Principal Investigator and Project Coordinator observed project staff interviewing new delivery mothers in Tropaing Snor & Prey Changreak villages.
As of March 2017, the project team completed the training all 16 intervention health centers. These trainings focused on infection control, hand washing, cleaning delivery and post-delivery room, sterilize delivery instruments, and newborn care and danger signs. The study enrolled 2437 pregnant women and follow-up interviews were conducted on the 14-th day and 28-th day after birth. Verbal autopsy data was collected from 13 mothers interviewed about the death of their newborns. As for the sepsis study, there were 84 suspected sepsis newborns in the study population. Blood samples were collected and cultured to identify the bacteria which cause the suspected sepsis. The team found nine positive samples. The project conducted a six-month assessment and data collection from both the health centers and the village health support groups (VHSG). In the 16 health centers, 83 midwives were evaluated on their knowledge of hygiene, sanitation, infection control, newborn care, and danger signs among others. Additionally, the project team conducted the assessment with 520 VHSGs in 267 villages about their knowledge and performance on newborn care, danger signs, hygiene, and home visit after birth for provision of health education to mothers. Refresher trainings were performed for VHSGs in three health centers (Prey Chour, Angtasom, and Prombei Mom) to sustain their knowledge on hygiene, sanitation, and hand washing, newborn care, and danger signs.
The team plans to perform a process evaluation of the study which will include four groups: the VHSGs, focus groups, mothers, and health center staff. The coding framework has been established and data will be coded by two independent coders within Nvivo. Once full coding, thematic analysis, synthesis and results to be evaluated are preferred the study team will draft a manuscript for publication. Analysis of the data collected is in progress and is expected to be completed by July 2017. The CONSORT Checklist is being used to guide the analysis and reporting process for the results. A data analysis plan has been drafted, a data dictionary has been checked and variable names assigned, primary outcome measures have been determined, and final variables to include in the analysis have been selected. The team plans to perform the intention to treat analysis with time as a covariate.
Health Cycle 1 Recipients