PARTNERSHIPS FOR ENHANCED ENGAGEMENT IN RESEARCH (PEER) HEALTH
Cycle 1



Principal Investigator: Anisur Rahman, International Centre for Diarrhoeal Disease Research (icddr,b)
NIH-Supported Collaborator: Randall Kuhn, University of Denver
Title of NIH Award: Long-term Effects of Health and Development Interventions in Rural Bangladesh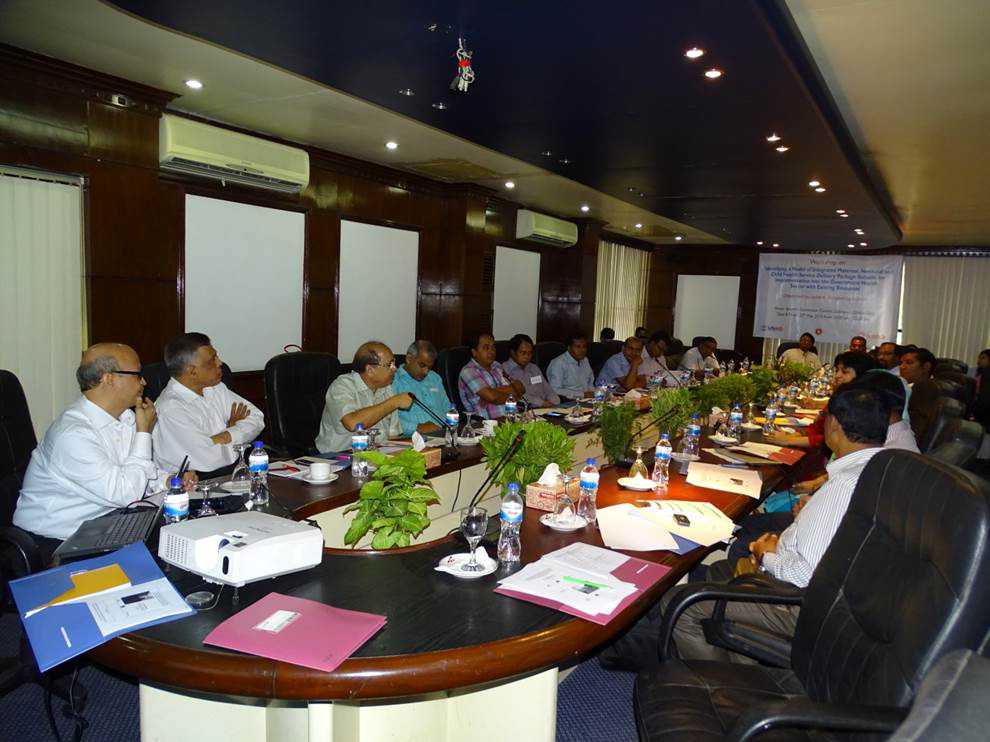 National Workshop to finalize the intervention module on 27 May 2015. (photo courtesy of PI Anisur Rahman)
Project Overview

Despite widespread poverty and malnutrition, the overall progress to achieving the MDGs for child (MDG 4) and maternal (MDG 5) health in Bangladesh is encouraging (NIPORT 2011). However, maintaining the pace of mortality reduction is challenging. Neonatal deaths contribute about 43% of under-five mortality, and the pace of neonatal mortality reduction is slow in comparison to post-neonatal and childhood mortality reduction. In the rural Matlab Upazila (sub-district) of Bangladesh, icddr,b has long maintained a health and demographic surveillance system (HDSS), operated a field hospital, and tested intensive in-home outreach and service delivery strategies on maternal and child health. In 2007, icddr,b introduced a successful model of integrated Maternal, Neonatal, and Child Health (MNCH) into its existing intensive treatment area associated with a 36% reduction of perinatal mortality within a short time frame. We propose to extend these services to the remaining part of Matlab where the population receives care from government health facilities similar to the remaining parts of the country. The overall goal of this Maternal, Neonatal and Child Health Extension (MNCH-Ext) Project is to implement the available evidence-based maternal and neonatal interventions through a functional and responsive primary health care service delivery system to improve perinatal health in Matlab, Bangladesh. Proposed study interventions are to strengthen the primary health care systems through addressing the health system building blocks such as: improving governance, human resources (training and quality improvement), ensuring supplies, improving the health delivery system (through established linkages), improving information systems, and working with people for creating demand for uptake of interventions. Upon strengthening the health system, evidence-based interventions related to maternal, neonatal and child health services will be offered. The impact of intervention will be evaluated further based on a nested case-referent study. The study populations are women of reproductive age residing in the selected area of two sub-districts (Matlab South and Matlab North) in Chandpur, Bangladesh. This study will demonstrate that a successful service delivery model (family/community, outreach, facility) can be integrated into the existing government health system in a low cost sustainable way by strengthening that system to implement known, evidence-based interventions during pregnancy, delivery and post-natal periods.This will position the model for national scale-up to achieve Millennium Development Goals (MDGs) for maternal and child health in Bangladesh.
Summary of Recent Activities:

As of June 2017, after establishment of interventions (community and facility levels) enrollment of pregnant women started in September 2015 and concluded in March 2017, while follow-up continued until June 2017. As planned, the team has started data collection for evaluation of the intervention provided. Data collection will occur in two phases. In the first phases listing of all women delivered in the past year will be ascertained. The second phase is a comprehensive survey of a randomly selected women available from the listing. The purpose of the listing is to determine coverage of antenatal care and the number of still births, and neonatal mortality in the study area. The research team has started listing all delivered women in the intervention and control area in May 2017. The listing will be completed in July 2017. Thus far, field level workers have identified 5373 women that delivered in the study area. During the reporting period the team submitted a manuscript titled "Reported knowledge on maternal danger signs and birth preparedness: A cross sectional study in a rural area in Bangladesh" in the BMC Pregnancy and Childbirth. It is planned that the team will complete the endline survey in the next three months and will start report writing.
Health Cycle 1 Recipients