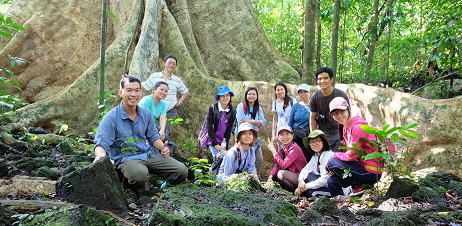 A group photo of the team at Cat Tien Park (Photo courtesy of Dr. Aowphol).
Dr. Six members of this multinational PEER team visited the United States July 7-17, 2017, including PI Dr. Anchalee Aowphol and students Ms. Sengvilay Seateun and Ms. Siriporn Yodthong of Thailand, co-PI Dr. Niane Sivongxay of Laos, and co-PI Dr. Huy Duc Hoang and student Le Thi Thuy Duong of Vietnam. While they were in North Carolina during the first portion of their trip, U.S. partner Dr. Bryan L. Stuart took the team to visit the extensive natural history collections at the North Carolina Museum of Natural Sciences and provided them with training on curatorial methods, including databasing and georeferencing. The visitors had time for independent study of amphibian and reptile specimens from the Lower Mekong Ecoregion found in the museum's collections, and on the final day of their time in North Carolina, the team and their U.S. colleagues had a field visit to the Boone area to learn about salamander diversity in the Southern Applachachians. The group spent the second half of their trip in Chicago, Illinois, where they received training in curatorial methods from Mr. Alan Resetar, manager of the Amphibian and Reptile Collection at the Field Museum of Natural History, after which they had two days for independent study of the collection.
Prior to the U.S. visit, Dr. Aowphol and her students conducted fieldwork in northern Thailand May 10-16 and at the Sakaerat Environmental Research Station May 19-21, in collaboration with Dr. Jonathan J. Fong from Lingnan University, Hong Kong. Her PhD students were also busy with their own projects this past quarter. Ms. Seateun monitored the Asian turtle
Cyclemys oldhamii
at the Sakaerat Environmental Research Station using radio-telemetry, and Ms. Yodthong worked on DNA analysis in the molecular lab. Ms. Seateun also gave an oral presentation at the 7th Conference on Taxonomy and Systematics in Thailand June 26-28. As for the co-PIs, Dr. Sivongxay conducted fieldwork at in Khammouane Province (Laos) May 10-19, and in early June she led B.Sc. students on another field expedition as part of preparation of their senior projects. Meanwhile, in Vietnam, Ms. Duong has been working on her dissertation.
With this PEER project drawing to a close at the end of September 2017, the PI and her colleagues will be purchasing a few last supplies, finishing their planned research activities, and completing their final report.
USAID Interview with Dr. Aowphol on Women Leaders

USAID Women Leaders article featuring Dr. Aowphol

Back to PEER Cycle 2 Grant Recipients