Partnerships for enhanced engagement in research (PEER) SCIENCE
Cycle 2 (2012 Deadline)
Rhizosphere biology of shrub-created resource islands of Sahelian agroecosystems: optimization and adaptation to climate change
PI: Yacine Ndour (Institut Senegalais de Recherches Agricoles)
U.S. Partner: Richard P. Dick (The Ohio State University)
Project Dates: August 2013 to December 2017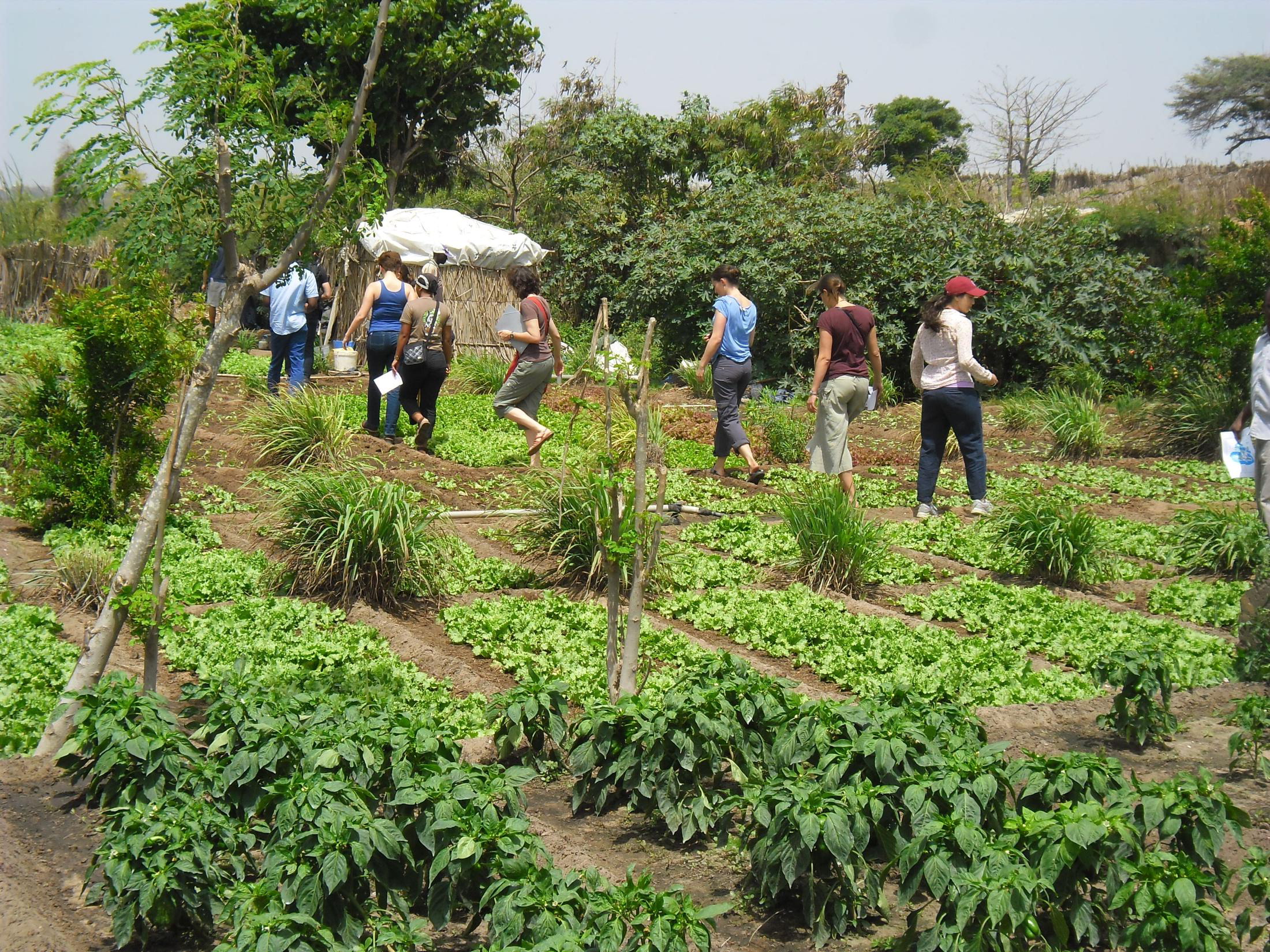 MicroTrop 2014 Field trip to Niayes' Small Farmer Vegetable Production.
A major challenge facing Senegal is the capacity to feed a rapidly growing population against a background of climate change and low inherent soil fertility. Scientifically validated agricultural systems are now urgently needed that optimize crop productivity despite water and heat stresses. With previous support from the National Science Foundation, the collaboration to date between the Senegalese and U.S. scientists working on this PEER Science project has led to the discovery of two previously unrecognized shrub species that can coexist with crops on smallholder farms and have the ability to lift water from wet sub- to dry surface soil and to improve the soil. T
he primary goals of this new project are to understand how the harboring of beneficial nematodes (microscopic roundworms) and arbuscular mycorrhiza fungi (AMF) by shrub roots and associated rhizosphere can increase or maintain crop productivity in a climate change scenario of greater water and temperature stress. The project will be mainly based on lab experiments in a climate chamber with humidity and illumination to generate varying climate scenarios.
The main expected outcome will be progress toward developing optimized shrub-crop systems that will help subsistence farmers withstand climatic change stress. The project should serve USAID strategies of (1) adapting agricultural systems to increase, or at least, maintain crop production in climate changes while preserving biodiversity and related services at field scale, (2) creating wealth through better management of Senegal's natural resources and development of sustainable agriculture, and (3) strengthening institutional and human capacities in the fields of agricultural education and research that benefit to smallholder farmers.

Summary of Recent Activities
During the period January to April 2017, the PEER team focused mostly on data analysis and writing a research paper.

The title of the paper is "Drying and rewetting disturbance influences soil microbial response to basal respiration β-Glucosidase activity and C biomass over time in two soils with contrasting Shrubs management under climate chamber conditions"

This paper is about understanding how extreme events in Sub-Saharian Africa simulated by drying and rewetting soil, could impact microbial community response which play a major role on ecosystem services. The paper is in the final process of review by the co-authors and will be submitted to European Journal of
Soil Biology.

The Ph.D student in the project is still carrying out her experiments. She is working on the mesocosm experiment to study the impact of Arbuscular mycorrhizal fungi (AMF) inoculation on millet growth in elevated temperature (+5°C) applied in climatic chamber. The data collected at the end of this second round of incubation at 37°C will be compared to the first round of incubation at 32°C in order to figure out how +5°C can affect mycorrhization rate and physiological parameters of millet.

Lastly, during this period, results of soils parameter incubated in 32°C were completed. From this experiment, the team concluded the following:

It appears that the Shoot biomass of millet cultivated in soil collected beneath a shrub is significantly higher compared to millet grown in the soil collected outside shrub. These results confirm that the inoculation improve the millet's growth. The presence of the shrub promote establishment of AMF symbiosis.

Secondly, the enzyme activity was measured in the soil where the millet was grown to evaluate the global activity of microbial community of soil. The results showed that the FDA activity is significantly higher when the indigenous AMF strains were inoculated compared to the control . In all treatments, the activity FDA of soil collected beneath shrub is significantly higher than in soil collected outside shrub. FDA results bears out the estimation of microbial biomass measured.

During the past quarter report, the team also engaged with US partners and their IRD partner to prepare a symposium for development impact activities dissemination.

In the next quarter, the team plans on visiting their US partner at Virginia Tech University. They also plan on holding a symposium to share the results of the project which is will end in December.



| | |
| --- | --- |
| | |
| A PhD student conducts soil experiments in a greenhouse (photo courtesy of Dr. Ndour). | MicroTrop 2014 Participants and Lecturers |