Partnerships for enhanced engagement in research (PEER)
Cycle 4 (2015 Deadline)
One Fits All: developing decapods biodiversity research for education, conservation and research benefits

PI: Ambariyanto (ambariyanto.undip@gmail.com, ibrcbali@gmail.com), Indonesian Biodiversity Research Center and Diponegoro University
U.S. Partner: Christopher Meyer, Smithsonian National Museum of Natural History
Project Dates: January 2016 - December 2018

Project Overview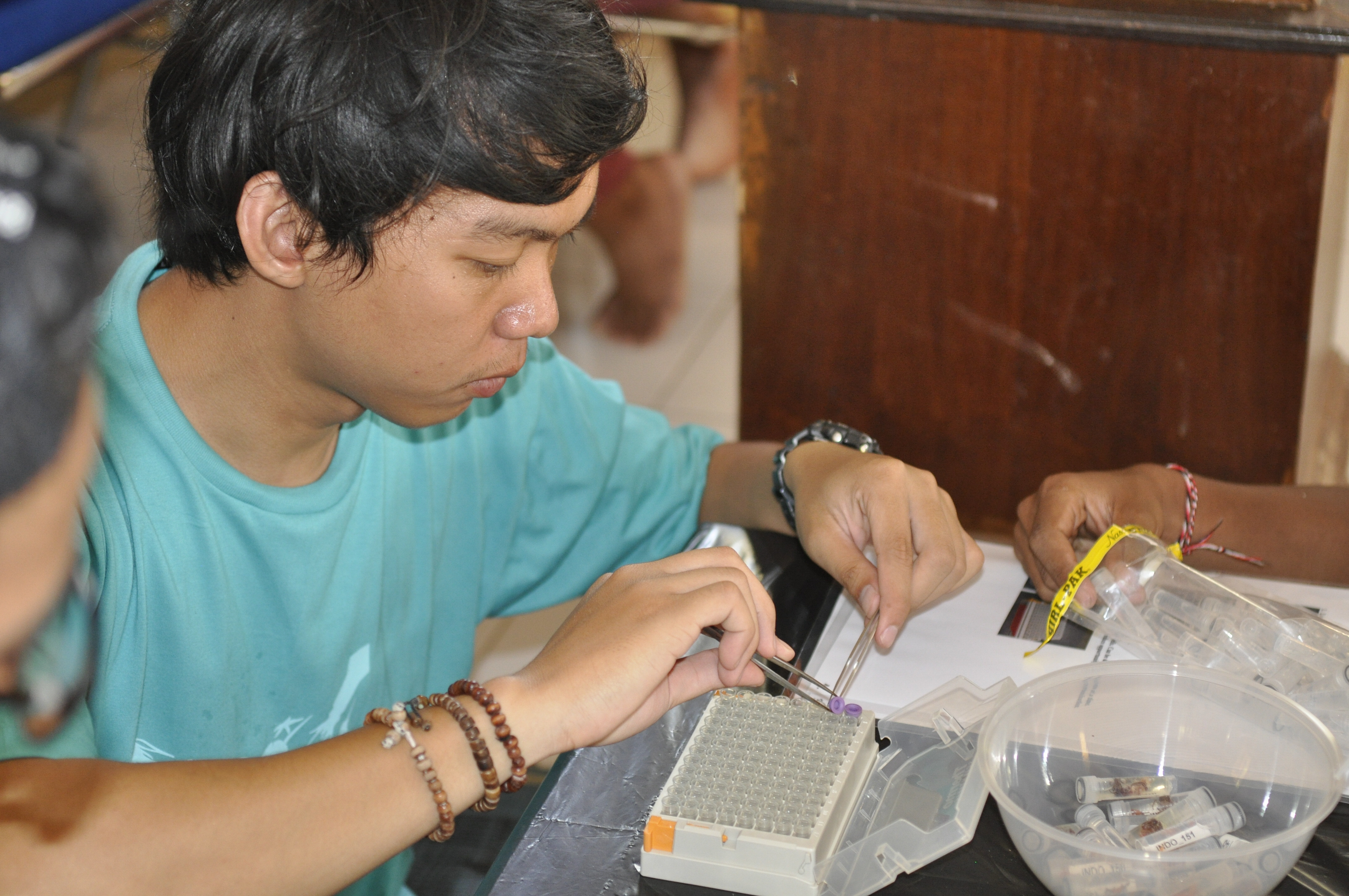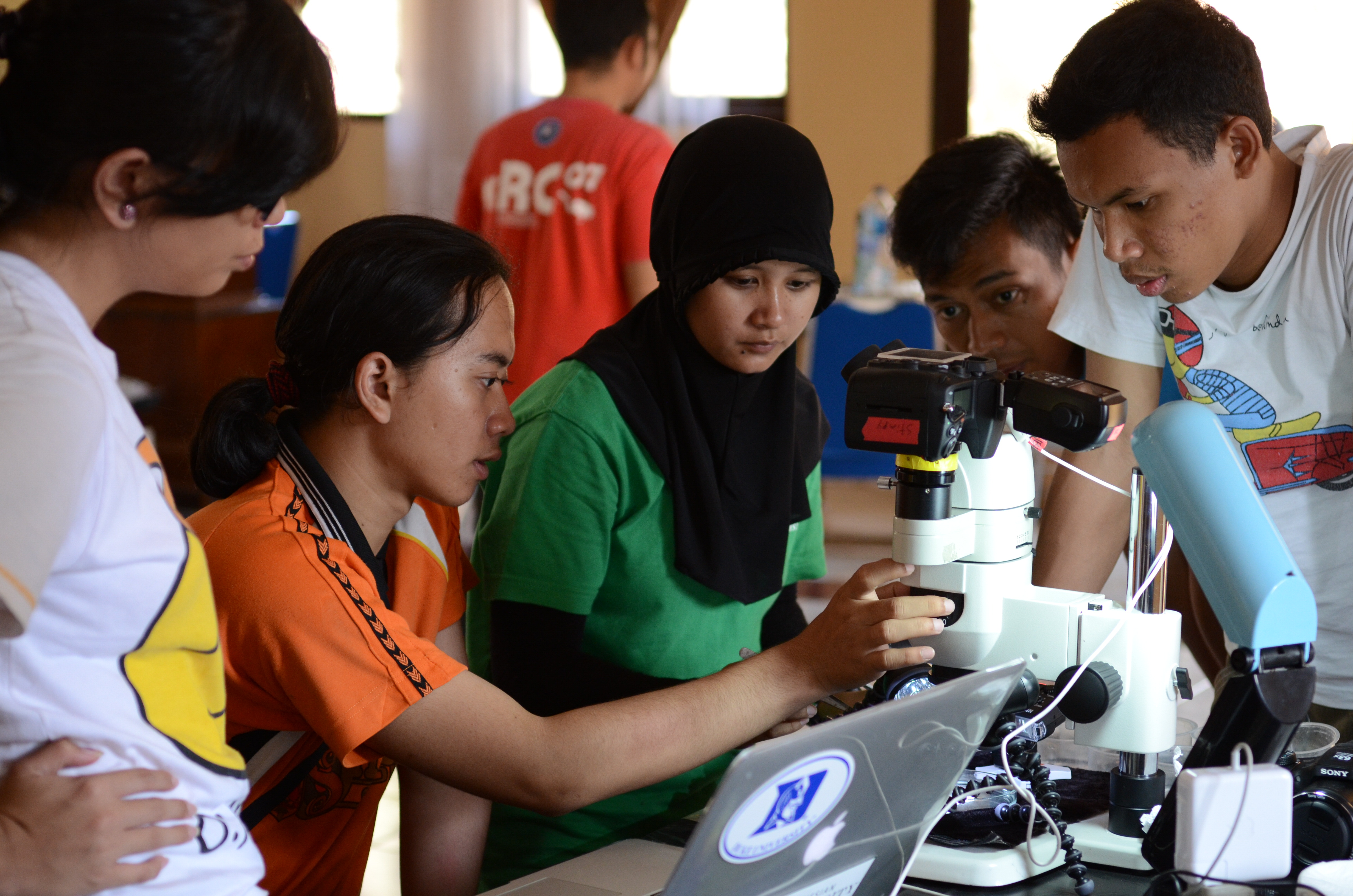 Photos courtesy of Andrianus Sembiring
Biodiversity is defined as the variety of organisms within a given area. The Convention on Biological Diversity indicates that the richer the diversity of life, the greater the opportunity for economic growth. However, despite having the highest marine biodiversity in the world, Indonesia frequently faces significant economic challenges and poor development due to unsustainable exploitation of their natural resources. Efforts to quantify biodiversity have traditionally relied on easily observed parameters like coral cover and fish biomass, while smaller invertebrates that significantly contribute to reef diversity are often ignored due to difficulties in identification, potentially resulting in inaccurate assessment of biodiversity and reef health. Although Indonesia is home to seas featuring more than half of all known marine species, not all taxa of these species have been assessed and quantified, and local expertise to support biodiversity research is small in relation to Indonesia's size and biodiversity. This project focuses on quantifying the biodiversity of decapods (an order of crustaceans that includes crayfish, crabs, lobsters, prawns, and shrimp) across the Indonesia while also nurturing international collaboration and improving local taxonomic expertise. The research team will implement an integrated research and education program using autonomous reef monitoring structure (ARMS) and dead coral heads (DCH) as artificial and natural collection platforms for reef-associated decapods. Decapod diversity will then be assessed using both traditional taxonomy and cutting-edge genetic approaches. The results of this project will provide the first insights into the magnitude of marine biodiversity in one of the most diverse groups of marine metazoans in Indonesia, while also assessing how this diversity is distributed throughout the archipelago. Results will help inform local researchers and managers regarding health of reef ecosystems across Indonesia, facilitating the development of conservation strategies based on current biodiversity assessments.

The data collected will be helpful in designing management strategies to preserve biodiversity hotspots within Indonesia and in focusing conservation efforts on particularly threatened areas. Trainings and workshops organized through this project will increase local capacity to develop high quality biodiversity research and nurture the growth of local taxonomists. In addition, smartphone applications (www.dnabarcodingassistant.org) and online database produced through this project will, for the first time, make biodiversity research accessible to people beyond the scientific community, which is critical for mobilizing grassroots support for marine conservation. Through joint research and educational programs with the Smithsonian Institution, the team will train dozens of Indonesian students and researchers through experiential learning in research-intensive courses. By using research as a platform for education, the project will simultaneously improve understanding of Indonesian marine biodiversity and develop the next generation of biodiversity scientists.




Summary of Recent Activities

In early 2018, four student interns from Trunojoyo University, Madura, joined the PEER team at Diponegoro University (UNDIP). They received hands-on training in analyzing data from the decapod samples collected throughout the previous sampling activities. The PI Dr. Ambariyanto reports that he and his group have received the genetic data for all the samples, with more than 150 already analyzed and more in process.

On the outreach side of the project, on February 3, 2018, the team worked with the Lentera Community and Taka Foundation to conduct an educational program on coral reefs for more than 30 elementary school students and teachers from around Tambak Lorok, Semarang. The event was held in a unique floating library built by the Semarang local government in cooperation with the government of the Netherlands. The participants in this program were enthusiastic about the program, and the PEER team plans another similar event later this year in the same area, which has been selected as a focal point for their outreach and awareness building efforts. On April 13, 2018, a training program was held for eight lecturers from the Faculty of Fisheries and Marine Science at UNDIP to introduce them to the fundamentals of molecular genetics, relevant laboratory procedures, and data analysis. Their new skills will be useful in enhancing the curriculum material they are able to deliver to their own students.

In the coming months, Dr. Ambariyanto and his group will continue working to complete the task of analyzing their data. Thanks to a PEER Partner Cooperation supplement, they will be hosting U.S. partner Dr. Christopher Meyer and another colleague from the Smithsonian Institution in mid-July 2018. During that visit, they will conduct several events, including a general lecture, a workshop on data analysis, and a workshop on scientific writing for publication.