Partnerships for enhanced engagement in research (PEER)
Cycle 4 (2015 Deadline)
Integrated watershed management for enhancing local livelihoods and biodiversity conservation in Indonesia

PI: Ani Adiwinata Nawir (a.nawir@cgiar.org), Center for International Forestry Research (CIFOR) (formerly Terence Sunderland, through December 2017)
U.S. Partner: Jefferson Fox, East-West Center
Project Dates: November 2015 - October 2018

Project Overview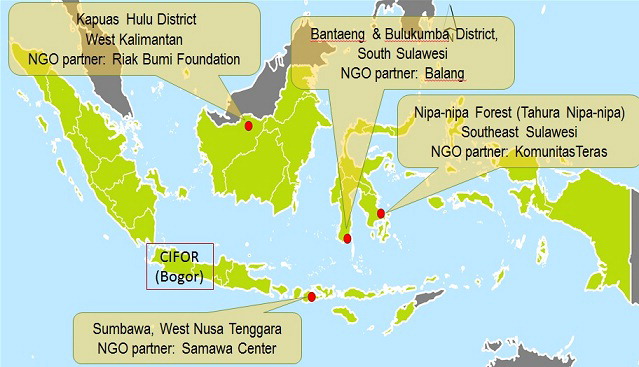 This map shows the project research sites and partner NGO locations. © CIFOR PEER Project
This project seeks to promote effective implementation of integrated watershed management (IWMA), thereby enhancing local livelihoods, biodiversity conservation, and the research capacity of the partners involved. The project is aimed at overcoming several resource management problems, biodiversity threats, and conflicting policy and regulation frameworks. Its specific objectives include (1) assessing a variety of institutional arrangements for more effective IWMA; (2) developing approaches for implementing landscape-level biodiversity conservation in remaining natural ecosystems that are key habitats of endemic endangered plant and animal species; and (3) promoting IWMA for enhancing local livelihoods supported by policy and regulation frameworks at national and local levels, based on good governance principles. Activities in Year 1 will include a review of policy and regulatory frameworks that now hinder integrated watershed management, landscape-based biodiversity conservation approaches in identified areas, and existing institutional arrangements, as well as an analysis of stakeholders and their divergent needs and capabilities. In Year 2, the project team will develop follow-up activities in collaboration with their U.S.-based partners based on data collected to develop scenarios for integrating the above three aspects. In Year 3, the project will focus primarily on capacity building for local stakeholders.

By the time the project is completed, NGO partners in Indonesia should have better capacity to conduct relevant research and apply research results to management on the ground. Government agencies and communities should have a better understanding of effective IWMA and landscape-based biodiversity conservation and how it is applied in the three research sites to be included in the project (Bantaeng and Bulukumba districts in South Sulawesi and Sunbawa District in West Nusa Tenggara). Experiences will also be shared with the other project site in West Kalimantan (Kapuas Hulu District), especially in developing community-based conservation approaches. Skills gained will give these key stakeholders the approaches and experience to continue implementing key project recommendations, ensuring that IWMA is applied after the project ends. It will also build capacity among these stakeholders to participate in research and monitoring in future conservation and/or REDD+ activities. Triangular cooperation with the U.S. Government-supported partner at the East-West Center will enhance the scientific research capacity of project members and partners by sharing local and global knowledge on the issue of IWMA.

Summary of Recent Activities

Applying participatory action research methodology and guided by the Integrated Watershed Management Approach (IWMA), CIFOR and the four partner NGOs on this project have continued to work together in four project sites during the second quarter of 2018. Following are brief updates on recent and planned activities by each:

OASE (replacing the previous Balang Institute) (Research: Participatory approach to land and water use planning to formulate integrated watershed management in the upstream area of Biangloe and Tangga Watersheds in Bantaeng District, and Raowa Watershed in Bulukumba District, South Sulawesi). Oase convened its district level multi-stakeholders meeting in Ulu Ere Sub-district Office in Bantaeng on April 28. After giving some updates on the activities implemented under PEER Project, the team presented results from the participatory mapping exercise as the entry point for more in-depth discussion. Oase found that the two watersheds studied have different land cover characteristics. The upstream area of Biang Loe Watershed is still dominated by a forested land cover, while the upstream area of Tangnga Watershed is more dominated by vegetable crops, leading to a water crisis condition. The option for implementing the Integrated Watershed Management Approach was then further explored. Downstream industries are urgently in need of water for their production processes. It was agreed among the stakeholders across government agencies, private sectors, and communities to take immediate measures to recover the carrying capacity of the watershed. The Public Works Agency (PWA) has invited all parties to collaborate to protect the water springs in the villages to prevent a clean water crisis. The PWA has also invited Oase to carry out collaborative outreach to the general public on water protection needs in Bantaeng District in 2018.
Training for local communities as part of the participatory mapping exercises of land/water utilization in Bulukumba, and river tracking to observe communities'
daily practices of using the main river of the Raowa Watersheds, Bulukumba © Balang Institute 2017 for CIFOR

SAMAWA CENTER (Research: Watershed to ensure a mutually beneficial management and utilization schemes between upstream communities and downstream users in Sumbawa, West Nusa Tenggara). This team's main focuses in recent months has been following up at various levels during the final stage of the development of the Sumbawa Head of District's Regulation on management and utilization of environmental services in Sumbawa District. Two studied villages (including at the hamlet level) were covered (Kelungkung and Pelat Village), with the emphasis in discussions being on (1) informing the process for finalizing the regulation on environmental services, (2) mapping the communities' responses to the proposed regulation; and (3) identifying and mapping the appropriate institutional arrangement model and cooperation mechanism proposed by the village communities. At the district level, Samawa Center staff held a coordination meeting with experts from Samawa University and the Regional Planning Agency of Sumbawa District, specifically to seek inputs for follow-up strategies. Getting the regulation formally signed by the head of the district is next on the agenda.

TERAS COMMUNITY (Research: Redefining roles of key stakeholders in reviving hydrological function and strengthening biodiversity conservation in Nipa-Nipa Grand Forest Garden, Southeast Sulawesi). Activities of current and planned focus include (1) conducting a series of discussions with communities from Punggaloba in their resettlement after being moved from Nipa-Nipa Forest; (2) evaluating Nipa-Nipa Forest strategic management planning in collaboration with the Technical Management Unit of Nipa-Nipa Forest; (3) finalizing a policy brief based on the research results; (4) producing a documentary film for national-level distribution on the process to resolve the resettlement conflict in Nipa-Nipa Forest; and (5) facilitating the Working Group of Southeast Sulawesi Watershed. The working group is a multi-stakeholder forum to discuss how to move forward toward adoption of the IWMA. The regional planning agency at the province level plays a strategic role on the working group.

RIAK BUMI FOUNDATION (Research: Ecological, social and economic values of tengkawang (Shorea spp.) and local fruit in maintaining hydrological function and biodiversity conservation in Mensiau and Lanjak Deras, Kapuas Hulu, West Kalimantan). Based on the goal previously agreed on with the community, namely to develop a community-based coffee plantation in Mensiau Village, staff from the Foundation conducted training on coffee nursery and cultivation. Training was also provided on making charcoal from rice husks and making organic fertilizer with materials available around the hamlet area, such as waste or garbage. A writing workshop was conducted with CIFOR to develop a policy brief based on results from PEER activities. Participants also discussed how to facilitate the tengkawang network of Kalimantan as a forum to promote the IWMA, taking the lessons learned from the Indonesian Forest Honey Network that has been very effective in promoting sustainable forest honey production.

In the remaining months before the project concludes at the end of October 2018, CIFOR will continue to coordinate the drafting of a series of info-briefs based on results and findings from the four locations, as well as collaborating to ensure the project deliverables are produced. Each NGO partner will be working to finish up its planned activities, while policy advocacy and dissemination at the national level will be the main focus of CIFOR's activities.

Back to PEER Cycle 4 Grant Recipients