Partnerships for enhanced engagement in research (PEER)
Cycle 4 (2015 Deadline)
Integrated watershed management for enhancing local livelihoods and biodiversity conservation in Indonesia

PI: Ani Adiwinata Nawir (a.nawir@cgiar.org), Center for International Forestry Research (CIFOR) (formerly Terence Sunderland, through December 2017)
U.S. Partner: Jefferson Fox, East-West Center
Project Dates: November 2015 - October 2018

Project Overview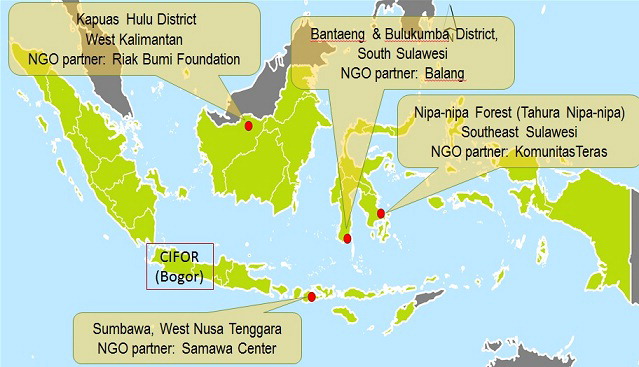 This map shows the project research sites and partner NGO locations. © CIFOR PEER Project
This project seeks to promote effective implementation of integrated watershed management (IWMA), thereby enhancing local livelihoods, biodiversity conservation, and the research capacity of the partners involved. The project is aimed at overcoming several resource management problems, biodiversity threats, and conflicting policy and regulation frameworks. Its specific objectives include (1) assessing a variety of institutional arrangements for more effective IWMA; (2) developing approaches for implementing landscape-level biodiversity conservation in remaining natural ecosystems that are key habitats of endemic endangered plant and animal species; and (3) promoting IWMA for enhancing local livelihoods supported by policy and regulation frameworks at national and local levels, based on good governance principles. Activities in Year 1 will include a review of policy and regulatory frameworks that now hinder integrated watershed management, landscape-based biodiversity conservation approaches in identified areas, and existing institutional arrangements, as well as an analysis of stakeholders and their divergent needs and capabilities. In Year 2, the project team will develop follow-up activities in collaboration with their U.S.-based partners based on data collected to develop scenarios for integrating the above three aspects. In Year 3, the project will focus primarily on capacity building for local stakeholders.

By the time the project is completed, NGO partners in Indonesia should have better capacity to conduct relevant research and apply research results to management on the ground. Government agencies and communities should have a better understanding of effective IWMA and landscape-based biodiversity conservation and how it is applied in the three research sites to be included in the project (Bantaeng and Bulukumba districts in South Sulawesi and Sunbawa District in West Nusa Tenggara). Experiences will also be shared with the other project site in West Kalimantan (Kapuas Hulu District), especially in developing community-based conservation approaches. Skills gained will give these key stakeholders the approaches and experience to continue implementing key project recommendations, ensuring that IWMA is applied after the project ends. It will also build capacity among these stakeholders to participate in research and monitoring in future conservation and/or REDD+ activities. Triangular cooperation with the U.S. Government-supported partner at the East-West Center will enhance the scientific research capacity of project members and partners by sharing local and global knowledge on the issue of IWMA.

Summary of Recent Activities

Focusing on strengthening the capacity of partner institutions in conducting participatory action research, this PEER Project coordinated by CIFOR aims to promote an effective implementation of an Integrated Watershed Management Approach (IWMA), thus improving the livelihoods of local communities and the development of landscape based biodiversity conservation. CIFOR has organized three training workshops for the NGO Partners on this project to date, the most recent being a workshop on research proposal writing that was conducted in Sumbawa March 12-16, 2018. The objectives were to (1) share the latest results and findings from the four sites and synthesize lessons learned at the project level using the framework of IWMA; (2) enhance the knowledge and skills of the NGO partners to write proposals based on identified lessons learned; and (3) explore lessons learned at the grassroots level in the Sumbawa and Moyo Watersheds. The third objective was pursued through a field trip that gave the participants a chance to discuss the issues with a range of stakeholders and consider various watershed-based management practices related to institutional arrangements, community participation, applied regulations, and local livelihoods from upstream to downstream areas.

On Day 1 of the workshop, the Head of Regional Planning Agency of Sumbawa District formally opened the event and discussed challenges and opportunities on "Watershed management as the basis for directing the regional development planning in Sumbawa District." Later, participants worked through exercises on putting together lessons learned from implementing research guided by the IWMA concept. On Day 2, participants reflected on the PAR approach used based on the conceptual framework of IWMA and were trained on how to design an effective research concept note. Each NGO prepared one concept note based on the topic discussed in the synthesis session. On Day 3, CIFOR presented an "Introduction to the logical framework of a proposal," after which participants practiced how to develop a proposal framework based on the concept notes they had prepared. Each group then presented the results to get inputs for improvement. In the afternoon, CIFOR facilitated an exercise on full proposal design based on the PAR approach using the prepared logical framework. On Day 4, resource persons from local government agencies provided participants with a better understanding of how to access local government budget resources through the existing mechanisms of government development planning and budget allocation. An official from the Community and Village Empowerment Agency spoke on "Village level planning and financing: elaboration of Village Law no. 6/2014" and discussed the process of planning and funding allocations from the Village Fund, as well as on how to make recommendations pertinent to the village government budgeting and financing system. A representative of the Regional Planning Agency of Sumbawa District spoke on "Local government systems and planning processes and budgeting at the district level" and suggests ways of making recommendations that could be translated within appropriate systems and procedures in the local government budgeting and financing system. In the afternoon, attendees presented and discussed the proposals developed by each NGO group, as well as potential funding sources. Later, they also discussed work plans for the remaining six months of this PEER project.
Training for local communities as part of the participatory mapping exercises of land/water utilization in Bulukumba, and river tracking to observe communities'
daily practices of using the main river of the Raowa Watersheds, Bulukumba

©

Balang Institute 2017 for CIFOR

Results from research activities by the four NGOs involved has already been adopted as the basis in formulating the regulatory framework at the district or provincial level and in discussions with district and/or village governments of strategies to improve watershed management in the study areas. In the first three months of 2018, continuing engagement led by the NGO partners in facilitating the adoption of project results has included the following:

Oase (replacing the previous Balang Institute) has facilitated several processes in South Sulawesi: (1) drafting the Village Medium-Term Development Planning Document (RPJMDes or Rencana Pembangunan Jangka Menengah Desa) in Bonto Lojong Village of Bantaeng District, in the upstream zone of Tangnga Watershed; (2) developing strategies for improving watershed management in an area important for agricultural-related activities and river-based livelihood options in the midstream zone of Raowa Watershed in Lembanna Village, Bulukumba District; (3) participation in a task force in Kajang District to produce the regulatory framework to clarify local government roles in protecting the customary rights of the local community of Ammatoa Kajang; and (4) facilitation of the inauguration, recognition, and protection of indigenous peoples (P3MHA or Pengukuhan, Pengakuan dan Perlindungan Masyarakat Hukum Adat) draft of the Ammatoa Kajang indigenous people.
Samawa Center has facilitated the final draft of the regulatory framework on the PES mechanism in Sumbawa, which serves as the basis for consultations with government agencies at the provincial level. Samawa Center has been collaborating with the Center for Law and Human Right Studies and the Center for Policy Studies of University Samawa, the Regional Secretary's Office, and the Regional Planning Agency of Sumbawa District.
Teras Community has continued to (1) facilitate drafting of the Head of District Regulation of water-environmental services (PERGUB Jasling Air); (2) plan a media campaign to raise awareness of actions needed to manage the Nipa-Nipa Forest sustainably; and (3) develop an ecotourism strategy plan for Nipa-Nipa Forest.
Riak Bumi Foundation has facilitated actions with local communities focusing on the livelihoods, including coffee development in Mensiau Village as a continuation of PAR activities, as well as with the Head of Selin Sub-District to get local government support. They have updated databases identifying village and commodities coordinates along the Labian Leboyan Watershed. In particular, they have augmented the existing database with aerial imagery taken using drones to better highlight landscape conditions in the Labian Leboyan Watershed.
In the coming months, the NGO partners will continue pursuing their work plans and developing ideas and proposals for follow-on funding, with guidance from PI Dr. Ani Adiwinata Nawir and other CIFOR staff.

Back to PEER Cycle 4 Grant Recipients