Partnerships for enhanced engagement in research (PEER)
Cycle 4 (2015 Deadline)
Integrated watershed management for enhancing local livelihoods and biodiversity conservation in Indonesia

PI: Ani Adiwinata Nawir (a.nawir@cgiar.org), Center for International Forestry Research (CIFOR) (formerly Terence Sunderland, through December 2017)
U.S. Partner: Jefferson Fox, East-West Center
Project Dates: November 2015 - October 2018

Project Overview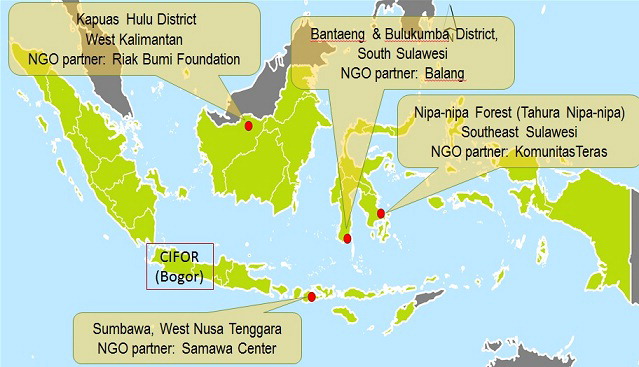 This map shows the project research sites and partner NGO locations. © CIFOR PEER Project
This project seeks to promote effective implementation of integrated watershed management (IWMA), thereby enhancing local livelihoods, biodiversity conservation, and the research capacity of the partners involved. The project is aimed at overcoming several resource management problems, biodiversity threats, and conflicting policy and regulation frameworks. Its specific objectives include (1) assessing a variety of institutional arrangements for more effective IWMA; (2) developing approaches for implementing landscape-level biodiversity conservation in remaining natural ecosystems that are key habitats of endemic endangered plant and animal species; and (3) promoting IWMA for enhancing local livelihoods supported by policy and regulation frameworks at national and local levels, based on good governance principles. Activities in Year 1 will include a review of policy and regulatory frameworks that now hinder integrated watershed management, landscape-based biodiversity conservation approaches in identified areas, and existing institutional arrangements, as well as an analysis of stakeholders and their divergent needs and capabilities. In Year 2, the project team will develop follow-up activities in collaboration with their U.S.-based partners based on data collected to develop scenarios for integrating the above three aspects. In Year 3, the project will focus primarily on capacity building for local stakeholders.

By the time the project is completed, NGO partners in Indonesia should have better capacity to conduct relevant research and apply research results to management on the ground. Government agencies and communities should have a better understanding of effective IWMA and landscape-based biodiversity conservation and how it is applied in the three research sites to be included in the project (Bantaeng and Bulukumba districts in South Sulawesi and Sunbawa District in West Nusa Tenggara). Experiences will also be shared with the other project site in West Kalimantan (Kapuas Hulu District), especially in developing community-based conservation approaches. Skills gained will give these key stakeholders the approaches and experience to continue implementing key project recommendations, ensuring that IWMA is applied after the project ends. It will also build capacity among these stakeholders to participate in research and monitoring in future conservation and/or REDD+ activities. Triangular cooperation with the U.S. Government-supported partner at the East-West Center will enhance the scientific research capacity of project members and partners by sharing local and global knowledge on the issue of IWMA.

Summary of Recent Activities

Led by CIFOR, the project has continued to focus on enhancing the research capacity of the four local NGO partners involved through participatory action research. As of January 2018, the NGOs are developing tailored local government regulations to support the implementation of the Integrated Watershed Management Approach on the ground. Capacity building activities aimed at promoting scientifically-based policy recommendations have also been implemented by the team for local communities, local governments, and other relevant stakeholders. In the meantime, CIFOR has maintained its engagement with national government counterparts, e.g., the Directorate General of Natural Resources and Ecosystem Conservation of the Ministry of Environment and Forestry. Following are details about specific activities carried out by each NGO in the last quarter of 2017:

Oase - South Sulawesi (replacing the previous Balang Institute): The group conducted a series of focus group discussions in villages along the three watersheds in its study area to further internalize the results from the participatory mapping exercise implemented last year. Topics discussed included (1) watershed definitions and functions acceptable to communities, (2) the importance of various stakeholders' involvement in watershed management, and (3) identification of water crisis threats due to the decreasing of water debit. At the district level, a series of focus group discussions was organized with the local government partners to draft and develop the regulatory framework on the legality of the customary law of the Ammatoa Kajang Community in Bulukumba District. This is being carried out through the task force jointly coordinated with the Environment and Forestry Agency.
Samawa Center – West Nusa Tenggara: In line with the target in Year 3 to produce the regulatory framework on Payment for Environmental Services (PES) mechanism at the district level, the team implemented several follow-up activities. Two villages were identified as candidates to receive compensation under the PES mechanism, if their conservation practices are proven to be crucial in maintaining water quantity and quality in the watershed. A plan formulated based on research conducted in the project's second year was discussed in these villages. At the district level, the team presented the plan and discussed it with the state-owned water company, which is responsible for administering payments from water users, as well as the people's representative assembly, which is responsible for approving the framework.
Teras Community – Southeast Sulawesi: In collaboration with their government partners (the Technical Management Unit of Nipa-Nipa Forest), this group of researchers formulated a draft of a policy recommendation for improved water management based on databases developed in Year 2 of the project. With this policy, it is expected that overexploitation of water sources in the forest could be prevented. The current utilization of water resources by individuals, collective household-based users, and illegal water bottling companies has led to overexploitation beyond the carrying capacity of the ecosystem. This team convened a coordination meeting at the provincial level focused on (1) designing facilitation strategies for different water user groups to develop the Governor's Regulation on Payment for Environmental Services and (2) forming a Policy Working Group. Teras also had a chance to share their results at the National Tenurial Conference in Jakarta on "Tenure issues in protected forest areas and forest parks."
Riak Bumi Foundation – West Kalimantan: Riak Bumi implemented a training for villagers to process forest fruit for producing jam and syrup in Labian Village. This activity was a follow-up to the results of the last Participatory Rural Appraisal to local community income strategies based on non-timber forest products (NTFPs). December was the harvest season for local fruits, such as guava (Bellucia axinanthera) and mangosteen (Garcinia parvifolia Miq.). A Japanese entrepreneur with experience in exporting processed products from Indonesia to Japan led the training. It is expected that the local communities will gain higher economic benefits from selling processed products, while also protecting the forest. Using a drone recently purchased by Riak Bumi, the researchers can use periodically taken aerial and video images as a monitoring tool for surrounding landscape changes, including the distribution of various fruit trees in the forest.
Training for local communities as part of the participatory mapping exercises of land/water utilization in Bulukumba, and river tracking to observe communities'
daily practices of using the main river of the Raowa Watersheds, Bulukumba

©

Balang Institute 2017 for CIFOR

In early 2018, CIFOR will organize a final project meeting, as well as a fundraising workshop for all of the NGO partners. Researchers at the partner organizations will be busy with a wide range of activities to finish up the project as well:
The team at Oase will work to facilitate the local government regulation in clarifying the local government roles in protecting the customary rights of Ammatoa Kajang. They will collaborate with the communities along the watersheds in developing integrated watershed management plans. The process will include a multi-stakeholder workshop, a series of focus group discussions to draft proposed local government regulations, meetings with relevant government agencies, and development and publication of a book and other dissemination materials.
The Samawa Center will be focusing on facilitating the formation of a working group at the district level and finalizing the local government regulation on the Payment for Environmental Services (PES) Mechanism. They will also conduct capacity building and dissemination of their results.
Researchers from the Teras Community will facilitate multi stakeholder processes for improved management of environmental water services in Nipa-Nipa Forest. Specific activities will include a workshop as part of the Watershed Management Forum (Forum DAS) of Southeast Sulawesi and formulation of a governor's regulation on environmental water services. They will also organize a series of focus group discussions to discuss and build support for the proposed regulation. In addition, the team will complete their field survey to collect 12-month data on the water debit in the main rivers that are crucial in supplying water for users. A set of publications will be produced and disseminated to share their findings.
The Riak Bumi Foundation's plans for Year 3 focus on working with local communities to implement agreed follow-up activities to increase local incomes in Mensiau Village. Specifically, they aim to improve management practices regarding rubber development, tengkawang production, and coffee development. The foundation's researchers will also facilitate the launch of a district-level forum for integrated watershed management (Forum DAS) and carry out in-depth spatial data collection and analysis along the Labian Leboyan River. Students from Tanjungpura University will collaborate with the team on their research, which should help them gain an in-depth understanding about river conditions in relation to biodiversity.


Back to PEER Cycle 4 Grant Recipients