Partnerships for enhanced engagement in research (PEER)
Cycle 4 (2015 Deadline)
Capacity building for participatory monitoring of changing forests in sustainable use areas of the southwestern Brazilian Amazon

PI: Sabina Ribeiro (sabina_ribeiro@yahoo.com.br), Universidade Federal do Acre
U.S. Partner: Stephen Perz, University of Florida
Project Dates: October 2015 - September 2018
Project Overview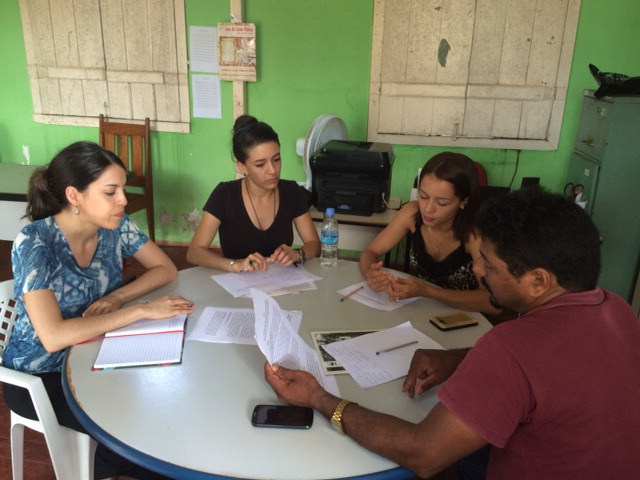 "PI Sabina Ribeiro and project community coordinator Fiama Lima meet with Sebastião Pereira and Caroliner Silva, president and vice president of the Association of Residents and Producers of the Chico Mendes Extractive Reserve in Xapuri (AMOPREX)" – photo courtesy of Dr. Ribeiro.

Biodiversity in the Brazilian Amazon is the focus of numerous research initiatives, but significant knowledge gaps remain. The proposed project responds to several scientific priorities with regard to our understanding of forests in the Amazon. Forests in the southwestern Brazilian state of Acre are exceptionally biodiverse, but we still have limited information about many species. Further, climate change and extreme climatic events pose threats to forests, which require monitoring efforts that include fieldwork. The research team on this project will revisit established botanical plots to evaluate forest dynamics in terms of carbon stocks and biodiversity. This effort builds on previous work with National Science Foundation funding and under the RAINFOR program, both of which use established protocols. The team will also establish new botanical plots to fill coverage gaps in forest types underrepresented in existing plots. In both types of plots, they will add data collection protocols designed to detect changes in vegetation due to climate change, including tree mortality, seedling recruitment, and canopy gaps. These data collection protocols will permit more robust analyses in response to a suite of pressing scientific questions about forests in the Amazon. The revisits will allow analysis of forest dynamics, particularly by comparing carbon stocks and species composition over time. The new plots will expand forest coverage and plot sample size, providing a more representative picture of forests in Acre. Finally, the additional protocols will evaluate changes in forest structure and species composition in the context of debates over the implications of climate change for Amazonia.

The project team will share data with other researchers who also hold botanical data for Acre in order to expand their data sets. This will permit increased statistical power in hypothesis testing and open opportunities for additional collaborative publications. They will also deposit botanical specimens in regional herbaria, thereby increasing their importance as botanical collections and supporting taxonomic work in a region with many understudied species. Finally, their data dissemination plan seeks to take advantage of relationships among local communities by passing findings from their botanical plots to multiple communities and thereby expanding the reach of knowledge exchange. The planned capacity building efforts on the project highlight participatory methods to train community members in forest monitoring. This makes trainees capacity multipliers, since they can in turn implement the same participatory approaches to train other community members, thus increasing the project's impact.

Summary of Recent Activities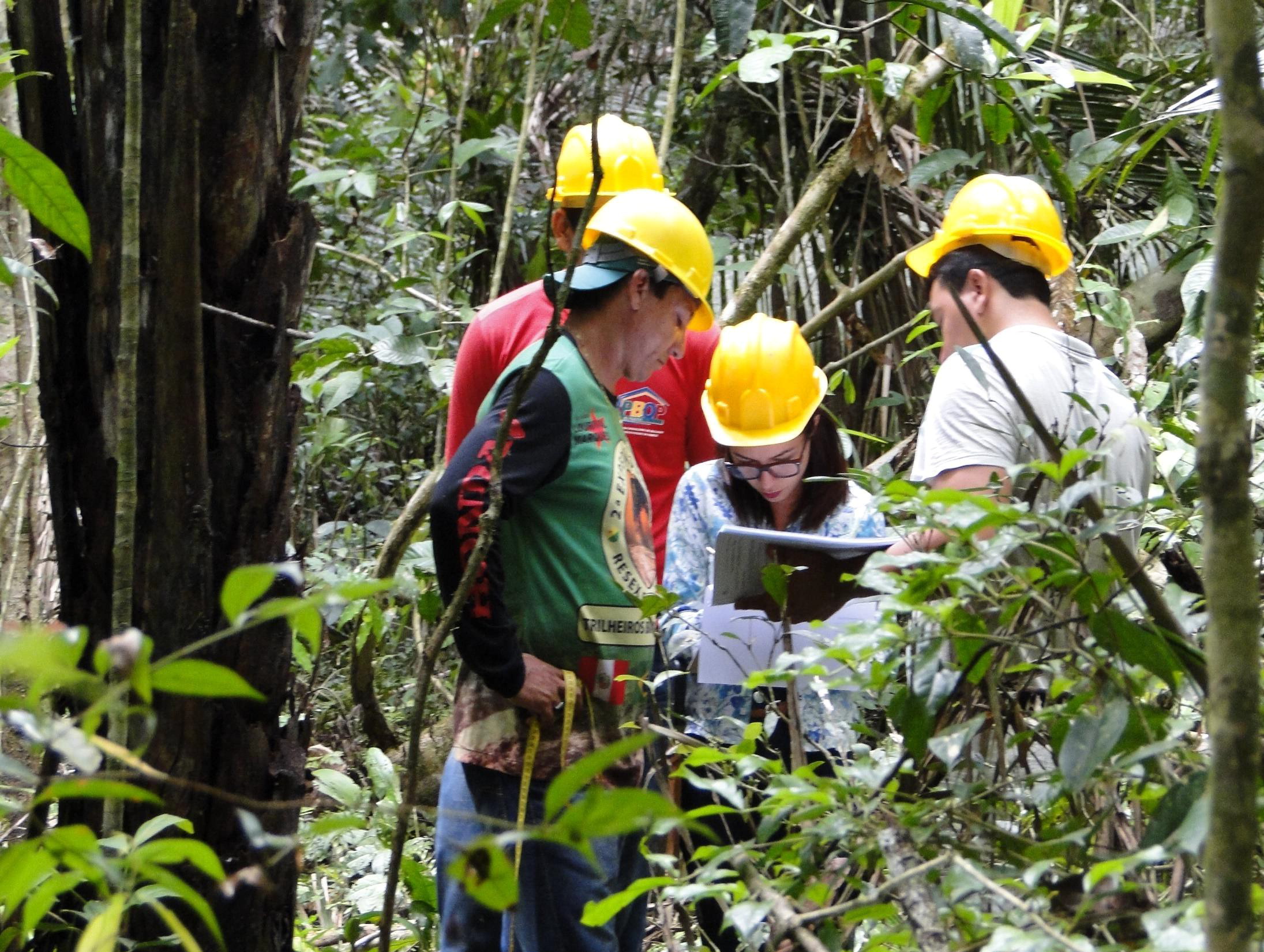 The fifth workshop with CMER residents, October 2016 (Photo courtesy of Dr. Ribeiro).
In July 2017, Dr. Ribeiro and her colleagues met with their U.S. partner Dr. Stephen Perz during his visit to the Universidade Federal do Acre. They discussed project progress, budget and administrative issues, joint manuscripts, and future steps, including the establishment of new permanent study plots in the state of Acre. Additional meetings were held with other UFAC researchers to discuss additional protocols and experimental approaches to be applied. The same month, a new Master's student joined the PEER team: Angélica Maciel dos Santos. Her dissertation topic involves a study of the effect of severe droughts on the mortality of species with economic and/or ecological importance in the Southwestern Amazon. She is doing her graduate research in the Ecology and Natural Resources Management (MECO) Master's program at UFAC under the supervision of Dr. Ribeiro. Also in July, the project team held their eighth workshop with CMER communities, with the participation of six members from the associations of residents and producers of the CMER from the municipalities of Xapuri, Assis Brasil, and Brasiléia. This two-day workshop aimed to continue preparing the community members to act as capacity multipliers inside the CMER. The project also supported the participants to organize and conduct a workshop inside the CMER to disseminate the knowledge acquired in the PEER project regarding forest health monitoring to other community members. This workshop was held in inside the CMER, in the municipality of Xapuri, in late July. Three community members from that municipality prepared and conducted the workshop. This was the first workshop under the PEER project in which some of the community members trained by the team disseminated the knowledge they acquired in the PEER project to other community members. Seven participants from different locations participated in the workshop.
In September 2017, Dr. Ribeiro took part in the workshop "Education to Face Global Environmental Problems," in which she made an oral presentation about the PEER project to people from environmental and education institutions of the MAP region (Madre de Dios-Peru, Acre-Brazil, and Pando-Bolivia). This workshop was part of the project "Developing Resilience and Solutions with Respect to Extreme Climate Events in Southwestern Amazonia: An Example from the Trinational Acre River Basin," which is coordinated by Dr. Foster Brown and funded by the MacArthur Foundation.
During the last quarter of 2017, the team's plans include revisiting their Gentry plots, holding additional dissemination workshops in CMER communities, and drafting manuscripts for publication. In the first quarter of 2018, the focus will be on compilation and analysis of field data and continuation of work on publications.
Activities performed by the project team can be viewed online via SOS Amazonia website at
http://sosamazonia.org.br/conteudo/2016/10/19/capacitar-para-manter-a-floresta-em-pe/
.