Partnerships for enhanced engagement in research (PEER)
Cycle 4 (2015 Deadline)
The Banni grasslands in a time of change: Ecological and socioeconomic resilience in a coupled human-natural system

PI: Ankila Hiremath, Ashoka Trust for Research in Ecology and the Environment (ATREE)
U.S. Partner: Susan Cordell, USDA-Forest Service Institute of Pacific Islands Forestry
Project Dates: December 2015 - November 2018

Project Overview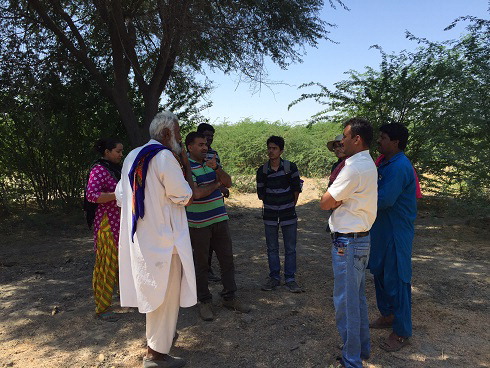 PEER Banni team: The project team at a potential experimental site with a Maldhari elder (photo courtesy of Dr. Hiremath).
India's most unique ecosystems are also its most vulnerable. An example is the Banni, Asia's largest tropical grassland, in Gujarat's arid Kutch District. Banni has a long history of nomadic pastoralism and is home to 22 pastoralist communities of the Maldharis, with their unique Kankrej cow, Banni buffalo, and Kharai camel. Banni is also rich in biodiversity, with Asia's largest congregations of migratory cranes and flamingoes, as well as other migratory waterfowl and endangered wildlife. Banni has been significantly transformed in the past few decades. The ultimate driver is an attitude that regards arid grasslands as wastelands to be converted to carbon-sequestering forests, wind and solar farms, or industrial estates. The proximate driver is Prosopis juliflora, an introduced nitrogen-fixing tree that has invaded almost half the Banni. To some this exemplifies successful "wasteland reclamation." But P. juliflora has replaced native trees and grassland, altered habitat for birds and animals, and reduced grazing areas for livestock. It has also spawned a parallel charcoal economy, profoundly affecting pastoral livelihoods and cultures. The resultant novel ecosystem is faced with potential tradeoffs—between greater carbon sequestration and increased evapotranspiration, between carbon converted to charcoal and carbon sequestered, between charcoal-based livelihoods and pastoral livelihoods, and between livestock and wildlife—creating vulnerabilities that are likely to become more stark in a future predicted to be warmer, maybe wetter, but with the likelihood of more frequent droughts.

This project aims to understand the dynamics of the spread of P. juliflora under scenarios of climate change, understand the plant's impacts on ecosystem processes, and evaluate various management options for the ecological and socioeconomic resilience of Banni and its inhabitants. Understanding the ecological impact of P. juliflora, the feasibility of partially restoring grassland, and the sustainability of P. juliflora harvesting will make it possible to create a model to evaluate adaptive management scenarios for Banni. Banni's Maldharis have collectively applied for community rights to the landscape under the Scheduled Tribes and Other Traditional Forest Dwellers (Recognition of Forest Rights) Act, 2006. This landmark legislation gives local communities the right to manage and conserve landscapes that they have customarily used. The Maldharis' rich empirical knowledge, combined with a mechanistic understanding of potential management options, would be a powerful tool in their formulation of a Banni management plan. Having a portfolio of livelihood options such as those to be developed under this PEER project could be an advantage to Banni's Maldharis by helping to reduce their vulnerability to climate change, while at the same time enabling them to manage Banni as a sustainable landscape with enhanced carbon stocks. The project could also serve as a model for similar landscapes not only in India but also in other countries that are the focus of USAID's Feed the Future efforts.

Summary of Recent Activities

The first quarter of the year spans the transition in Banni from cool pleasant weather to the onset of the harsh summer, with baking temperatures and swirling dust. Dr. Hiremath and her group completed their annual inventory of tree heights and diameters in all their treatment plots during this period. Measurements of grass productivity also continued into this quarter, until February, when grass regrowth ceased. Other routine measurements have continued, including fortnightly litterfall collection from the control plots, as well as the monthly downloading of water depth and salinity measurements from automated sensors deployed in wells. The researchers have also brought to a close the rhizopod experiment that was begun last summer, where Prosopis, and three other native woody species, were grown in elongated pots under varying conditions of salinity.

Postdoctoral GIS consultant Madhura Niphadkar acquired Sentinel data for February 2017 (since the January 2017 data included cloud cover). This was processed in the software eCognition to get a preliminary classification of 6 vegetation classes, similar to data from January 2016. She has since done a further finer segmentation after some ground verification. Madhura has also initiated the purchase of IRS data for a comparison of land use maps generated with different sensors, with data from Sentinel 2 and Landsat 8 sensors already acquired. Data from a third sensor—IRS LISS IV—is being obtained for mapping Prosopis invasion. This sensor has a finer spatial resolution than the other two and will be used to see whether more information can be obtained from a supervised classification using this dataset. Madhura visited Banni at the end of February for ground truthing of classified images. Some locations of sparse Prosopis were identified from the field for refining the classification for 2017 data.

Meanwhile, graduate student Ramya Ravi has completed sampling in 17 out of the 19 panchayats in Banni. In the first three months of 2018, she has conducted 80+ interviews across various classes, castes, and gender and age groups. Various perceptions and uses of Prosopis have emerged through these interviews. Her preliminary understanding of class-based perceptions can be broadly categorized into perceptions of a) rich pastoralists, b) poor pastoralist, and c) the labor class. Preliminary data interpretation is in progress. Ramya is also working with a group of five local boys of ages 15 and above who have some basic education. They will assist in using semi-structured questionnaires to collect data about honey and pod collection from Prosopis. These young para-researchers will collect information regarding who collects these Prosopis by-products, how much is being collected, and how much they are being sold for. They will also photo-document the process of collection and collect anecdotal stories from their families regarding Prosopis and its many uses.

Master's student, Gargi Rawat from Indraprastha University, Delhi, is examining the impacts of Prosopis on the rodent community of Banni. She is exploring the diversity and density of nocturnal rodents in old restored grasslands (>25 years), new restored grasslands (<2 years), and Prosopis-dominated grasslands. Finally, the team of film-makers from the Srishti Institute of Art, Design, and Technology made two visits to Banni this quarter. On the first visit they got footage of some of Banni's tremendous bird biodiversity; on the second they were able to film interviews with project researchers and get additional footage related to charcoal-making.
The full cycle showing Prosopis juliflora choking a Banni grassland, the harvesting of Prosopis juliflora for charcoal-making, and a restored grassland following its removal (photo courtesy of Dr. Hiremath).
On the outreach side, the team organized a preliminary workshop on grasslands in late January. The idea of this workshop was to understand and explore potential policy engagement strategies on the "grassland problem," i.e., specific to the issue of the widespread official perception of grasslands as wastelands. Apart from researchers and people engaged with communication and advocacy relating to grasslands, the workshop was attended by two former policy makers (a former Secretary of the Ministry of Environment, Forests, and Climate Change; and a former Director General of Forests). This January workshop forms the first in a series of planned place-based workshops and consultations on grasslands across the country, which will culminate in a policy document on grasslands to be presented at a final workshop to be held in Delhi late next year. The next workshop in this series is scheduled to take place in Southern Tamil Nadu in late April 2018. That workshop will be attended by lawyers who are arguing ongoing cases under consideration by the Madurai bench of the Tamil Nadu High Court concerning the conversion of grasslands, especially through the planting of introduced and invasive woody species.

These researchers are also carrying out a side project with PEER supplemental funding to develop the various component models of a larger system dynamics model for Banni. That work is nearing completion, including a land-biomass simulation model for Prosopis; livestock models for the Kankrej cow and Banni buffalo; and a grass biomass model. Collaborators Mihir Mathur and Kabir Sharma, who are key staff on this modeling effort, also conducted a two-day certificate course at ATREE on systems thinking and modelling. This was attended by participants from within ATREE (graduate students, postdocs) and other organizations working in the areas of conservation and sustainability in Karnataka, and received a very positive response. Examples of the models being developed from Banni as part of this project were also showcased.

In the coming three to six months, team members will continue field work on the ecological impacts of Prosopis, comparative ecophysiology, the charcoal economy, and the systems dynamic modeling effort. Their film-maker collaborators from Srishti have commenced post-production and should have initial versions of three or four short films available to share over the next few months. Dr. Hiremath and her colleagues hope to present their work at the annual conference of the International System Dynamics Society, to be held in Iceland in August 2018. They are also targeting other suitable conferences, such as the Annual Savanna Science Network meeting in Kruger National Park, to present the results from their project.


Back to PEER Cycle 4 Grant Recipients