Partnerships for enhanced engagement in research (PEER)
Cycle 4 (2015 Deadline)
Tropical montane forests and climate change in the Peruvian Andes: Micro-environmental, biotic and human impacts at tree line

PI: Norma Salinas (nsalinasr@pucp.pe), Pontificia Universidad Catolica del Peru
U.S. Partner: Miles Silman, Wake Forest University
Project Dates: October 2015 - September 2020

Project Overview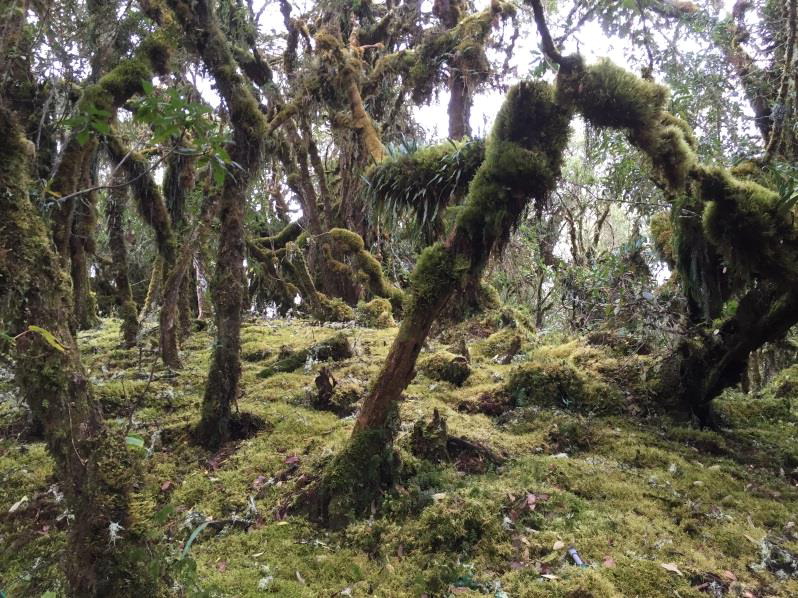 Patch of cloud forest of mixed species at 3500 m in the Tres area
Cloud forest environments respond strongly even to small changes in temperature and a large fraction of the species assessed is vulnerable to extinction due to climate change. Species distributions can be strongly influenced by many factors, one is geographic and another is the existence of potential ecological barriers to forces driving altitudinal migrations of tree species. Dr. Salinas and her team contend that there are several important human actions that can have a significant impact on species migration along the treeline. A better understanding of the factors involved should greatly improve our ability to predict if, and also where and how, species will migrate. This project aims to contribute to current knowledge of the complex dynamics of treeline ecotones by reevaluating the question of tree species migration into highland grasslands in light of microenvironmental and microbiotic information. The researchers on this PEER project propose that it is possible to control and manage the factors, both environmental and human, that inhibit species migration through activities similar to those undertaken in other, less extreme, environments such as Central American or Afromontane forests (Strobl et al., 2011).

There have been few studies that have evaluated the importance of human impact in the tree line migrations into grassland. A better understanding of how species distribution and survival are likely to be affected can provide better guidance to conservation strategies and their integration into socially effective programs in the face of climate change. The project will be conducted in areas located at the border of the Cuzco and Madre de Dios regions in southeastern Peru, within and surrounding the Manu National Park. Planned project activities are designed to help strengthen environmental governance through a mitigation-oriented management program of the treeline in the park in collaboration with park personnel and local communities. The project team will work with NGOs currently involved in forest management initiatives in the area to help local communities develop forestry-based alternative revenue sources along the treeline. The goal is reducing the pressure of livestock grazing within park boundaries through alternative stakeholder revenue-earning strategies for communities that presently use national park land for their livestock. Overall, the project should help preserve biodiversity, ecological services, and food and water security for the Kosñipata basin.

| | |
| --- | --- |
| | |
| Location of vegetation inventory plots, along the elevation gradient | Regeneration zone of monospecific forest (Clusia sp.) in area ​​Cocha Zondor |
Summary of Recent Activities

During Octrober - December of 2018, the project team completed two field trips, the SZF (Frankfort Zoological Society) continued supporting the project by providing transportation from the city of Cusco to the work area in Tres Cruces, province of Paucartambo, as well as with food supplies for the team. During the field trip in November the team intended to collect climate data from the sensors installed in the plots. After discovering that three out of six sensors failed due to excessive humidity, they were brought back to Lima for repairs. Modifications were made to the datalogger cases (Pelican cases) to improve water resistance. Now,. after almost three years of monitoring, collected data suggest a slight shift in the rainy season with delays between a fortnight and a month.

In terms of dissemination of results, earlier in July, the team gave a presentation at the workshop "Valuing biodiversity and developing ecosystem service delivery models in densely inhabited Latin American dry and montane forests" held in Lima which discussed monitoring natural ecosystems, data management and the assessment of ecosystem services provided. The event was attended by a wide range of Latin American professionals, from biologists to law and economy prpfessionals working in these areas.
During September 26-28, 2018, the team was invited to give a presentation on the project at the International Congress for Protected Areas at the National Agrarian University in Lima. The latest technical presentation was held at the "The Newton Biodiversity Workshop - Tropical Transitions: the role of biodiversity in resilience to global change of tropical South American ecosystems" held in Campinas (Brazil) (https://www.eci.ox.ac.uk/newtonbio/) during October 27 -31, 2018.

Plans for 2019:

The team have reached the stage in the project where they have started switching from observations at macro level to molecular and biochemical tools to explore soil microbiome patterns that may help provide insights into the grassland to forest succession. Coordination has been completed with an external provider to carry out the soil metagenomic characterization of microbial populations and the procedures have been set forth to perform biochemical assays, such as phospholipid fatty acid (PLFA) analysis and soil enzyme activity profiles in order to evaluate soil microbiome correlations with the establishment of arboreal species in grassland. The information obtained will also be contrasted with CO2 emission measurements from soil for which we plan to buy an additional soil CO2 flux chamber for the LICOR equipment that we acquired with the project.
| | |
| --- | --- |
| | |
| Field assistants and PI transplanting tree seedlings in the upper Manu National Park | |
| | |
| --- | --- |
| | |
| A team member collects environmental data | A modified PET plastic water bottle is used as hood for temperature/relative humidity sensors |
| | |
| All photos courtesy of Dr. Salinas | |
Peer-reviewed Publications and Proceedings:
Benjamin Blonder, Norma Salinas, Lisa Patrick Bentley, Alexander Shenkin, Percy Orlando Chambi Porroa, Yolvi Valdez Tejeira, Tatiana Erika Boza Espinoza, Gregory R. Goldsmith, mLucas Enrico, Roberta Martin, Gregory P. Asner, Sandra Díaz, Brian J. Enquist, Yadvinder Malhi. 2018. Structural and defensive roles of angiosperm leaf venation network reticulation across an Andes-Amazon elevation gradient. Journal of Ecology Volume 106, Issue 4. https://doi.org/10.1111/1365-2745.12945
Andrew T. Nottingham, Lettice C. Hicks, Adan J. Q. Ccahuana, Norma Salinas, Erland Bååth, Patrick Meir. 2018. Nutrient limitations to bacterial and fungal growth during cellulose decomposition in tropical forest soils. Biol Fertil Soils 54:219–228. https://doi.org/10.1007/s00374-017-1247-4.

Christopher E. Doughty P. E. Santos-Andrade G. R. Goldsmith B. Blonder A. Shenkin L. P. Bentley C. Chavana-Bryant W. Huaraca-Huasco S. Díaz N. Salinas B. J. Enquist R. Martin G. P. Asner Y. Malhi. 2017. Can Leaf Spectroscopy Predict Leaf and Forest Traits Along a Peruvian Tropical Forest Elevation Gradient?. Journal of Geophysical Research Biogeosciences, 122: 2952-2965 https://doi.org/10.1002/2017JG003883

Book References:
Forest Management and the impact on water resources: a review of 13 countries: IHP - VIII / Technical document No 37 Latin America and the Caribbean, Editors: Pablo A. Garcia-Chevesich, Daniel G. Neary, David F. Scott, Richard G. Benyon, Teresa Reyna. UNESCO 2017. Chapter 9. Forest Management and Water in Peru. ISBN 978-92-3-100216-8. https://www.fs.fed.us/rm/pubs_journals/2017/rmrs_2017_garcia_chevesich_p001.pdf.