Partnerships for enhanced engagement in research (PEER)
Cycle 4 (2015 Deadline)
Exploring sustainable solutions aiming at redressing environmental disasters in Haiti

PI: Rene Jean-Jumeau (renejj2001@yahoo.com), Université Quisqueya
U.S. Partner: Jerry Bauer, USDA Forest Service, International Institute of Tropical Forestry
Project Dates:

Project Overview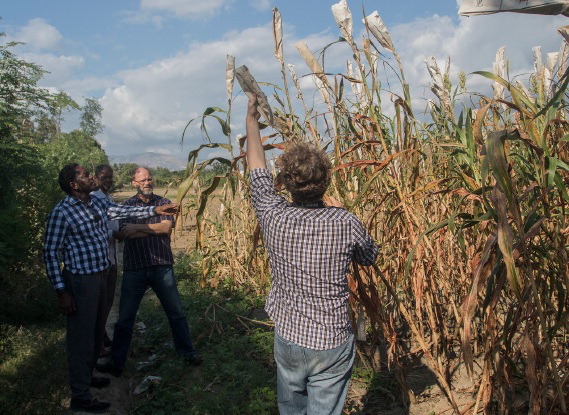 Site visit of a biofuel crop experimentation farm by (left to right): Clifford Louimé, UPR; Dr. René Jean- Jumeau, UniQ-IHE; Dr. Gary Gervais , UPR, and Dr. Gael Pressoir, UniQ-CHIBAS)
Since the industrial revolution, an unprecedented amount of greenhouse gases have overloaded the earth's atmosphere, threatening large-scale disruptions in climate. When it comes to climate change, extreme weather, and health, the connections are very clear in Haiti. According to Germanwatch, for the past 20 years, Haiti has been the third most negatively impacted country in the world by global climate change. In the summer of 2008, four successive tropical storms made landfall on Haiti, leaving the country's fourth largest city, Gonaives, inundated for months. The poorest country in the Western Hemisphere, Haiti is also prone to a variety of other natural disasters that can severely cripple such a small economy. The particular susceptibility of the landscape makes matters worse: Haiti has less than 2% of its original forest cover still standing, increasing the chances of flooding and landslides. This PEER project is aimed at developing sustainable solutions to addres some of the environmental problems, including the effects of global climate change in Haiti. Specifically, the objectives of this study are to (1) use GIS and remote sensing tools to evaluate the magnitude of deforestation and reforestation in Haiti; (2) to train Haitian students in environmental sciences at the University of Puerto Rico; and (3) to develop research projects and master's theses in areas leading to sustainable development in Haiti, for example, reforestation and renewable energy using marine algae-based biofuels. The principal investigator and his team will partner with the University of Puerto Rico and the USDA International Institute for Tropical Forestry, which will provide mentoring and guidance, as well as access to GIS/remote sensing facilities and laboratories. This study will provide an excellent opportunity not only to train the next generation of environmental scientists in Haiti but also to continue efforts to rebuild the university system of Haiti, which was severely damaged during the earthquake of January 2010.

International organizations have concluded that unless a viable and less expensive substitute fuel is found to replace charcoal in supplying Haitian households, there will never be any slowing of deforestation in the country. In order to address this vicious cycle, the project team will develop a framework for sustainable actions to address some of the environmental ills lying at the root of the problem. First, by monitoring and evaluating deforestation and reforestation in Haiti, the team expects to better gauge remediation efforts. Second, by focusing their efforts on marine algae for use in bioenergy, they will promote clean alternatives to charcoal use while exploring clean sustainable and renewable options. Third, this initiative will contribute to the training of Haiti's next generation of green workers for a sustainable economy, which will provide income-earning jobs to the rural poor. These objectives will be accomplished though active engagement with the community and by providing the necessary tools to key development actors in order to help them approach their pressing issues in an environmentally sustainable manner.


Summary of Recent Activities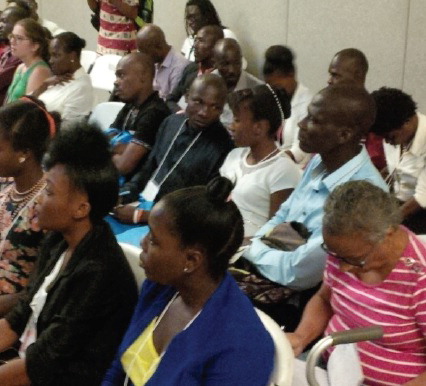 Participants at the workshop on "Educating for Sustainability at the CSA conference in Port-au-Prince, Haiti (photo credit: Dr. Jean-Jumeau).
The second quarter of 2016 was a busy time for the project team. The professors' accounts and the course description were set up online using Moodle. The course is titled Tools and Techniques in Environmental Sciences. Universite Quisqueya and University of Puerto Rico-Rio Piedras will collaborate on this course. Additionally four students were recruited to attend graduate school in the field of Environmental Sciences in Puerto Rico, three at the Master's level and one for the PhD program.

The team also began securing lab space during this period. It acquired two 20-foot maritime shipping containers which will be delivered to Université Quisqueya and converted into laboratory space to house the new Bio-Energy Lab which will have a priority focus on research activities. A draft work plan regarding the valorization of the Sargassum algae was produced and is currently being reviewed for more effective implementation.

For outreach, a meeting was set up with the new Senior Energy Advisor at USAID, Port au Prince in order to connect and reinforce the project with more support and options from AID. Information on the PEER project was also integrated onto the UPRRP Website and the Haitian Institute for Energy is in the process of incorporating the project's information onto its new website. Furthermore, the team presented and ran a workshop at the Annual Caribbean Studies Association (CSA) Conference, which took place in Port-au-Prince from June 5 to June 11, 2016. The presentation was part of the "Preparing Haitian Teachers and Students for Economic Sustainability" session and the workshop focused on challenges of and approaches to graduate research and education with the goal identifying measures and approaches that increase the relevance of science education and its impact on the economy and sustainable development in Haiti. The team also submitted a manuscript on Sargassum to the Journal of Environmental Technology.

Back to PEER Cycle 4 Grant Recipients