Partnerships for enhanced engagement in research (PEER)
Cycle 4 (2015 Deadline)
Enhancing food security through improved productivity, nutrition and marketing of chickpea in central and western Ethiopia

PI: Kassahun Tesfaye Geletu (kassahuntesfaye@yahoo.com), Institute of Biotechnology, Addis Ababa University
U.S. Partner: Douglas R. Cook, University of California, Davis
Project Dates: October 2015 - September 2018

Project Overview

Agriculture in Ethiopia forms the basis of the economy, with 80% smallholder farmers. These farming systems are characterized by low yields, widespread use of unimproved landraces, outdated production technologies, and biotic and abiotic stresses. In western and northwestern Ethiopia, soil acidity and consequent aluminum toxicity are a primary limitation to crop productivity, especially for chickpea (Cicer arietinum). Chickpea is the world's second most widely grown pulse crop and a major source of human protein nutrition, with 40% of Africa's chickpea crop being grown in Ethiopia. However Ethiopia's chickpea yields remain low, well below yield potential.

Among the constraints to chickpea production is its sensitivity to aluminum toxicity (Sahu et al., 2010), which is a defining feature of low pH soils that are widely distributed in Ethiopia. It is critical to identify tolerant germplasm and understand the molecular genetic basis of aluminum tolerance. Moreover, because chickpea yields depend on beneficial soil microorganisms, especially nitrogen-fixing symbiotic bacteria and phosphate solubilizing micro-organisms (PSMs), a parallel need is to identify acid/Al-tolerant chickpea
microbes.
| | |
| --- | --- |
| | |
| Chickpea (Kabuli type) weeding (Gimbichu District), Central Highlands of Ethiopia, November 2016 | Chickpea harvesting (Desi Type), Sodo Woreda, Central Highlands of Ethiopia, December 2016 |
The project is well aligned with USAID's focus in Ethiopia o n Agricultural Growth-Enabled Food Security, which emphasizes climate change, food security, and nutrition. Developing resilient crops in Ethiopia, such as chickpea tolerant to acid soils, is essential to improving the livelihoods of smallholder farmers.

This project combines expertise in plant breeding and genomics, soil microbiology, and socioeconomics to develop chickpea technology to improve crop productivity and marketing in central and western regions of Ethiopia. The project will leverage the resources and expertise of the U.S. partner by testing wild-cultivated introgression lines, landraces, and elite cultivars for tolerance to acid. In parallel, the project researchers will identify tolerance to acid soils in endemic symbiotic Mesorhizobium and co-occurring PSM populations. Products will be pipelined to national chickpea breeding programs with Ethiopia for variety development and release.


Summary of Recent Activities

The Project has been running smoothly to achieve the milestones set in the proposed research activities. In this quarter, the optimization work for hydroponic experiments and extraction of the genomic DNA extraction from rhizobacteria has been completed during this project period. Moreover, preparation for field study on chickpea seed system and marketing has been completed in order to carry out survey in selected districts.

The PI, Dr. Kassahun was appointed by the Prime Minster to serve as Director General for the newly established Ethiopian Biotechnology Research Institute (EBTi) under the Ministry of Science and Technology (MoST) of Ethiopia. The new Institute has Agricultural Biotechnology Research Unit with the focus on improving productivity of crops using genomics and bioinformatics as tools. In the last one year, he has been working towards establishing a fully functional Institute and recruited more that 90 researchers with PhD, MSc and BSc and 20 administrative staff. The Institute is mandated to coordinate and lead biotechnology R&D at national level as well as conduct state-of-the-art biotechnology research on its own.

In the next 3-6 months, the screening of 563 chickpea germplasms will be completed. Multi-location evaluation of approximately 40 advanced genotypes, which are obtained from field and hydroponic experiments will be done at two sites in the west and southwest parts of Ethiopia, namely, Endebir and Wolkite area in the coming cropping season (August –December 2018). thi under lime treated and untreated conditions. Genotyping by sequencing (GBS) of some tolerant and susceptible genotypes will be done at University of California UC Davis from February- June 2018.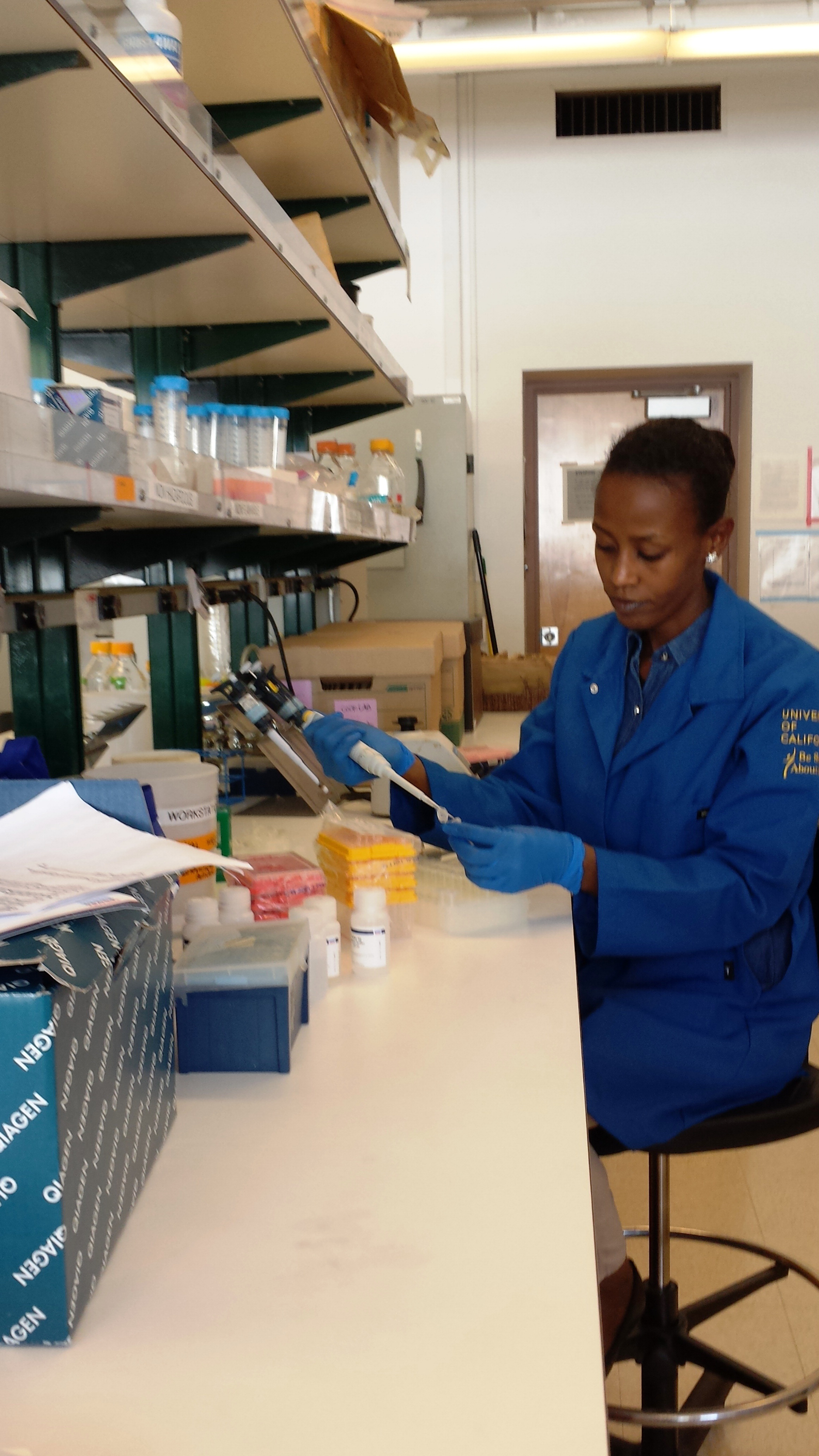 PEER PhD student from AAU at UC Davis. Photo courtesy of Dr. Geletu