Cycle 5 (2015 Deadline)

Data sciences training and research to address crime and insecurity in El Salvador

PI: Oscar Picardo (opicardoj@ufg.edu.sv), Universidad Francisco Gavidia
U.S. Partner: Carlos Castillo-Chavez, Arizona State University
Project Dates: January 2017 - November 2018

Project Website: http://www.peer-stem.edu.sv/

Project Overview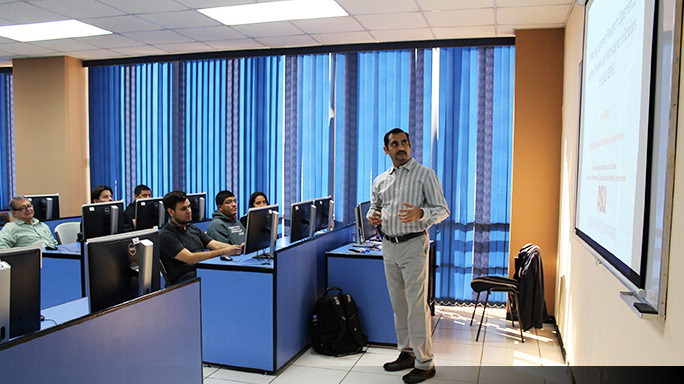 Skills improvement workshop in STEM and programming in Python. (Photo courtesy of Dr. Picardo)

The 2015 UNESCO Science Report (Towards 2030) shows that El Salvador ranks poorly in Latin America in science, technology, and innovation (STI) capacity. However, improving Salvadoran STI capacity is challenging, as approximately 32% of the population lived below the national poverty line in 2014, the country is plagued by gang violence, and among countries not at war, El Salvador had the world's highest estimated murder rate in 2015 (6,600 homicides out of a population of 6.3 million). Given this backdrop, the project seeks to increase STI capacity in El Salvador by addressing crime and insecurity in the country. To do so, the project team will launch a data sciences training and research program at the Universidad Francisco Gavidia (UFG) for 30 Salvadoran participants. Program participants will include ten UFG students, ten participants from Salvadoran judicial institutions or law schools, and ten STEM teachers selected from two public secondary schools in San Salvador. After an intensive two-month training phase, the participants will divide into a Judicial Group and a Teachers Group and begin a ten-month research phase. The program structure is modeled after the successful NSF research experience for undergraduates (REU) program, the Mathematical and Theoretical Biology Institute (MTBI), which the U.S. partner on this project has operated for 20 years.

Inspired by the success of Dr. Rodrigo Guerrero Velasco in applying data sciences and epidemiology to combat crime in Cali, Colombia, the Judicial Group will create a crime data sciences laboratory at UFG to collect and analyze crime and violence data in El Salvador. Their research objective is to improve the tools to guide crime and violence prevention strategies in El Salvador. Education is a critical short- and long-term remedy to mitigate crime and violence, but the low average quality of teachers constrains efforts to improve educational efforts. To address this constraint, the Teachers Group will work to improve the professional development of Salvadoran STEM teachers. Specifically, the group will help teachers create hands-on STEM activities with an emphasis on data collection and analysis to supplement STEM curricula in public secondary schools. They will also form teacher Lesson Study groups at two public secondary schools.

This PEER project addresses USAID's goals of mitigating crime and insecurity in El Salvador. By training the Judicial Group participants and creating a crime data sciences lab, the project should provide valuable data sciences resources that increase the competence of the judicial sector. By training public school teachers in San Salvador and promoting the development of new STEM curricula that are not focused on rote learning, the project should improve STEM education for at-risk youths, which can help mitigate the lure of gangs and provide the foundation for learning valuable technical skills. The focus on training teachers creates a multiplier effect, as these teachers can train their colleagues, and this network can reach more students than other types of programs. The training of UFG students also strengthens their marketable job skills and provides a pipeline of valuable government and private sector employees. In addition, the crime data sciences lab will be the first project for the new UFG Center for Mathematical Modeling in San Salvador to study crime, violence, and insecurity and their impacts on Salvadoran society.

Recent Findings


The team evaluated interim project results measuring only the impact of the training conducted, with results being very positive. According to Dr. Picardo, the main achievement is measured by a national standardized test PAES, which indicates that the grades in beneficiary schools where STEM equipment was donated, went up from 4.72 to 5.12. Accordingly, the average scores in Mathematics and Science also improved in all three beneficiary schools. The project's main indicators of violence are: the number of episodes of violence reported to the Directorate, suspensions or expulsions, and police interventions at school. According to the PI, significant reductions were achieved in two of the three centers for incidents of violence; suspensions or expulsions decreased in two of the three centers; and more critically, the number of police interventions was reduced. In terms of access to education, the team looked at dropout, enrollment and course repetition rates, and reported favorable results, noting that there has been a decrease in course repetition, dropout rates were reduced; and enrollment is handled in acceptable terms..


Educational Impacts
During the first year of this project, beneficiary schools which received donated STEM equipment developed their own initiatives to hold workshops and science fairs, with highly motivating impact on their students. Other initiatives included creation of classroom discussion groups, where student openly discussed their individual skills in the course of working on team projects. As a result, according to the PI, students are being positively influenced through focus on science, and through creation of learning opportunities and via fostering motivation to stay off dangerous streets. The project team reports, that the PEER project thus far has motivated both teachers and students to adopt STEM methodologies and helped create practical hands-on science learning opportunities in the classroom thus contributing to a major improvement in learning environment.

Potential Development Impacts: Teacher Bejamín Recinos, one of the beneficiaries of the project, established a Robotics Club in España School, and with his students won several prizes at the national contest of educational robotics. The Concha Viuda de Escalon School conducted its second STEM project fair, where UFG teawere part of the qualifying jury, evaluating over 50 projects.
| | | |
| --- | --- | --- |
| | | |
| Receiving the first prize with the Taiwanese ambassador and the Deputy Minister of Science and Technology | Teacher Ramon Benjamín Recinos and students in Robotics Club | Participants in the 2017 National Championship |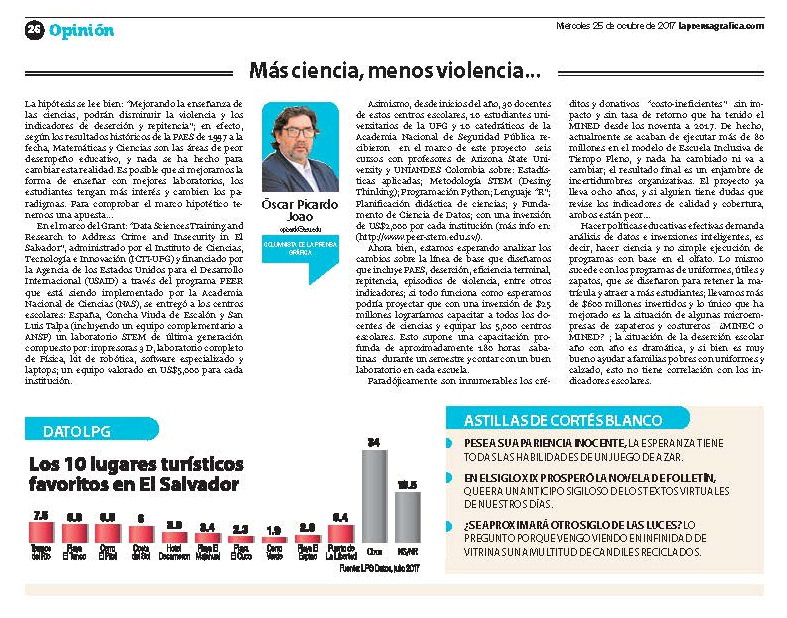 The team will continue conducting equipment procurement, installation and training, and motivate teachers to take MOOCS courses in 2018. Robotics kits will be purchased and the team will conduct basic robotics workshops, and collect and analyze measurable research data to assess how training public school teachers in San Salvador and promotion of development of new STEM curricula and STEM education for at-risk youths will be improved, in turn helping mitigate school drop-out rates, and incidents of violence, among other indicators. Measurements and analysis of data showing the efficacy will be done on a quarterly basis.


Dr. Oscar Picardo's recent article on science education and its contribution to violence reduction and his PEER project goals was recently published in La Prensa Gráfica.









Back to PEER Cycle 5 Grant Recipients