Cycle 5 (2015 Deadline)

Development and use of the iTree tool to explore the potential for urban green infrastructure as an adaption strategy to climate change resilience in the City of Santo Domingo

PI: Solhanlle Bonilla Duarte (solhanlle.bonilla@intec.edu.do), Instituto Tecnológia de Santo Domingo (INTEC)
U.S. Partner: Gerald Bauer, U.S. Forest Service, International Institute of Tropical Forestry
Project dates: January 2017 - December 2019

Project Overview:

This study uses an Ecosystem Services approach to generate information for land use planning within the context of climate change adaption. This approach uses science-based indicators that classify ecosystems and their function and potential services in order to evaluate the influence of social, economic, and environmental service flows on human well-being, with the ultimate goal of guiding land-use planning. Reducing the impacts of urbanization and climate change has been a primary target of ecosystem services research, but research activity of this type in the tropics has been limited. The iTree is a public domain model provided by the USDA Forest Service and is used to aid planners and managers in the valuation and management of urban forests by quantifying the ecosystem services they provide. Although the iTree tool has been widely in many U.S. cities and internationally, its use in the Caribbean has been very limited as well. The proposed project will assist in gathering scientific information that can be readily used to set ecosystem function and services management goals and evaluate climate change scenarios that are appropriate for tropical ecosystem context, thus expanding the iTree model. Additionally, this project will establish an innovative collaborative platform that integrates multiple scientific disciplines with outreach and education towards greater understanding of urban infrastructure and sustainability.

Like many small island nations, the Dominican Republic is vulnerable to climate-related impacts, including sea level rise, flooding, heat, prolonged droughts, and disruptions in water supply. Urban areas, such as Santo Domingo, are of particular concern because of their greater population and their exposure to watershed-level risks such as urban flooding and water quality issues. The Municipality of Santo Domingo, in partnership with the Instituto Tecnológico de Santo Domingo (INTEC), USAID, and the USDA Forest Service, is developing adaptation strategies, including the use of green infrastructure to control flooding. However, there is a great need for tools to evaluate and prioritize green infrastructure strategies and impacts in hydrological function for cities.

This team will use the iTree tool to assess and manage forests and their faunal communities and link urban forest management to environmental quality and community livability. Dr. Bonilla and her team will work closely with iTree Forest Service scientists to apply the tool to understand the quality and distribution of urban green infrastructure and its capacity to provide ecosystem-based adaptation services in the Santo Domingo area. Specifically, they will 1) perform an inventory of common green spaces combining field surveys and landscape-level remote-sensing data; 2) carry out an inventory of woody and wildlife species using a stratified sampling method of common green spaces following Forest Service inventory and wildlife survey protocols; and 3) implement iTree tools to model the degree of ecosystem service provision by existing green infrastructure. The outcomes of this project should positively impact planning and implementation by building local capacity in the evaluation of urban forests, as the team plans several workshops and training events for local managers, decision-makers, and stakeholders on iTree.

Recent project updates:

During the first quarter of 2017, the research team presented the i-Tree tool and announced the launch of the PEER project at the II Symposium of Ecosystem Services of the Congress of Carribean Biodiversity, sponsored by Instituto Tecnológico de Santo Domingo (INTEC) and Consorcio Ambiental Dominicano (CAD). The event was followed by a two-day i-Tree workshop entitled "Using the i-Tree Tool For the Management of Urban Forests" organized in Santo Domingo February 3-4, 2017, by INTEC, the U.S. Forest Service (USFS), and Universidad de Puerto Rico. The participants included students, researchers, technicians, and governmental officials, and the training focused on analysis and management of forest urban areas for evaluation of ecosystem services using the i-Tree tool. Developed by USFS, the tool has been applied in several cities worldwide to assess ecosystem services generated by trees and to produce information relevant to urban forest management. The objectives of the workshop were to (1) develop and understand the tools that comprise i-Tree with an emphasis on the use of i-Tree Canopy and i-Tree Eco; (2) understand the applications and limitations of the tool in analyzing and evaluating ecosystem services in urban areas; (3) introduce the use of general geographic information programs to standardize the format of maps used in i-Tree; and (4) train and develop workshop participants' skills and disseminate information on the benefits provided by green infrastructures in cities, both to the general public and to interdisciplinary decision makers.



During the next quarter, the team plans to work on their project website, purchase field equipment and work materials, and conduct two training events on the use of the i-Tree tool. The researchers will take measurements with the i-Tree tool in selected plots in the city of Santo Domingo in collaboration with the Environmental Network of Dominican Universities (RAUDO). Air quality, noise, and biodiversity will be monitored in the i-Tree plots in collaboration with the Ministry of Environment and Natural Resources.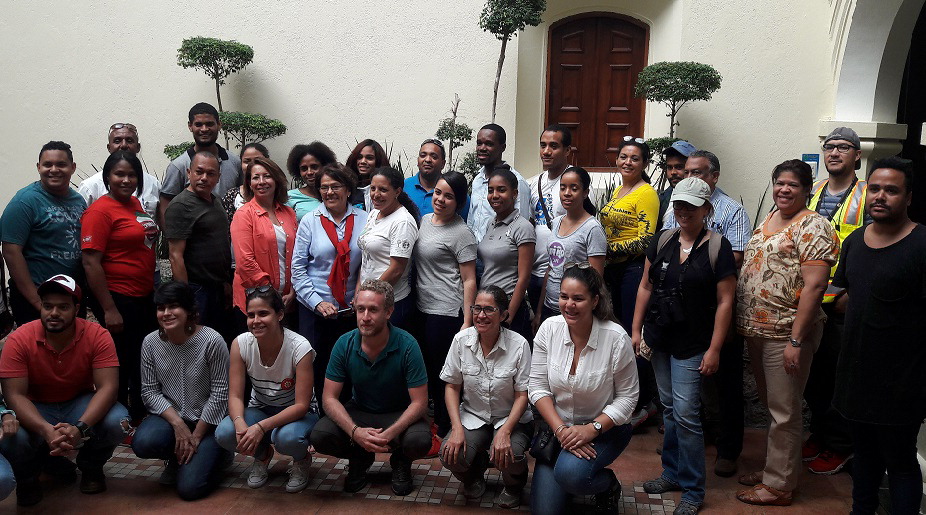 Photo courtesy of Dr. Bonilla
Back to PEER Cycle 5 Grant Recipients