Cycle 5 (2015 Deadline)

Using multi data for biodiversity conservation at Dak Nong Province in the Central Highlands of Vietnam

PI: Nguyen Thi Thanh Huong (huongthanh.frem@gmail.com), Tay Nguyen University
U.S. Partner: Volker Radeloff, University of Wisconsin–Madison
Project Dates: December 2016 - November 2019

Project Overview: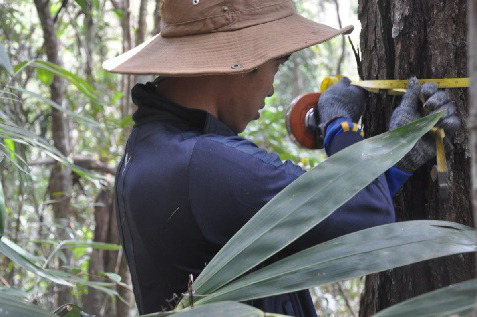 The team conducts data collection in the study area (photo courtesy of Dr. Nguyen)

Development of sustainable forest management and conservation strategies requires an understanding of how the composition and structure of tropical forests change in response to different disturbance regimes and how this affects both species distributions and people living in and near these forests. Most forests in Vietnam are affected by land cover change (LCC) resulting from human activities. To map and quantify the patterns of LCC, Dr. Nguyen and her team will analyze Landsat satellite images, GIS data, and field inventory data to classify forests by type and disturbance status. They will use these maps to stratify their field sampling and assess plant biodiversity among forest types and their changes following different levels of human disturbances (i.e., minor, moderate, and heavy impact). Furthermore, they will compare tree composition and structure along different ecological gradients, such as topography. By combining remote sensing, field data, and statistical processing, they expect to advance current methods to measure disturbance and biodiversity in the Central Highlands, which are largely based on field inventories. However, remotely sensed data is likely insufficient to map rare and endangered species, and hence areas of high conservation value. Therefore, the researchers will integrate spatial data with the experience of forestry workers and the indigenous knowledge of local people in the second phase of the project. Dr. Nguyen and her colleagues will collaborate closely with Dr. Radeloff, who will provide expert advice on forest sampling, analysis of vegetation diversity, and the use of remote sensing in ecology and biodiversity.

The project will involve all relevant stakeholders, including local authorities, forestry officers from various levels, and local people who depend on the forest. The project is designed so as to enhance conservation awareness among local people and improve skills and knowledge among forestry workers and officials responsible for conservation. The results will be transferred to relevant departments and reported to the Provincial People's Committee (PPC) of Dak Nong Province in the form of recommendations for forestry strategies. This will be of crucial importance for the PPC in order to implement proper forestry policies, conservation strategies, and forest management for the province in the context of climate change. Furthermore results from the project will contribute in several ways to the development of techniques, methodology, and training in forest biodiversity inventory and monitoring, which is still very limited in the Central Highlands, including Dak Nong Province. Combining remote sensing, terrestrial data, and social surveys will also provide insights into how forest dynamics in the Central Highlands have changed in recent decades. These inferences will contribute to development of a strategy for forest management that can incorporate payments for ecosystem services, REDD, and biodiversity conservation in the Central Highlands.

Summary of Recent Activities

During the second quarter of 2017, Dr. Nguyen continued her team's collaboration with external groups. Her team supported a visit of professors and students from Humboldt University Berlin to a forest site in Dak Lak (Yok Don National Park), developing connections with Humboldt faculty with expertise in remote sensing and land use change analysis. In addition to hosting the German group, Dr. Nguyen and some of her team visited the Department of Forest and Wildlife Ecology at the University of Wisconsin-Madison, where they shared and learned from experts in land use classification using open software. Dr. Nguyen also had a chance to present a lecture to students, postdocs, and faculty from the department, sharing land use maps produced using Landsat and highlighting the diversity of tree species in her study site in Vietnam. Her team got to visit a nearby natural resources station in order to learn about forest inventory in a temperate forest.

Dr. Nguyen's team had to apply for access to certain areas of Dak Lak and Dak Nong provinces in Vietnam, receiving consideration from provincial officials for access. Dr. Nguyen's team participated in a meeting organized by Dak Nong Province's Department of Agriculture and Rural Development, discussing potential study sites on which her team would be allowed access.

In the coming months, Dr. Nguyen plans to purchase new equipment such as software and cameras for collecting forest inventory data. Her team also plans to collect and prepare maps and compile Landsat images from 1984 to 2016. They are scheduled to hold a workshop with stakeholders from forestry agencies at the district and province levels in order to introduce their project, refine biodiversity inventory monitoring methods, and establish collaboration on data and information sharing. Some preliminary surveying of sites in Dak Nong Province is also planned.

| | | |
| --- | --- | --- |
| | | |
| Dr. Nguyen speaks at a stakeholder meeting with provincial and district-level forestry officials on her study sites | Dr. Nguyen at Kamp Natural Resources Station, University of Wisconsin-Madison | Working with students and faculty from Humboldt University Berlin in a deciduous forest in Yok Don National Park, Vietnam |

All photos courtesy of Dr. Nguyen
Back to PEER Cycle 5 Grant Recipients