Cycle 6 (2017 Deadline)

Wild and edible insects to sustain forests and fight malnutrition

PI: Andrianjaka Ravelomanana, ravelomanana.njaka@gmail.com, Madagascar Biodiversity Center
U.S. Partner: Brian Fisher, California Academy of Sciences
Project dates: December 2017 - November 2020

Project Overview: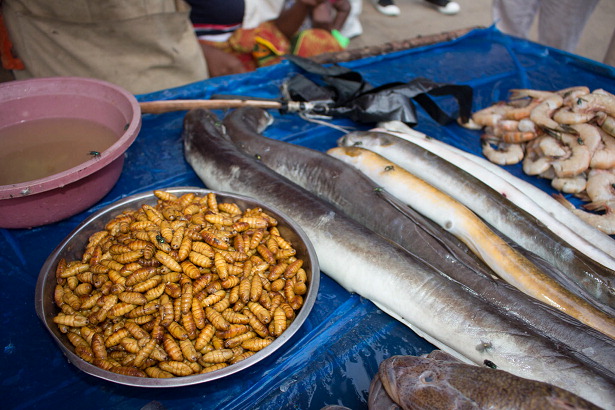 Mombyx mori pupae being sold in a market in Antananarivo [Photo courtesy of Prof. Fisher]

Insects farmed for food can provide an environmentally sustainable and nutritious alternative to traditional protein sources. Insects offer a far greater range of nutrients than commonly consumed meats yet require a much smaller footprint to produce. In Madagascar, insects are an indispensable part of seasonal diets for many ethnic groups. This research team aims to strengthen the tradition of eating insects with innovative techniques to make this valuable food resource available in all seasons while encouraging forest conservation. Their method will link the benefits of insect farming with a healthy, natural forest habitat. They intend to improve the diets of malnourished children by promoting a farming system that increases the value of the forest in the eyes of local people. The project will first evaluate suitable insect species for commercialization and create a knowledge bank of edible insects of Madagascar. One species will be chosen for protein powder production and another for whole insect consumption. The researchers will conduct experiments to determine optimal conditions for commercial-scale farming, including an evaluation of biological cycles, nutrient content, and other technical variables that affect farming costs and conservation impacts. They will also evaluate local attitudes towards insect consumption to ensure the program is suitable for local markets. The research will be conducted in collaboration with local NGOs, the private sector, and a team of international mentors.

Insect farming can produce a high nutrient protein source with a reduced footprint. Its low-resource demands can relieve pressures on the environment and provide food security. Insect farming can help Madagascar address development issues such as population growth, food security, habitat fragmentation, diminishing water resources, child nutrition, and persistent poverty. For a modest investment, the researchers expect large returns that will advance both development and conservation goals. Their research will be directly applied to the production of whole insects for local consumption and protein powder for commercial sale. In local communities, they aim to empower marginalized groups such as women and the rural poor to produce their own food, thus contributing to regional food security. Farming of whole insects for local consumption will also include the planting of native host trees as part of a reforestation program. In addition, they plan to develop leadership in Madagascar for insect farming research. Findings will be shared freely with the private sector with the aim of promoting a cottage industry of insect farming in Madagascar that will benefit business, the people, and the forest.

Recent activities:



During the first quarter, the team worked closely with the local villagers to collect their first crickets for breeding. Although the concept of eating crickets for human consumption was new for the villagers, they eagerly took part and helped the team collect their first colony. They also provided background information on the cultural aspects of insect eating in Madagascar. To implement this project, the team is farming Gryllus bimaculatus, commonly known as a black cricket in the local villages. During this period, an entomofarm was set up not far from the work site and different protocols were tested for the crickets to improve the output. So far, around 112,000 crickets are held in the farm. Two Master's students initiated a survey to inventory edible insect across the country. So far, they have visited around 40 localities to study ethno-entomophagy and identify edible insect species. As a result of the preliminary surveys, the team has identified three potential species for farming. The field trips will continue going forward and will focus on the South-Eastern part of Madagascar in the Vatovavy Fitovinany region. In May, the team plans to organize a meeting with their partners from Canada, France, and Japan to discuss the project. In the next couple of months, the team anticipates upscaling their growing colony size from 120,000 to 700,000 crickets, define the labeling and packaging, and obtain environmental permits and operating authorizations.

| | | |
| --- | --- | --- |
| | | |
| Brian Fisher (CAS) and PI Andrianjaka Ravelomanana | Local guide eating fried wasp (Toamasina) [Photo courtesy of PI Ravelomanana] | The nymphs of this large species of Fulgoridae Zanna tenebrosa were sold as food [Photo courtesy of PI Ravelomanana] |

Back to PEER Cycle 6 Grant Recipients