Cycle 7 (2018 Deadline)



Enhancing reproductive health services use by married adolescent girls - role of women volunteers



PI: Tasleem Akhtar (tasleem.akhtar@gmail.com), NUR Center for Research and Policy
U.S. Partner: Adnan A. Hyder, George Washington University
Project dates: January 2019 - December 2020

Project Overview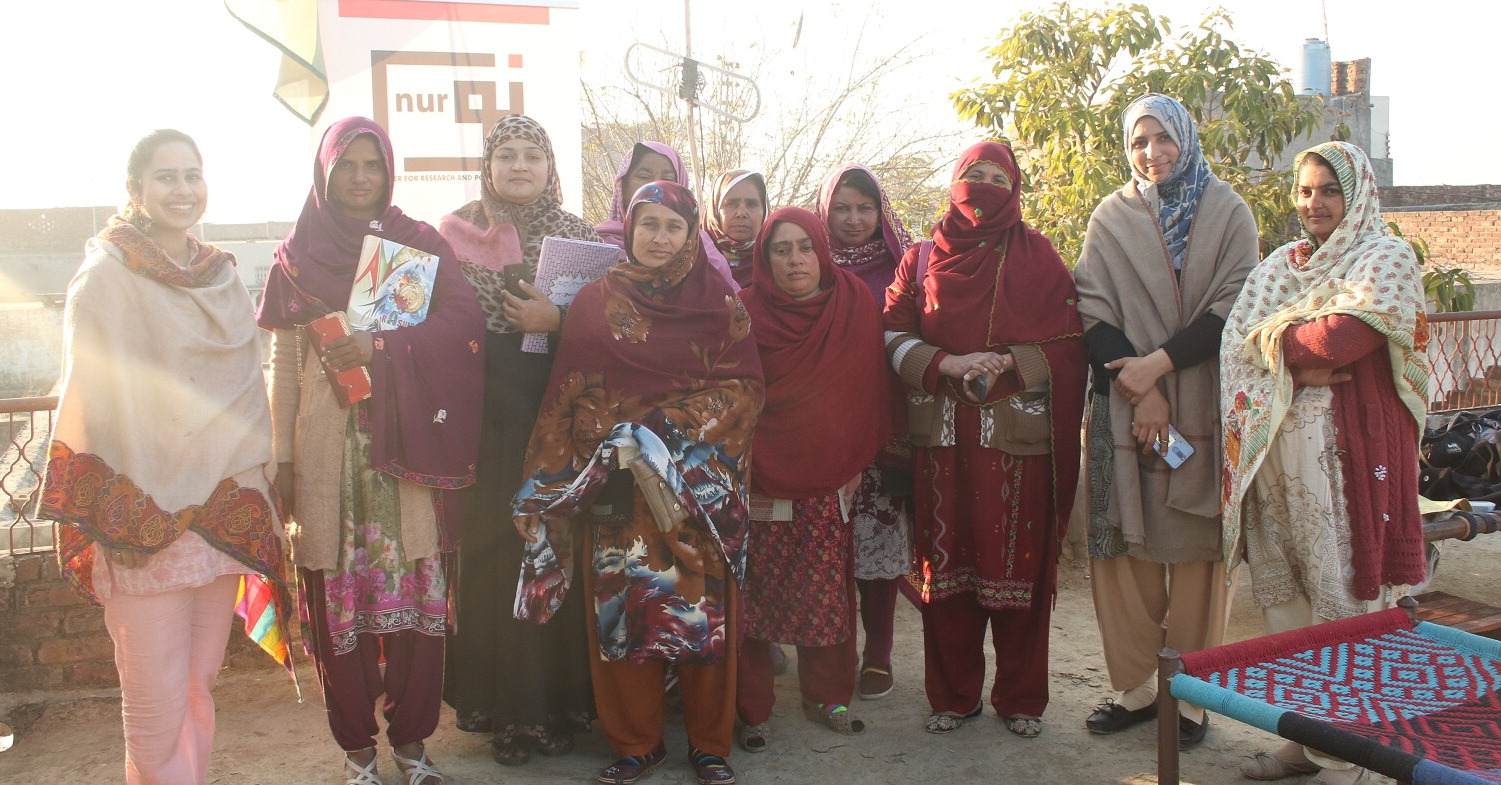 Photos courtesy of Dr. Akhtar

Low use of contraception and modern contraceptives among married adolescent girls and young women who constitute more than 20% of married women of childbearing age population is dragging down the increase in Pakistan's Contraceptive Prevalence Rate (CPR). Community mobilization to facilitate the access of Lady Health Workers (LHWs) to this age group for the provision of FPRH services needs to be tested to address the issue.


The study's major objective is to test the effectiveness of community women volunteers in facilitating access of Lady Health Workers (LHWs) in the Lahore district of Punjab province, Pakistan, to the marginalized group of married adolescent girls ≤ 15-19 years and young women aged 20-24 years, for purposes of providing Family Planning and Reproductive Health (FPRH) counseling, supply of oral contraceptives, and for purposes of improving their family planning and reproductive health practices.



Study Hypothesis:
Community women volunteers will be able to provide facilitation to Lady Health Workers to access married adolescent girls and young women
Male involvement in inception phase will increase the chances of success of the volunteer-LHW model

Role of women volunteers and women councilors to support Lady Health Workers, will facilitate the access of Lady Health Workers to married adolescent girls and young women. This will increase modern CPR and improve reproductive health of married adolescent girls and young women.
The study results will be immediately applicable to the initiatives currently ongoing in the province for boosting FPRH, as the Government of Punjab is currently implementing the Punjab Health Sector Strategy (PHSS) 2012-2020. The results of the study are anticipated to inform health policy and strategies currently being implemented in the Punjab province. Other provinces should be able to use the results relevant to their health services delivery and population needs. The study is in line with the USAID development objective for Pakistan of "Increasing the reach of public health systems, to save the lives of women and children, strengthen families and communities, and help develop a healthy workforce."

Summary of Recent Activities

During March-June 2019, the team continued their project activities. An Intervention Phase Work Plan for the period May 2019 to June 2020 was developed.In terms of data collection, team recruitment and training, a 60 member Data Collection Team was recruited and trained. The recruitment criteria included academic qualification of not less than graduation, working knowledge of mobile application use, Punjabi speaking and English writing skill. The team was trained on the ethical requirements of research/data collection and provided a one-page 'socio-cultural dos

and don'ts' of the community from which data was planned to be collected. In-depth training on the administration of the questionnaire was given. An eight member FSM Team was

constituted to undertake the following activities during the Baseline Survey and overall Intervention Phase periods:
Advance Field Visits to the data collection sites ahead of the data collection teams to meet community leaders, elders and security personnel and brief them on the study purpose and objectives and to solicit their support and cooperation
Monitoring of the interaction between LHWs and CWVs and feedback on the working of CWVs during the 12 month intervention period
Trouble Shooting.
Baseline Data Collection:An immediate setback to data collection occurred when it was found that the lists of households with the study target married women population aged ≤15 –24 years (target households) provided by LHWs were inaccurate and outdated. The sampling methodology was changed to snowball sampling. The approach was successful and 5000 target households were identified and data collection started after a delay of two weeks.
The following activities were undertaken during the Baseline Data Collection period:
Data was collected on smartphones using a standardized electronic questionnaire form. Due to the highly intimate nature of the questions asked, making the participants comfortable and the interview confidential were real challenges. These were addressed through interviewer-respondent gender matching, informed consent taking, self-administration of highly sensitive questions by literate respondent and keeping engaged the other family members by the second female interviewer while the target respondent was being interviewed. Data was stored securely in password protected computers or files. Research staff was trained on managing and storing research data. In this study linking baseline and end line surveys data is critical. Therefore all links between personal information and survey responses were removed and each respondent was given a unique identification code to facilitate follow up and linking of information across time. Access to master codes list is limited to authorized individuals with a need to know for specific defined purposes.
A suitable data collection electronic system was developed using the Harvard Humanitarian Initiative's open source KoBoToolbox/ODK Suite.
Meetings between Statistical Team & Principle Investigator: A total of five meetings were held between the PI and Statistical and Data Collection Team during the period under report. In the meetings data collection, quality assurance and data analysis plan development were discussed and solutions to problems encountered were agreed on.

Recruitment of Community Women Volunteers: Information from LHWs about the CWVs they had selected was collected on a format provided to them during the last quarter's meeting. The FSM Team will contact the listed CWVs to verify that the entries are correct and not spurious like the lists of households provided by them.

Meeting between FSM Teams & participating LHWs: The FSM Teams had their first and introductory meetings with LHWs in order to build a healthy understanding with them and make sure that they were working on launching their CWVs soon.

Meetings of FSM Teams were held with the Lady Health Supervisors (LHS) of the participating LHWs are being to keep them on board and get their support and cooperation in addressing issues arising out of interaction with the participating LHWs.
Outreach and collaboration:
Meetings with Health, Planning and Development, Women Development, Population Welfare, USAID, UNFPA, Marie Stopes Society Rehnuma FPAP and Save the mother Fund Society and CARITAS etc were held during the inception Phase. The collaboration formed between NCRP and Integrated Reproductive Maternal Newborn, Child Health
&Nutrition Program (IRMNCH&N) was further strengthened by constant support that the department provided to NCRP during the data collection. They made sure that each LHW submitted information to the Technical Team in time. Frequent meetings were held at their office to discuss mitigation strategies and how to manage the large number of LHWs and CWVs. Useful information and solutions were provided by IRMNCH&N and their Assistant Manager also took the lead in ensuring the smooth transfer of information from the LHWs to the NCRP Team.
| | |
| --- | --- |
| | |
| | This map represents the approx. locations of field work in Nishtar Town UCs. |

Back to PEER Cycle 7 Grant Recipients