Partnerships for enhanced engagement in research (PEER) SCIENCE
Cycle 1 (2011 Deadline)
Strengthening research and teaching capacity of the Andalas University in climate change and natural resources management
PI: Rudi Febriamansyah (Andalas University)
U.S. Partner: Brendan Buckley (Lamont-Doherty Earth Observatory, Columbia University)
Project Dates: June 2012 - August 2017
Project Overview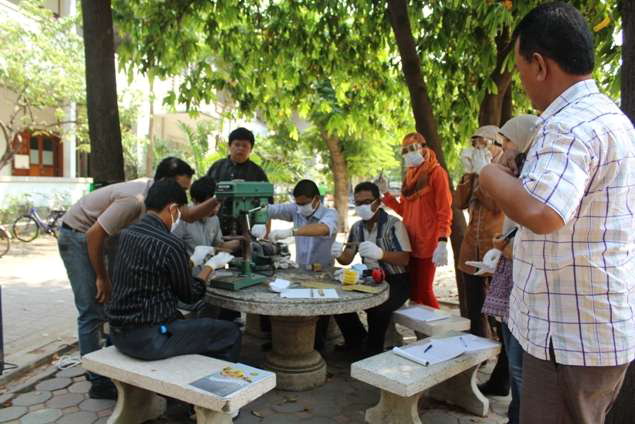 The PEER team preparing tree ring samples (Photo courtesy of Dr. Febriamansyah)
Climate change has results in significant impacts on environment, water availability, and safety. Millions of people are affected by drought and floods every year in many part of the world, with widespread impact on. Specifically in West Sumatra, the impact of climate change includes sea level rise along the coast that has affected the livelihood of small scale fisheries, as well as the changed rainy season that has influenced the cropping pattern, decreased land productivity, and even affected the stability of the water supply for three electric power plants.
Given the importance of these impacts for Indonesia, it would be useful to upgrade the capacity of Andalas University faculty and research staff members to understand the linkages among the natural systems involved in order to create better solutions and recommendations for local government or community action. One important element in understanding these linkages includes exploring climate variability over a longer period of time and its connection with the characteristics of ecology, environments, and human activities over that time period. The advanced techniques and technologies for tree-ring analysis developed by experts at Lamont-Doherty Earth Observation (LDEO) of Columbia University seem appropriate for application in West Sumatra province.
In this regard, the overall goal of this proposed project is to develop a sustainable and adaptive natural resources management system in West Sumatra province through cooperation between Columbia University and Andalas University integrating natural and social sciences approaches. Activities to achieve this goal are: (1) joint research between Andalas staff and LDEO experts on reconstructing climate variability in West Sumatra through tree-ring analysis, (2) support for two PhD students and four M.Sc. students on climate change, watershed management, water supply studies, and agriculture system studies, (3) development of the tree-ring research laboratory at Andalas, (4) organization of seminars and conferences for disseminating the results of the studies, (5) provision of training for Andalas staff, research students, and laboratory technicians, and (6) organization of a workshop for teaching module development.
Summary of Recent Activities
In collaboration with Dr. Kamarza Mulia and Dr. Elsa Krisanti (PEER grantees from Universitas Indonesia), the PI organized a workshop focusing on development of the Problem-Based Learning (PBL) method, as a result, encouraging development of a PBL course at his university. USAID awarded supplemental funding for Andalas University to conduct the International Conference on International Conference on Green Development in the Tropical Region, which took place in October 2015.
Plans to develop a new concentration in the Master's program in Integrated Natural Resources Management at Andalas University. A graduate student from LDEO was invited to visit Padang to share his knowledge and skill in tree ring and climate analysis and information about the LDEO Master's program on Climate and Society.
Infrastructure Development: The laboratory equipment bought with PEER funds has been used not only for this project but also for training and course delivery.
Collaboration:
The PI visited his U.S. partner Dr. Buckley at LDEO, and learned two important methods in tree ring studies, specifically, using matrix paper for cross-dating the ring width before measuring the width with instruments and using MATLAB software to analyze the correlation of the ring width with climatic data to develop the climate reconstruction model. At the LDEO library, PI obtained journal articles and data sources otherwise not accessible in Indonesia. During the visit, Dr. Febriamansyah made a presentation about his research, which led to his receiving valuable suggestions on how to focus his further work both geographically and in terms of tree species.
A no-cost extension through August 2017 was granted to the PEER team in order to allow the Dr. Febriamansyah complete his publications and dissemination of research results. A PhD student of PEER PI in Vietnam, Nguyen van Kien from An Giang University enrolled to complete her PhD study at Andalas University in Padang, and Dr. Febriamansyah expressed interest in supporting her PhD research, in collaboration with Dr. Van Kien. The student is now in the process of completion her comparative research studies at Andalas University. Following field work for data collection during the months of January - March 2017 (2nd semester), and data analysis during April- May 2017, the period of June - July, 2017 will be devoted to writing a journal article for publication. During the 3rd and 4th semester, the student will spend her time at An Giang University, to conduct fieldwork. During the 5th and 6th semester she will be conducting comparative analysis, produce her research paper, and finalize the dissertation.
Yusniwati in the research field site on adaptive onion in Saniang
(Photo courtesy of Dr. Febriamansyah)

Participants of the workshop on Problem Based Learning, November 2013.

Dr. Yusniwatio in the research field site on adapative paddy in Simawang (Photo courtesy of Dr. Febriamansyah)

(Photo courtesy of Dr. Febriamansyah)