Pakistan-US Science and Technology Cooperation Program
Phase 3 (2007 Deadline)
Development of a Materials Connection Center

Rick Ubic, Boise State University
Yaseen Iqbal, University of Peshawar
Pakistani Funding (HEC): $ 188,000
US Funding (USAID): $ 254,000
Project Dates on US Side: April 1, 2008 - September 30, 2011
Project Overview
No matter how many valuable natural resources a country may have, those resources are useless without the necessary expertise and technology to locate, extract, and process them. Ensuring that resources produce the maximum value added also requires creativity and innovation to develop affordable products for local and global markets. Achieving these goals requires cooperation not only among researchers but also with representatives of industry, government, and investors. This project has created a Materials Connection Center at the University of Peshawar to bring together the expertise, technology, and relevant stakeholders to harness Pakistan's considerable mineral resources most effectively
The labs at the new center are equipped with instruments for characterizing and processing minerals, and the government of Khyber Pakhtunkhwa Province has provided supplemental funds for construction of a building to house the equipment. Recently funds from this project have supported the creation of a pilot plant for electroextraction of minerals from ores. Four Pakistani graduate students were supported by the project, with four others also involved in the research efforts focused on functional ceramics. Dr. Ubic and Dr. Iqbal have used videoconferencing to jointly teach two semester-long courses, with students participating from both Boise State and the University of Peshawar. On the research side, work has focused on analyzing local mineral samples, with the experiments being performed both at the University of Peshawar and at Boise State, where Dr. Iqbal has had the opportunity to make one-month visits during the summers of 2009, 2010, and 2011. The results of the research are being collected in a new database of available mineral resources, with special emphasis on those that either have a large export potential and/or the most domestic relevance. It is hoped that the Materials Connection Center will serve as a platform for researchers, industrialists, and investors to share their knowledge and expertise in seeking better ways of utilizing the mineral, human, and technical resources of the region, and so far it has served as a venue for regular conferences and meetings of stakeholders. The project has already spurred a memorandum of understanding between the University of Peshawar and the Peshawar Medical and Dental College to develop research projects in the field of dental materials.
Major Results
Established the eponymous Materials Connection Center at the University of Peshawar, which supports four Pakistani graduate students directly involved in this project, four others working on functional ceramics, and several MSc students in solid-state physics

Hosted three exchange visits by the Pakistani principal investigator to Boise State University

Organized the course "Bonding, Crystallography, and Crystal Defects," which was delivered via video conferencing to approximately 35 students at Boise State and the Institute of Physics and Electronics at the University of Peshawar

Installed a laboratory-scale electrowinning and mineral upgradation pilot plant at Peshawar, which has inspired several other Pakistani institutions to develop similar plants

Acknowledged on four publications (one still in press) with several others in preparation

Organized a seminar and regular joint meetings in Pakistan with representatives from various industries, universities, and R&D institutions involved and carried out a national conference in the United States in 2010

Obtained additional funding for equipment to support this project from the US Department of Energy, Office of Nuclear Engineering via its NEUP Infrastructure Support program
Quarterly Update
Dr. Iqbal made the third annual exchange visit to BSU from June 13 through July 21, 2011, during which he and Dr. Ubic analyzed samples and prepared their results for publication. Dr. Ubic presented some of their recent results at the Pacific Rim Conference on Ceramic and Glass Technology, to be held in Queensland, Australia from July 10 – 14, 2011. The project ended on the US side as of September 30, 2011. Nevertheless, Dr. Iqbal and Dr. Ubic expect to offer a distance-learning course on functional materials in the autumn of 2011 or spring 2012 in order to simultaneously maintain their collaborative momentum and help Peshawar students enrolled in electroceramic projects jointly supervised by the two PIs.
Progress Report Summaries
Show all progress summaries | Hide progress summaries
2010 Show summary || Hide summary
2009 Show summary || Hide summary
2008 Show summary || Hide summary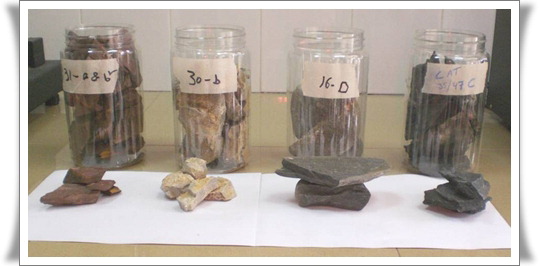 A few of the many mineral samples collected for analysis at the Materials Connection Center.
Back to Pakistan-US Science and Technology Program Phase 3 Grants List