Pakistan-US Science and Technology Cooperation Program
Phase 3 (2007 Deadline)
Management of Greening by Producing Healthy Plants, Monitoring
Vectors, and Identification of Tolerance

Mikeal Roose, University of California, Riverside
Iqrar A. Khan, University of Agriculture, Faisalabad
Pakistani Funding (HEC): $ 245,000
US Funding (State): $ 159,500
Project Dates on US Side: July 1, 2008 - June 30, 2011
Project Overview
The primary objectives of this project were to (1) develop an infrastructure to treat local germplasm in Pakistan to ensure that it is free of greening; (2) evaluate citrus and related plants for greening resistance and tolerance; and (3) apply real-time PCR assays for detection of Huanglongbing (HLB) virus and citrus tristeza virus to study how the pathogens spread under different field conditions.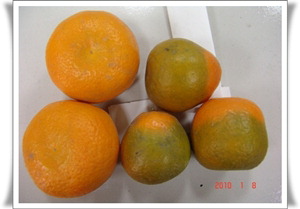 The devastating effects of greening are clearly visible in the oranges at right, compared with healthy fruit at left (photo courtesy of Mr. Muhammad Fakhar-ud-Din Razi).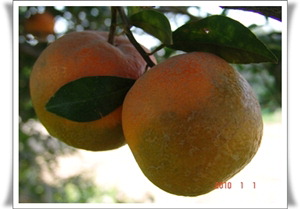 Kinnow affected by greening (photo courtesy of Mr. Muhammad Fakhar-ud-Din Razi).
Major Results
Eliminated HLB from infected budwood source trees of 50 different citrus varieties by antibiotic treatment

Transferred seed of more than 150 citrus varieties to Pakistan to test for HLB resistance

Discovered that Asian Citrus psyllids, which transmit HLB to citrus, survive very hot summer temperatures but insects are less active in Pakistan

Transferred high-throughput qPCR methods and equipment to detect Candidatus Liberibacter asiaticus (CLas) in citrus and psyllids to Pakistani scientists

Trained two PhD and three MSc students from Pakistan, with one student visiting Riverside for training in qPCR for CLas detection
Quarterly Update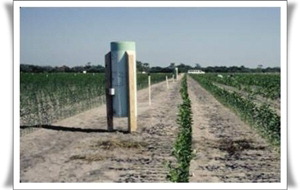 A suction psyllid trap similar to the one shipped to UAF (photo courtesy of Dr. Richard Lee).
Muhammad Fakhar-ud-Din Razi, the PhD candidate from the University of Faisalabad who visited Riverside from August 2010 through February 2011, was awarded his PhD at UAF in June. As a result of work carried out during his visit, the presence of HLB in both plants and psyllids has been confirmed in Pakistan from his samples and DNA extractions by sequencing targeted conserved areas of the bacterial genome. The molecular analyses indicate the presence of two distinct populations of the bacterium associated with HLB in the main citrus production area of Pakistan. The sequences of both populations have a very high homology with Candidatus Liberibacter asiaticus, the bacterium associated with HLB in Florida. The data from psyllid traps and presence of the bacterium associated with HLB under different temperatures and different times of plant flushing have been analyzed, and the results are being prepared for publication. Meanwhile, research this past quarter in Riverside has been directed towards performing biological indexing for graft transmissible pathogens of citrus using very young seedling indicator plants in specialized pots called conetainers™. The final results are still pending, but this approach should allow for quicker production of seedling indicator plants. Currently indicator plants are grown for 12-18 months before being used for a biological index, but the new system allows them to be used for indexing at only about 4-5 months old.
Progress Report Summaries
Show all progress summaries | Hide progress summaries
2010 Show summary || Hide summary
2009 Show summary || Hide summary
2008 Show summary || Hide summary
Back to Pakistan-US Science and Technology Program Phase 3 Grants List