PARTNERSHIPS FOR ENHANCED ENGAGEMENT IN RESEARCH (PEER) HEALTH
Cycle 1


Newborn Infection Control and Care Initiative for Health Facilities to Accelerate Reduction of Neonatal Mortality (NICCI)
Principal Investigator: Chivorn Var, National Institute of Public Health (NIPH), Cambodia
NIH-Supported Collaborator: Robert Oberhelman, Tulane School of Public Health and Tropical Medicine
Title of NIH Award: Inter American Training for Innovations in Emerging Infectious Diseases
Project Overview
Background:
Newborn mortality continues to be unacceptably high in Cambodia, despite reductions in maternal and under five year old mortality. Evidence exists that a large proportion of newborn mortality globally and in Cambodia is attributable to infections and sepsis and must be addressed. A surge in the number of births at Health Centers unprepared for increased caseloads has likely contributed to substandard hygiene practices and referral. The goal of the project is to implement and evaluate a linked intervention to reduce newborn mortality and morbidity by addressing infection control in the perinatal period, improving recognition of newborn illness, and facilitating prompt referral to appropriate care.
Objectives:
Specific objectives are: 1) to improve infection control behavior by staff in selected Health Centers and train health workers in infection control messages to be delivered to pregnant and newly delivered women; 2) to improve referral of sick newborns by Village Health Support Group (VHSG) volunteers and HC staff through: a) increased recognition of danger signs, b) shorter time between recognition of danger signs and care seeking at an appropriate health facility; and 3) to describe the causes of sepsis among infants with possible sepsis from a subset of health center catchment areas.
Methods:
The study will use an experimental design to evaluate a package intervention for the reduction of newborn mortality. The study will incorporate mixed methods including: formative (qualitative) research, a stepped wedge cluster randomized intervention trial and process evaluation.
Public Health Impact:
It is anticipated that the results of this study will provide data for policy level actions on newborn survival in Cambodia and in other settings with similar health outcomes. The study may contribute to the potential scale up of a linked model of community-facility care for newborns.
NIH Supported Collaborator:
Dr. Oberhelman is a pediatric infectious disease specialist experienced in partnering with and training scientists in low income settings to reduce child mortality, and will offer technical advice. 
Summary of Recent Activities: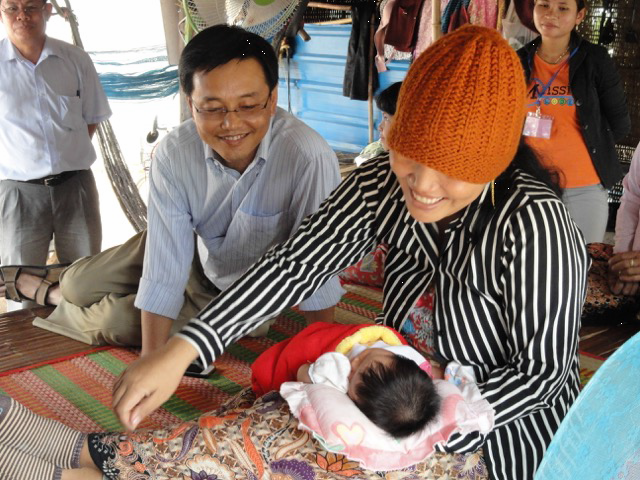 Principal Investigator and Project Coordinator observed project staff interviewing new delivery mothers in Tropaing Snor & Prey Changreak villages.
From July to September 2015, trainings for 20 midwives in 3 health centers on infection control and hygiene in newborn care and danger signs was conducted. Additionally, 89 Village Health Support Group (VHSG) workers 49 villages under the coverage of the three health centers mentioned above received training. The project distributed 89 education flip-charts and 89 thermometers for each VHSG for conducting home visit and health education for women after birth and family and 49 hand phones (one phone for each VHSG per village). Enrollment of study participants continued with 1063 pregnant women out of 1216 total being enrolled in the study. To date the project enrolled 2,247 participants. The Takeo Provincial Hospital collected blood samples and performed culture for 14 newborns suspected for sepsis. To date the hospital performed blood culture for total of 33 suspected sepsis newborns however there were no culture positive result identified. The 6-month follow-up interviews for health center staff (88 interviews this quarter) and VHSGs (516 interviews this quarter) were conducted to assess knowledge and performance by the staff. Project staff attended a consultative meeting with other partners working on WASH related activities to discuss about future plan on WASH in Health Care Facility (HCF) and build a network among partners working on WASH in HCF in Cambodia. Finally, the project hosted a study visit by a team from Emory University and WaterAid Cambodia in one of project health center to learn the implementing process and successes.
Health Cycle 1 Recipients