PARTNERSHIPS FOR ENHANCED ENGAGEMENT IN RESEARCH (PEER) HEALTH
Cycle 1
Principal Investigator: Onesmus Gachuno, University of Nairobi
NIH-Supported Collaborator: James Kiarie, University of Nairobi
Title of NIH Award: Linked-Strengthening Maternal, Newborn and Child Health Research Training in Kenya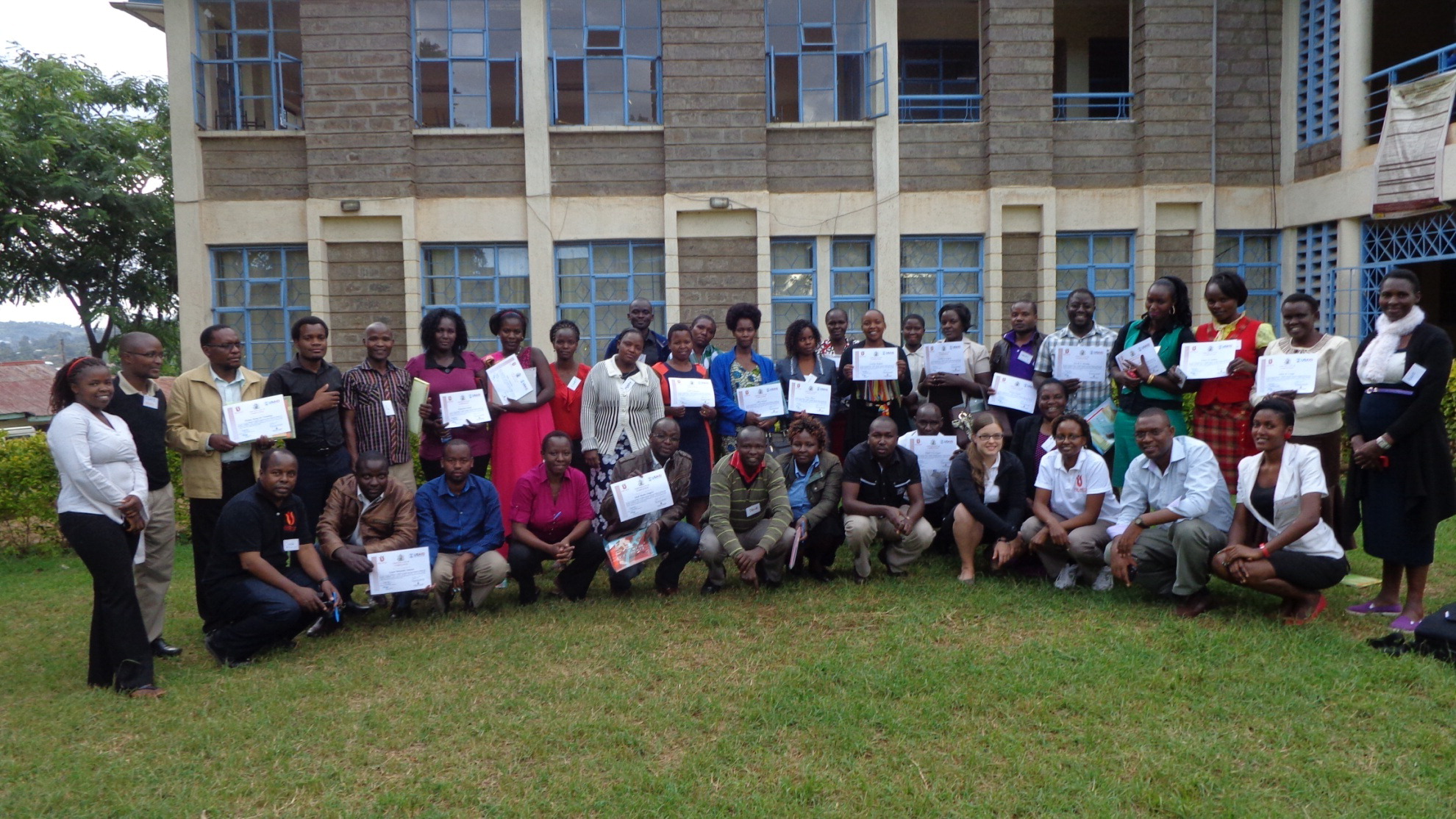 Facilitators and participants after completion of PRONTO Module 2 at Kisii Medical Training College, May 2015.(Photo courtesy of Dr. Gachuno)

In Kenya, neonatal mortality accounts for 60% of infant mortality. One third of these deaths are due to intra-partum complications resulting in birth asphyxia which can be prevented by effective interventions. The Government of Kenya has identified inadequate provider competencies in Emergency Obstetric and Neonatal Care (EmONC) as a major challenge to implementation of quality Maternal and Newborn Health (MNH) services and has prioritized improving skilled care and enhancing the capacity of health facilities to provide these services.

In high-resource countries, simulation training has had the greatest success in changing practice and behavior in EmONC particularly in emergency situations however, the models used are expensive, complicated and not conducive for limited-resource settings. PRONTO developed a low-tech highly realistic simulation and team based training specifically for limited-resource settings which has been shown to improve health worker competencies in EmONC and decrease perinatal mortality. This training addresses skill and system barriers to the provision of sustainable quality EmONC thus reducing neonatal and maternal morbidity and mortality.
Using a cluster randomized trial design; we will test the hypothesis that PRONTO training will improve 24 hour neonatal mortality. Participating health facilities in Kisii County will be randomized into two arms: PRONTO training and standard of care. The study population is Kisii health facilities, the workers caring for women during labor and delivery at these health facilities, and their newborns.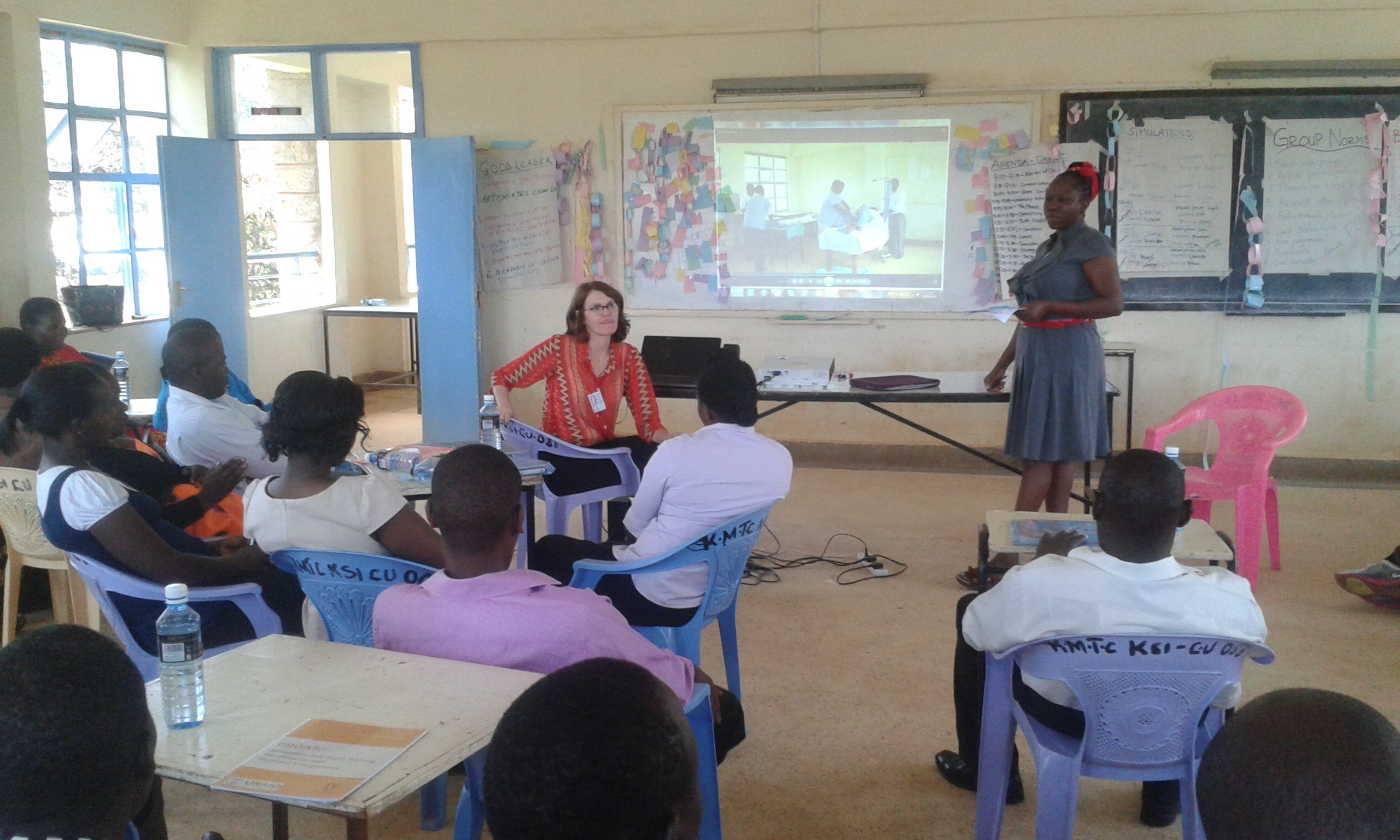 PRONTO Trainers, Dilys Walker and Salome Mose, debrief participants after a simulation during the PRONTO Module 1 training. (Photo Courtesy of Dr. Gachuno)


Summary of Recent Activities
In April 2015, PI Dr. Gachuno, M&E Manager, and the Training Coordinator conducted a site visit for the eight intervention health facilities. The training coordinator was able to go through the neonatal resuscitation skills with the clinical officers and nurses on duty during the site visit. Three one-day PRONTO Module 2 trainings were held in May 2015 for health care workers at eight intervention health facility sites and Kisii Teaching and Referral Hospital on PRONTO Simulation and Team-based Emergency Obstetric and Neonatal Care. Kisii Teaching and Referral Hospital is the referring center for the health facilities. A total of 79 health workers from the nine facilities were trained. The research team conducted pre and post training tests and evaluations on knowledge, skills, and attitudes prior to and after the training. Training feedback was also given in written and verbal format and we are in the process of analyzing the feedback to inform future trainings. Each facility developed strategic development goals for implementation in the health facility with the support of the in-charge administrator at the conclusion of the training. These goals were developed based on the PRONTO training and evidence based practices. A stakeholders meeting with the County Health Management Team, In-Charges of the Health Facilities and Local Ministry of Health Personnel was held in May 2015. Preliminary findings of the baseline data collection were presented and included a discussion on the way forward.