Partnerships for enhanced engagement in research (PEER) SCIENCE
Cycle 1 (2011 Deadline)
Natural resources interacting with health outcomes: understanding fishery resource use and improving nutrition in western Kenya
PI:
Richard Magerenge, Organic Health Response-Ekialo Kiona Center & Kenya Medical Research Institute
US Partner:
Justin Brashares, University of California Berkeley
Project Dates: May 2012 - April 2015
Project Overview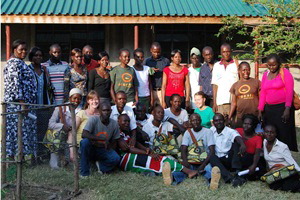 Research staff upon completion of the research training, July, 2012.
While ecosystem and human health are commonly envisioned as closely linked, the mechanisms through which natural systems interact with livelihoods and human health are often poorly understood. For this research project, the
Organic Health Response-Ekialo Kiona Center
will partner with National Science Foundation Coupled Natural and Human Systems (NSF-CNH) grant recipients at the University of California-Berkeley to contribute to an improved understanding of the mechanisms linking the environment and health, and the ways resource access mediates health and nutrition outcomes. This collaboration represents the first research program on Mfangano Island designed to equip local researchers with the training, resources, and mentorship to design, evaluate, and create models of local programs.
The NSF-CNH project on which this PEER project is built aims to inform a broader understanding of links between ecosystem and human health by focusing on the natural resources that provision food. Food resources, in the Kenyan case primarily fishery resources, both provide for the broad patterns of ecosystem interaction and have a substantial impact on local people. Poor nutritional status is often integrally linked to degraded fisheries and agro-ecosystems. Fluctuations and declines of food availability, whether driven by seasonal fluctuation, changes in availability, or altered access, can negatively influence long-term human health outcomes. Wild foods may serve both as a nutritional safety net and as a significant source of calories and protein, making food resources a critical factor in how environmental resources affect health outcomes. The new PEER project will analyze these relationships, specifically the role of fish use and access in the Lake Victoria fishery of Western Kenya. This study will look into how fishery health shapes human nutrition, livelihoods, and health outcomes. It also aims to illuminate and predict how human health and household wealth separately and interactively affect household reliance on harvested biodiversity, specifically in the Kenyan case, fish from Lake Victoria.
An interdisciplinary approach will be used to combine ecological monitoring, nutritional epidemiology, and political ecology, which emphasize different scales, from household and sub-household to regional and global scales. Data collection will include substantial household-level data including fishing effort and activities, fish consumption patterns, daily and weighed diet calendars, and measures of child nutrition. By promoting a better understanding of interactions among household health, wealth, and fishery resources, the study should contribute insights on the mechanisms linking wildlife use and human nutrition and highlighting patterns of interaction among sites. Through the expansion and evaluation of on-going activities at the Organic Health Response-Ekialo Kiona Center, the data collected and analyzed also have implications for broader-scale poverty and resource management policies to guide data-driven community programs.
Summary of Recent Activities
The research team completed their 9-month follow-up time point of data collection in November 2013, and collection of household data is ongoing. Efforts were made to keep participants informed about research progress and retain their participation through Post-Enrollment Workshops.
The research team hired a nutrition counselor to provide support in the development of nutrition programming. A thorough needs assessment was conducted with the community leaders, religious groups, health center staff, Ekialo Kiona general and research staff, community health workers, and the community members. Nutritional resources were identified throughout the community, as well as constraints to receiving good nutrition, community beliefs and behaviors around nutrition, and norms for breastfeeding and child feeding.
During the period between October 29, 2013 and November 2013 the team held
14 post enrolment workshops for around 150 RECH participants informing them of the study progress. The aim of the workshops was to disseminate the information about the referral system and nutrition as well as general male involvement in community health programs on the Island.
During the upcoming months the team will continue their
follow-up and work on QA/QC data and field data entry. The nutrition program curriculum will continue to be developed, BMU data will be collected as well.