Cycle 1 (2011 Deadline)
Incorporating Bali's subak heritage into primary and secondary education: curriculum development, teacher training, and action research
PI:
Sang Putu Kaler Surata (Mahasaraswati University)
US Partner:
John Stephen Lansing (University of Arizona Tucson)
Project Dates: June 2012 - October 2014
Project Overview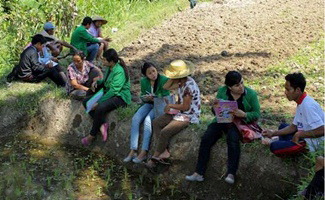 UNMAS students interview farmers from Subak Tampaksiring (photo courtesy of Dr. Surata).

The objective of this research is to train future teachers in education for sustainable development. Course materials will be developed to teach primary and secondary students about the agro-ecology of Bali, with an emphasis on the ancient institutions that manage Bali's celebrated rice terraces: subaks and water temples. Balinese subaks are traditional, community-level religious institutions that manage irrigation water, which is regarded as a gift from the Goddess of the Lakes, and as such is a shared resource. Generations ago, nearly all Balinese children had direct experience of subaks and the agro-ecology of terraced rice, but today the majority of Balinese are no longer farmers, and knowledge of both the ecological and spiritual role of the subaks and water temples is much less accessible. The subak system is also experiencing threats from both land conversion and loss of soil fertility. The subaks and water temples are more than functional institutions; they are widely regarded as a cultural achievement of the Balinese people, and their vulnerability is a frequent topic in Balinese newspapers, television, and seminars. The proposed project is designed to help address these concerns by developing teaching materials about the subaks to be used in both primary and secondary schools in Bali and elsewhere in Indonesia. Both printed and Web-based instructional materials will be created by teams of future teachers, who will also receive training in the formal evaluation of the pedagogical effectiveness of these materials and methods. Bali's subaks provide an excellent case study from which to learn about sustainability, resilience and the interaction of humans with the natural environment.
It will also significantly enhance the broader impacts of a National Science Foundation-funded investigation of the resilience of Balinese subaks, by incorporating the results into education for Indonesian school children and by providing structured training in education for sustainable development for a large cohort of future teachers. The major challenge for the project is to develop materials and modules that will be both comprehensive and effective in the context of primary and secondary education in Indonesian public schools. To achieve those goals, the development and assessment of the teaching materials will be carried out by college students at Mahasaraswati University who are seeking certification as primary and secondary school teachers. Thus the project is organized as a series of projects embedded within the teacher training curriculum at Mahasaraswati. The first year's goal is the creation of teaching materials for different grade levels that encompass all aspects of the subak/water temple system (social, ecological, spiritual, and historical). Students will participate in data collection for the RAPID project in the field, gaining firsthand awareness of the concerns and perceived vulnerabilities of the farmers and temple priests. They will also work in teams to collect historical data, photographs, and oral histories that will provide the raw materials for teaching modules. The second year's target focuses on assessment and evaluation of the pedagogical value of the instructional materials. The Web-based teaching materials that emerge from this project will made available on the Cultural Landscape of Bali World Heritage web site and in this way help to fulfill the key educational goals of the World Heritage plan for Bali. While the focus of the project is the development of teaching materials for Indonesian school children, some modules will be translated into English and distributed via the World Heritage web site.
Summary of Recent Activities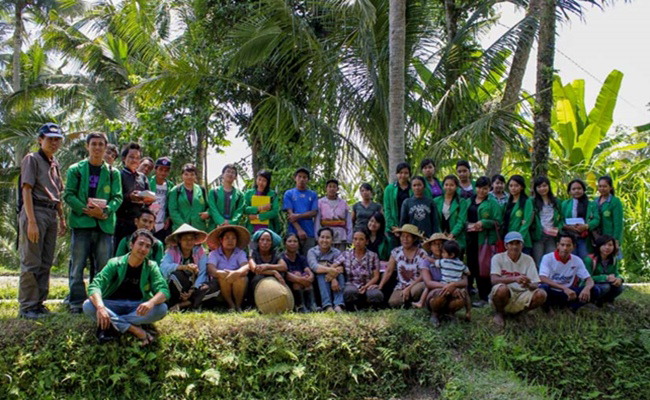 Dr. Surata and UNMAS students with farmers from Subak Tampaksiring (photo courtesy of Dr. Surata).
During the last quarter of 2013, Dr. Surata continued his wide range of activities aiming at incorporating Bali's Subak heritage into primary and secondary education. Dr. Surata presented his paper titled "Sustainable Learning: Encourage Teacher Training in Incorporating Traditional Knowledge into Modern Science" at the 14th International Conference on Education Research, which was held in Seoul October 7-9, 2013. The attendees included scholars and researchers from Japan, China, Uganda, Thailand, Malaysia, Singapore, the Netherlands, India, Indonesia, South Korea, and the United States.
A representative of Pertamina, the Indonesian Oil Company, accompanied by PEER UNMAS researchers, visited the study site of the PEER project in Subak Pulagan to clarify the status of the land that will be used as Bale Subak (Subak Hall). Thanks to Dr. Surata and PEER UNMAS team members' efforts to find donors willing to help build Bale Subak, Pertamina gave a grant of approximately $24,600 for the construction of Bale Subak, which will be used for various purposes, including the subak cultural landscape-based development of cross-cultural learning. In November of 2013, a seminar on competitive research proposals to the Indonesian Directorate General of Higher Education was held in Bandung West Java. Dr. Surata presented his proposal, titled "Education Re-contextualization for Sustainable Life through Elaboration of Outstanding Values of Subak Cultural Landscape". Should the PEER-UNMAS team win the grant, it will enable them to continue current research activities in June 2014, as the PEER-UNMAS research grant term is nearing its end. On December 14, 2013, a focus group discussion to improve teachers' skills in creative and critical reading was held in
SMPN 2 Bangli-Bali.
During the discussion, primary education teachers reviewed the Subak Cultural Landscape Book, and the majority of the participants found the book to be very useful and educational, while some readers also stated that information about agriculture technology of subak should be added to the book so that the young generation would not lose their knowledge about their ancestors' agriculture-related cultural heritage. Dr. Surata also presented the research and community service aspects of PEER project at the annual seminar on the Results of Multi Year Community Service Programs, held December 9-10, 2013 in Surabaya, East Java, Indonesia. The attendees of the event were Indonesian lecturers from a number of public and private universities who had received community service grants from the Directorate of Research and Community Service. In the coming months, Dr. Surata and his team will continue e

ngaging student teachers in primary and secondary education research encouraging the use of the subak cultural landscape book as a resource, and will also train students to write scientific papers based on their research in primary and secondary education. After reading the subak cultural landscape book, the undergraduate students are expected to complete their research by the end of May and produce their theses by August 2014.
Back to PEER Cycle 1 Grant Recipients