Enhancements of research for adaptation of wetlands in Indonesia to projected impacts of sea level rise
PI:
Frida Sidik, Institute for Marine Research and Observation, Ministry of Marine Affairs and Fisheries
U.S. Partner:
Ilka Feller, Smithsonian Institution
Project Dates: October 2012 - September 2014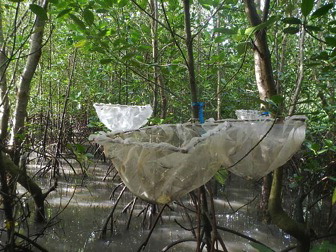 Mesh net (litterbag) on mangrove trees to collect litterfall (Photo courtesy Frida Sidik).
Project Overview
Mangroves are key ecosystems that provide vital services to protect the coasts and fishery resources in Indonesia. Mangroves are the primary coastal barrier in which a range of processes occur that are important to adapting to sea level rise. Indonesia's mangroves are threatened by sea level rise that could cause coastal wetland change and thus increased coastal flooding that will affect those living in coastal areas. Despite the importance of this ecosystem and the fact that Indonesia has the world's largest areas of mangroves, understanding of mangrove responses to sea level rise in this region is lacking.
This project aims to establish a greater understanding of wetland adaptation to sea level rise in Indonesia and to improve the capacity of Indonesian researchers in the monitoring of coastal systems. A mangrove monitoring station will be established to gather information on wetland stability, and the station could serve as a model for the creation of similar marine monitoring sites in other parts of Indonesia. The project also involves data collection and model development to increase knowledge of how mangrove wetlands will respond to sea level changes in Indonesia. The collaborative work of Indonesian-U.S. researchers will promote training and technical expertise development for Indonesian researchers, to be facilitated by the U.S. counterpart with the goal of strengthening Indonesian capacity regarding marine resource adaptation to climate change. Results of this study will be disseminated to the Indonesian scientific and academic communities, as well as to marine resource management officials, who may use the study to gain perspectives on broader implications of climate change and possible policy responses.
Summary of Recent Activities
Periodic field measurements of surface elevation changes and mangrove productivity have continued in 2014, and Dr. Sidik and her associates have also worked on preparing their results for publication. In February 2014 Ms. Nuryani and Mr. Hanggar attended the workshop on "Restoring Coastal Livelihoods," hosted by the Center for International Forestry Research and the Mangrove Action Project in Bogor. They presented a poster on the project and discussed methodology for measuring mangrove adaptation to sea level rises. June 24 through 27, Dr. Sidik took part in the workshop "Adaptation of Mangrove to Sea Level Rise" in Brisbane, Australia. Participants included wetland ecologists from the United States, Indonesia, Australia, New Zealand, Singapore, and Vietnam who are involved in studying mangroves and their relation to rises in sea level using the same techniques used in this project. In parallel with the workshop, Dr. Sidik had the opportunity to hold several meetings aimed at enhancing research capacity and establishing new research networks with U.S. and Australian counterparts, which can be developed further after this project concludes at the end of September 2014.

Junior researcher Faisal Hamzah tests the muffle
furnace for soil analysis (Photo courtesy Frida Sidik).


Nuryani Widagti makes a presentation at an international workshop on
the carbon cycle and climate change in Bali (Photo courtesy Frida Sidik).