DSC
Keck Center
500 5th St NW - KWS 502
Washington, DC 20001
USA

Tel: (202) 334-2800
Fax: (202) 334-2139

Partnerships for enhanced engagement in research (PEER) SCIENCE
Cycle 1 (2011 Deadline)
Marine biodiversity of Raja Ampat Islands: The ARMS, morphology, and genetic approaches for inventorying and monitoring patterns of marine biodiversity
PI:
Abdul-Hamid Toha, State University of Papua
U.S. Partner: Kent Carpenter, Old Dominion University
Project Dates: June 2012 - May 2016
Project Overview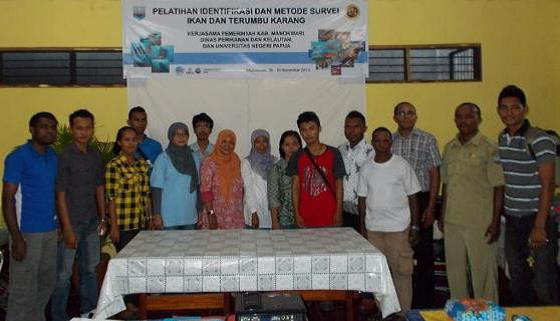 Training session on identification and survey methods of fish and coral reefs, November 2013 (Photo courtesy of Dr. Toha)
Raja Ampat, a remote archipelago of small islands and cays off New Guinea, has gained international scientific attention due to its high marine biodiversity and the discovery of multiple new species of corals and fish. The high levels of marine biodiversity in this region are an important part of Indonesia's natural heritage and global biodiversity. However, our understanding of the processes responsible for shaping biodiversity patterns in this region are still lacking. The goals of this project are to describe the richness, study the status, and explain the spatial and temporal patterns in the biodiversity of Raja Ampat. Interest in these goals has gained momentum due to escalating anthropogenic impacts and the need to conserve resources in important hotspots of endemic species. This study employs a novel tool, Automated Reef Monitoring Structures (ARMS), to monitor marine biodiversity gradients across the Raja Ampat Islands in a standardized, highly efficient, and statistically robust way. Analyses based on DNA barcoding and metagenomics will show (1) whether visual surveys of conspicuous groups like fish and corals (the subjects of traditional surveys) can reliably capture biodiversity patterns for inconspicuous groups (smaller invertebrates, algae, and microbes) that actually comprise the vast majority of marine biodiversity, and (2) whether marine biodiversity varies predictably as a function of conservation management strategy (e.g., Marine Protected Areas).
The results of the project should dramatically improve our understanding of the contemporary processes shaping the distribution of marine biodiversity in the Raja Ampat, providing a scientific foundation to support the sustainability goals of the Papua and Indonesia in general. To reach these goals, the study builds on strong partnerships with UCLA developed as part of a previous NSF
PIRE award
. This project will also build linkages with Brawijaya University, the Indonesian Biodiversity Research Center, the Indonesian Institute of Science, and conservation organizations to provide the intellectual and physical resources to achieve the research aims as well as ensure that these results support conservation planning and the sustainability goals of the Coral Triangle Initiative.
Summary of Recent Activities

In the first quarter of 2015, Dr. Toha and the research team held serial trainings for analyzing genetic data at the State University of Malang, Malang (January-March 2015). This training provided research skills and understanding of genetic approaches to over a dozen PhD candidates so that they can include genetic data in their dissertations and independently collect and verify such data. These trainings will continue into the next quarter and will conclude when all participants can successfully analyze genetic data and publish their results. A national seminar is also planned for May at Brawijaya University.
The team also continued their work in the lab where they explored Raja Ampat invertebrates based on molecular approaches. The research team also released three monthly newsletters and published two papers, Amplifikasi Gen COI dan 16s rRNA dari Invertebrata Laut Plakobranchus ocellatus and Identifikasi Synaptula (Echinodermata: Holothuroidea) Raja Ampat berdasarkan Gen COI. In the coming months, there will be four more research articles published.
The project's monthly newsletter can be found at
www.ibcraja4.org.
Coral rehabilitation in Lemon Island, September 2013 (Photo courtesy of Dr.Toha).
Reed media being readied for deployment at Lemon Island, September 2013
(Photo courtesy of Dr.Toha).
Deployment of ARMS at the bottom of the sea (Photo courtesy of Dr. Toha)
ARMS at Cenderawasih (Photo courtesy of Dr. Toha)