DSC
The National Academies
500 5th St NW - KWS 502
Washington, DC 20001
USA

Tel: (202) 334-2800
Fax: (202) 334-2139

Partnerships for enhanced engagement in research (PEER) SCIENCE
Cycle 1 (2011 Deadline)
Assessing degradation of tropical peat domes and dissolved organic carbon (DOC) export from Belait, Mempawah and Lower Kapuas rivers in Borneo
PI: Gusti Z. Anshari, Universitas Tanjungpura
US Partner:
Charles F. Harvey, Massachusetts Institute of Technology
Project Dates: June 2012 - May 2015
Project Overview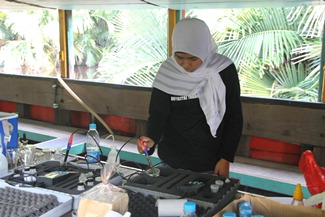 Dr. Anshari's student, Ms. A. Putri, measures pH and conductivity of water samples on the boat during the June 2013 sample campaign (photo courtesy of Dr. Anshari).
The tropical peat lands of Borneo and the rivers that flow through these landscapes are important for supplying natural goods, maintaining livelihoods, conserving biodiversity, and affecting climate. Peat forests and associated rivers provide timber, freshwater fish, and other natural products. Because tropical peats are only stable under water-logged environment, the climate must be sufficiently wet, or peat will not accumulate. Biodiversity also flourishes under a wet climate. Therefore, there is a strong link among sustainability of livelihoods, biodiversity, and the stability of climates. Increasing uses and disturbances of these peat forests and rivers induce degradation of tropical peat domes (including drainage), which leads to an increase of carbon dioxide emissions through the atmosphere and lateral export through rivers to the ocean. As a result, peat degradation not only depletes natural resources but also affects climate stability.
This project aims to link lateral carbon exports by rivers to characterization of peat degradation from satellite data and field measurements. The researchers will contrast rivers in North and South Borneo (i.e., the Belait River in Brunei Darussalam and the Mempawah and the Lower Kapuas Kecil River in West Kalimantan Province, Indonesia). Expected outputs of this joint research project include thematic maps of peat dome degradation and DOC fluxes from the rivers being studied. Although it has been recognized to be important, the fluvial export of carbon from tropical peatlands has rarely been assessed. In this project, sensors will be developed to evaluate DOC fluxes from these rivers to South China Sea with the aim of providing the first accurate measurement of fluvial carbon fluxes from tropical peat lands. This project also aims to increase awareness and knowledge of tropical peat lands, their role, and the impact of their degradation. For this purpose, a reference book and extension materials will be developed and disseminated in both English and Bahasa Indonesia. A multi-stakeholder workshop on the relation between tropical peat lands and climate change will be organized, and a website on climates and tropical peat lands will be constructed.
Summary of Recent Activities
During October through December 2013, the research team completed their survey at a timber plantation in PT Kalimantan Subur Permai (PT KSP). An oil palm and community rubber plantation on the Ambawang peat dome was surveyed and the peat dome depth was mapped. In addition to the already collected 63 samples, the research team cored 75 sample plots. Peat properties, such as water contents, bulk density, and porosity were assessed, and fractions of organic carbon and nitrogen are still under analysis. Two undergraduate students, Elfiandy and M. Yasir, completed their field work and are currently analyzing their collected data. Elfiandy is focusing on carbon stock estimates in peats at an oil palm company in PT Bumi Pratama Khatulistiwa, while M. Yasir is studying peat properties in open and deforested peats of Rasau Jaya Peatland. M.Sc student M. Nuriman completed his fieldwork collecting water samples from drainage canals and measured water discharge from these canals to the Kapuas River during both dry and rainy seasons. Selected metal contents, pH, and dissolved oxygen were measured as well. DOC and particulate organic carbon (POC) variables will be measured at the Indonesia Science Foundation (LIPI) in Cibinong, Bogor using their total organic carbon analyzer. A one-day training on peat water quality, characteristics, and methods for peat water quality assessment was conducted on October 17, 2013, for 15 selected undergraduate students. During October 21-24, 2013, the research team presented their PEER project results at the 11th international conference of the East and Southeast Asia Federation of Soil Science Societies in Bogor. During January 20 - 27, 2014, another sample collection campaign was conducted together with Dr. Laure Gandois and Alison Hoyt. Community outreach against peat burning in small-scale agriculture will continue going forward, and PEER project methods and results are expected be discussed with selected companies as well. In early 2014 Dr. Anshari and his group plan to draft a journal article for international publication, and they are also awaiting the visit of a USAID representative based in Jakarta in February 2014.
| | |
| --- | --- |
| Measurement of peat depth, showing the boundary between peat and the mineral substratum (photo courtesy of Dr. Anshari). | Undergraduate student Ilham measures water conductivity (in situ) (photo courtesy of Dr. Anshari). |