DSC
The National Academies
500 5th St NW - KWS 502
Washington, DC 20001
USA

Tel: (202) 334-2800
Fax: (202) 334-2139

Coral health surveys in COREMAP: building resilience in climate-impacted coral reefs of Indonesia
PI: Jamaluddin Jompa
, Hasanuddin University
U.S. Partner: C.
Drew Harvell, Cornell University
Project Dates: June 2012 - May 2014
Project Overview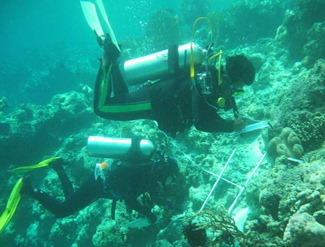 Researchers surveying damaged coral in the fall of 2012 (Photo courtesy Courtney Crouch)
Marine protected areas (no-fish reserves) are the primary mechanism to preserve coral-reef ecosystems and the ecosystem services they provide to coastal communities. However, the ability for marine protected areas to reduce one of the most detrimental impacts to coral reefs, coral disease, is unknown. Coral diseases are often related to colony density and therefore may be more common in protected areas that have high coral cover. Reduced fishing practices within protected areas leads to a more functionally diverse fish community. Herbivorous fishes may reduce algal cover, a potential vector for coral disease transmission, while piscivorous fishes may reduce the populations of corallivores that may spread diseases to corals. This project aims to test the hypothesis that marine protected areas will improve resilience of coral communities and, in particular, reduce the prevalence of coral disease.
Over the last 10 years the Coral Reef Rehabilitation and Management Program (COREMAP), initiated by the government of Indonesia and funded by the World Bank, has created different marine protected areas within the country. COREMAP is a long-term program aimed at protecting, rehabilitating, and achieving sustainable use of the Indonesian coral reefs, the most biologically diverse marine ecosystem in the world. COREMAP is currently training scientists to properly identify coral diseases, and the program aspires to quantify the impact of coral diseases within the protected areas it studies. The current PEER-supported project will involve a paired hierarchical sampling design to test the hypothesis that marine protected areas reduce coral disease prevalence. Over the 18 months of this study, three surveys will take place within selected COREMAP protected areas as well as adjacent unprotected areas that are ecologically similar to the paired site. Each site will be surveyed using a nested approach to account for spatial variations and differences in depth profile. By bringing the complementary skills and expertise of the Indonesian and U.S. researchers to bear, this project
will evaluate the impact of coral diseases throughout Indonesia, the
most coral-diverse region in the world, and will help quantify the efficacy of marine protected areas in reducing
coral disease outbreaks.
Summary of Recent Activities
Field and lab experiments and microbial analyses made up most of the activities on this project during April through June 2013. Three microbial samplings were conducted in May, and field surveys were carried out mainly in the Spermonde Archipelago to study seasonality patterns in Black Band Diseases, which have been unusually prevalent around the Barrang Lompo Reefs off Makassar. As for training activities, Dr. Jompa sent two students/research assistants (Awaludinnoer Ahmad and Suharto) to his U.S. partner's lab at Cornell University April 28 through May 16. They acquired new skills in sample processing, data analysis, and presentation of results. Later in the summer, Dr. Jompa took part in the U.S.-Indonesian Kavli Frontiers of Science Symposium in Bali June 23-27, where he made a flash talk and poster presentation about his project. In the coming three to six months, he and his team plan broader surveys on coral diseases at various sites around Indonesia, as well as additional microbial identification and analysis of samples collected.
| | |
| --- | --- |
| Indonesian and U.S. project participants prepare for another survey dive (photo courtesy of Dr. Jompa) | Field training on coral diseases at Barang Lompo Island, March 9, 2013 (photo courtesy of Dr. Jompa) |