Partnerships for enhanced engagement in research (PEER) SCIENCE
Cycle 1 (2011 Deadline)
Determining sources and health impacts of particulate matter in Ulaanbaatar City to aid and assess current air pollution mitigation efforts
PI:
Sereeter Lodoysamba, National University of Mongolia
U.S. Partner: Christa Hasenkopf
, University of Colorado

Project Dates: June 2012 - August 2014
Project Overview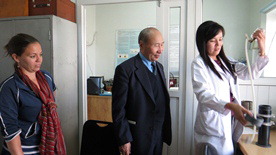 Prof. Sereeter Lodoysamba (center) with U.S. partner Dr. Christa Hasenkopf (left) supervising one of the students.

The air quality in the capital city of Mongolia, Ulaanbaatar, is some of the worst in the world, with particulate matter (PM) levels some 17 to 35 times levels recommended by the World Health Organization. Such high PM levels are due to the natural geography of Ulaanbaatar, which is situated between two mountain ranges, the high concentration of the population that use traditional stoves to heat poorly insulated felt tents, and the subarctic climate that requires indoor heating up to nine months out of the year. Recently, donor organizations such as the United States government's Millennium Challenge Corporation and the World Bank have taken several air pollution mitigation measures in conjunction with the Mongolian government. These measures include selling more efficient stoves and offering cheap, alternative fuels. Despite these efforts, there is not currently a robust method of monitoring the progress of these actions, in terms of air pollution concentrations or health impacts.

This project will address the situation in two ways. First, the researchers perform continuous measurements over an entire year at one site in Ulaanbaatar that will assess the amount of PM and its source appointment. They will compare the data obtained over the course of the year with a similar study conducted in 2008?2009 at the same air quality station. With these data, they will evaluate and assess the impact of current air pollution mitigation efforts. Second, they will also determine morbidity and mortality due to air pollution via analysis of hospital records and will compare their findings with similar research reported in a recent World Bank Study. The results from the project will be shared widely with the local community and specifically with various Mongolian agencies involved in air pollution mitigation measures.


Summary of Recent Activities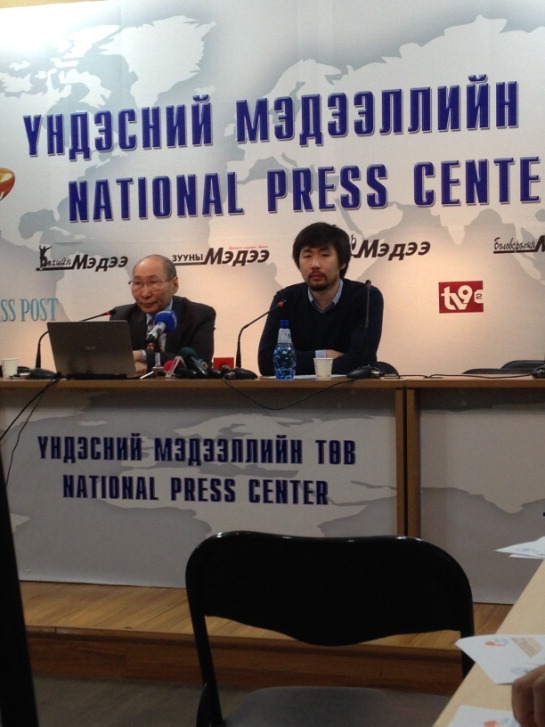 Prof. Lodoysamba (at left) appears at press conference, December 2013.
During October-December 2013, the research team continued collection of medical data from Enkhiin Sanaa Family Hospital, and preliminary results of the study were posted on the
wiki ubairpollution.org
. As planned, in November 2013, Prof. Lodoysamba participated at the Urban Environmental Pollution 2013 Asian Edition (UEP2013) Conference in Beijing, where he presented the results of the study. Soon after, he was invited and participated in a meeting of the Air Pollution Standing Committee of Parliament on November 27, 2013, and had consultations with Ms. S. Ouyn, Minister of Environment and Green Development, and Mr. T. Bat-Erdene, Vice-mayor of Ulaanbaatar, regarding air pollution mitigation measures. On December 25, 2013, Prof. Lodoysamba attended a meeting with Mongolian Prime Minister N. Altanhuyag on air pollution mitigation. Outreach continued in the United States as well: in December 2013, U.S. partner Dr. Christa Hasenkopf presented a poster entitled "Getting the Public Addicted to Scientific Data Through Social Media" at the annual American Geophysical Union conference in San Francisco, CA, garnering interest from the University of Colorado's Cooperative Institute for Research in Environmental Sciences. Automatic tweets of PM
2.5
concentrations at the National University of Mongolia began in May 2013 and have continued through the present. As a result of the ongoing outreach, the research team received a grant from the Oyu Tolgoi Company and are now installing their own automatically-tweeting/Facebook-posting monitor. On December 24, 2013, a press conference on this project and on the air pollution issues facing Ulaanbaatar city was organized at the press center of the newspaper Zuunii Medee.
In the first half of 2014, the team is anticipating to complete black carbon data analysis, data processing on PM concentration and pollution source apportionment, and data quality assessment. A seminar on the results of the project will be organized at the National University of Mongolia, and a paper on Ulaanbaatar air pollution featuring both Lodoysamba and Hasenkopf as authors will be submitted for publication in a peer-reviewed journal as well. Pending submission of a second paper from the PEER collaborator, the collected data will be shared online. This group may be followed on both Facebook and Twitter.