DSC
Keck Center
500 5th St NW - KWS 502
Washington, DC 20001
USA

Tel: (202) 334-2800
Fax: (202) 334-2139

Cycle 1 (2011 Deadline)
Impacts of climate change on freshwater and fisheries resources of the Lake Hovsgol watershed
PI:
Mendsaikhan Bud, Mongol Ecology Center
US Partner:
Olaf Jensen, Rutgers University
Project Dates: May 2012 - November 2014
Project Overview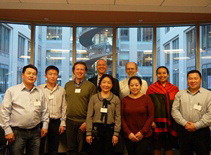 PI Dr. Mendsaikhan Bud and U.S. partner Dr. Olaf Jensen with Mongolian students and USAID, NSF, and NAS staff during the team's visit to Washington DC.
Climate change in Northern Mongolia presents extremely serious ecological and economic risks. Air temperatures have already risen by 1.7°C over the past 40 years. In recent years, hot dry summers followed by harsh winters have resulted in massive livestock die-offs called zuds. In the zud of 2009-2010, an estimated 8 million head of livestock died, pushing many of their owners into poverty and driving migration from rural areas into the city. Mongolia's aquatic ecosystems and growing freshwater fisheries may also be at risk from climate change. Lake Hovsgol is an ancient rift lake that contains nearly 70 percent of Mongolia's fresh water. The "Blue Pearl" is also a premier destination within Mongolia, both for Mongolians and for foreign tourists. Despite Lake Hovsgol's importance and designation as a national park, it is threatened by climate change, rapid unplanned development, and poorly enforced conservation laws. Given the lack of adequate monitoring, it is difficult to determine the extent to which these stressors have already altered the lake's ecology.
Over the last decade, the recreational fishery for taimen (Hucho taimen, the world's largest salmonid) has been growing rapidly, bringing much needed income to rural areas. An illegal commercial fishery for the endemic Hovsgol grayling (Thymallus nigrescens) also appears to be growing, although data are scarce. Taimen and Hovsgol grayling are endangered species, and the combined impacts of fishing and climate change on their populations are poorly understood. Salmonids like taimen and grayling are extremely sensitive to warm water and associated low oxygen levels, and both species in Mongolia are at the southern edge of their range where climate change impacts are likely to be most strongly felt. This project aims to improve the understanding of links between climate and the ability of Lake Hovsgol and its major outflow, the Eg River, to support important and endangered fish species. A strong understanding of Mongolia's lakes and rivers, by well-trained Mongolian aquatic scientists, will be crucial if mining, tourist development, and fisheries are to be sustainable in a changing world.
Summary of Recent Activities
As planned, Dr. Mendsaikhan and her team hosted U.S. partner Dr. Jensen and his team in Mongolia over the summer. The highlight of this period was a four week expedition to the Eg-Uur watershed and Lake Hovsgol during the months of July and August. During this trip, the teams collaborated in a multitude of monitoring activities including the tagging and tracking of two taimen and two lenok fish species, the studying of fish populations and their distribution, and the mapping of the benthic habitat in the lower Eg River, both via side scan sonar. Additionally, the teams deployed 12 real-time monitoring devices in the Eg River. These devices measure water level, pressure, and temperature, and, while the results are currently only available internally, the team plans on integrating the information onto the project website in the near future.

In late October, Dr. Mendsaikhan and her team will make their final project trip to the Eg-Uur watershed and Lake Hovsgol. The focus of this trip will be on field research and training in field ecology techniques.
| | |
| --- | --- |
| Dr. Mendsaikhan Bud with U.S. partner Dr. Olaf Jensen. | Dr. Bud and her students retrieving deployed fish nets. |