DSC
The National Academies
500 5th St NW - KWS 502
Washington, DC 20001
USA

Tel: (202) 334-2800
Fax: (202) 334-2139

Cycle 1 (2011 Deadline)
Impacts of climate change on freshwater and fisheries resources of the Lake Hovsgol watershed
PI:
Mendsaikhan Bud, Mongol Ecology Center
US Partner:
Olaf Jensen, Rutgers University
Project Dates: May 2012 - November 2014
Project Overview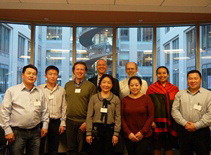 PI Dr. Mendsaikhan Bud and U.S. partner Dr. Olaf Jensen with Mongolian students and USAID, NSF, and NAS staff during the team's visit to Washington DC.
Climate change in Northern Mongolia presents extremely serious ecological and economic risks. Air temperatures have already risen by 1.7°C over the past 40 years. In recent years, hot dry summers followed by harsh winters have resulted in massive livestock die-offs called zuds. In the zud of 2009-2010, an estimated 8 million head of livestock died, pushing many of their owners into poverty and driving migration from rural areas into the city. Mongolia's aquatic ecosystems and growing freshwater fisheries may also be at risk from climate change. Lake Hovsgol is an ancient rift lake that contains nearly 70 percent of Mongolia's fresh water. The "Blue Pearl" is also a premier destination within Mongolia, both for Mongolians and for foreign tourists. Despite Lake Hovsgol's importance and designation as a national park, it is threatened by climate change, rapid unplanned development, and poorly enforced conservation laws. Given the lack of adequate monitoring, it is difficult to determine the extent to which these stressors have already altered the lake's ecology.
Over the last decade, the recreational fishery for taimen (Hucho taimen, the world's largest salmonid) has been growing rapidly, bringing much needed income to rural areas. An illegal commercial fishery for the endemic Hovsgol grayling (Thymallus nigrescens) also appears to be growing, although data are scarce. Taimen and Hovsgol grayling are endangered species, and the combined impacts of fishing and climate change on their populations are poorly understood. Salmonids like taimen and grayling are extremely sensitive to warm water and associated low oxygen levels, and both species in Mongolia are at the southern edge of their range where climate change impacts are likely to be most strongly felt. This project aims to improve the understanding of links between climate and the ability of Lake Hovsgol and its major outflow, the Eg River, to support important and endangered fish species. A strong understanding of Mongolia's lakes and rivers, by well-trained Mongolian aquatic scientists, will be crucial if mining, tourist development, and fisheries are to be sustainable in a changing world.
Summary of Recent Activities
Dr. Mendsaikhan Bud, two Mongolian students, and a conservation ranger visited Rutgers University January 2-17, 2014, to receive training from Rutgers faculty and graduate students in several methods and techniques used by aquatic ecologists. In particular, they learned how to prepare fish otoliths (ear bones) for analysis and how to use the results to estimate the ages of fish species like lenok and Arctic and Hovsgol grayling. Similar to tree rings, otoliths contain annual rings that can be used to determine the age of a fish if properly prepared and interpreted. During the visit, the Mongolian participants also gained experience in graphical and statistical analysis of ecological data using the free open-source statistical software R and worked with their U.S. partner and his group to prepare scientific manuscripts for submission to peer-reviewed journals for publication.
Following their usual practice, Dr. Mendsaikhan and her team are hosting U.S. partner Dr. Olaf Jensen and his students for joint field work this summer. In mid-June they made a field visit to the Eg River, where they established a satellite-linked water level and temperature monitoring site. This system provides real-time data on the river and is the first of its kind in Mongolia. Currently accessible only through a password-protected private website, the data will eventually be integrated into the researchers'
project website
for full public access. At present, the data are primarily useful to the team for planning their field work. In the near future, as cell phone Internet becomes more widely available in Mongolia, the information may also be useful to the general public, as there are few bridges in this area and people routinely drive across shallow sections of the river when the water level is low enough. Instead of driving several hours only to find that the crossing is too deep, people will be able to check the water level on their phones.
| | |
| --- | --- |
| Dr. Mendsaikhan Bud with U.S. partner Dr. Olaf Jensen. | Dr. Bud and her students retrieving deployed fish nets. |