Partnerships for enhanced engagement in research (PEER) SCIENCE
Cycle 1 (2011 Deadline)
Enhancing marine natural resource and biodiversity management in the Philippines by extending population connectivity research
PI:
Maria Carmen Ablan Lagman, De La Salle University
U.S. Partner:
Kent Carpenter, Old Dominion University
Project Dates: June 2012 - December 2015
Project Overview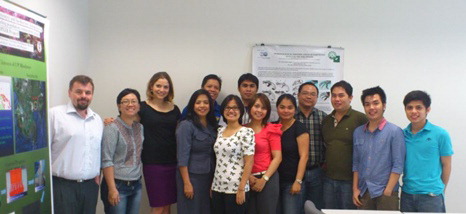 This research group presented its data through posters during the March 2013 visit of Dr. Drika Weller, a AAAS fellow on the PEER Science steering committee. Dr. Kerry Reeves and Ms. Becky Guieb of the USAID mission in Manila also participated.
Severe declines in fisheries resources have implications for millions of coastal families dependent on fisheries for food and livelihood in developing countries. In most cases, the communities dependent on the resources have very few alternatives to the loss of their fisheries-based livelihoods when resources are devastated. Fisheries in these areas urgently need management strategies that will not only halt overfishing and habitat degradation but also hasten recovery of fish stocks. Recovery and eventual sustainability of fisheries subjected to intense fishing pressure hinge on the availability of new recruits and their success in replenishing resources harvested from the system. Information on spatial structure of populations and connectivity will potentially benefit management efforts related to fisheries because it contributes to answering the biological question "why do species occur where they occur?" and "how can we ensure survival of populations in an area?".
This project will use naturally occurring genetic tags to obtain the information needed. Genetic markers will be screened using a recently developed technology called NextGen sequencing. The selected markers will be retrieved from samples from populations within selected bioregions in the Philippines and analyzed to determine which populations have distinct genetic signatures across the Philippine archipelago, likely to be dependent on other populations. This project compliments two major USAID programs, the Coral Triangle Initiative and the Global FISH Alliance. It will provide badly needed biological information on fish stock structure and population connectivity that should help local and regional agencies in setting and implementing fishery management policies to ensure that viable populations survive and thrive.
Summary of Current Activities
For this PI and her multi-institution team, the third quarter of 2014 was focused on catching up on data gathering and projecting work flow for the next six months. Dr. Ablan Lagman visited with each of the project leaders and their staffs in July and August to discuss samples and loci already completed for analysis, as well as needs for individual instruction, analysis, or help in preparing manuscripts for submission. The University of the Philippines Marine Science Institute (UPMSI), De La Salle University (DLSU), and National Fisheries Research and Development Institute (NFRDI) are on track in terms of their delivery. First drafts of two manuscripts on the mud crab work have been completed, along with a manuscript on the sea cucumber. Silliman University (SU) and the University of the Philippines Mindanao (UP MIN) need to catch up. SU and UP MIN have encountered problems in the last three months related to operations and training of new personnel. Dr. Ablan Lagman will be visiting SU by mid-November to figure out the arrangements on data gathering. Ms. Catherine Otero and Ms. Leslie Bernolo are scheduled to come to DLSU November 26-30 for one-on-one instruction on the analysis of their microsatellite data.
In other news, Dr. Ablan Lagman attended the 3rd U.S. Embassy Seminar for Regional Media Focus: Environment, Science and Technology and Law Enforcement, September 15-16, 2014. On the second day of the event, she gave a talk on communicating conservation to the younger generation. She provided guidelines and featured the PEER PhilFishConnect project and its website
www.Philgenesdiversity.com
as examples of outreach strategies.
| | |
| --- | --- |
| | |
| The study has given the opportunity to some of Dr. Lagman's undergraduate students to assist. Photo courtesy of Dr. Lagman | Microsatellite Marker Data Analysis Workshop participants. Photo courtesy of Dr. Lagman |