Partnerships for enhanced engagement in research (PEER) SCIENCE
Cycle 1 (2011 Deadline)
Assessment of impacts of the emission reduction measures of short-lived climate forcers on air quality and climate in SE Asia
PI:
Nguyen Thi Kim Oanh, Asian Institute of Technology (AIT)

Co-PIs: Huang Xuan Co, Hanoi University of Sciences (HUS) Vietnam National University;
Asep Sofyan, Institute of Technology Bandung (ITB); and

Nguyen Tri Quang Hung, Nong Lam University (NLU)
US Partner:
Philip Hopke, Clarkson University
Project Dates: June 2012 - December 2015
Project Overview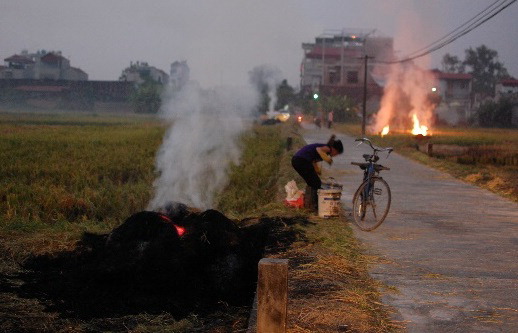 Open burning of rice straw on the outskirts of Hanoi, fall 2014 (photo courtesy Dr. Kim Oanh).
In Southeast Asia (SEA) the levels of strong short-lived climate forcers (SLCFs) such as black carbon and tropospheric ozone have been reported to be high and increasing, which may have multiple effects on air quality, health, crops, and climate. SEA is also recognized as a major emitter of both air pollution and climate forcers in Asia, with several typical emission source types of importance such as agroresidue field burning, residential combustion, solid waste open burning, and small and medium industries. As yet, no comprehensive study has been conducted to explore quantitative links between the SEA source emission intensity and resulting air quality, the associated effects, and the climate impacts within the region and beyond. To meet the need for data and analysis on the topic, this project will bring together leading SEA and U.S. research groups to study air pollution – climate interactions. The project will involve assessment of the impacts of various mitigation measures of important SLCFs in the SEA region on air quality and climate using a co-benefit approach and will generate a scientific basis for policy recommendations to integrate air quality and climate policies.
The concrete objectives and planned activities of this project include a comprehensive emission inventory database of key air pollutants and climate forcers for major emission sources for SEA, development of action plans for emission reduction, and pilot scale emission reduction projects for the target sources in selected SEA countries. Two countries, Indonesia and Vietnam, were selected for the emission inventory and pilot scale projects. The target sources will be selected based on the results of the emission inventory and should have the potential to multiply, such as agroresidue field burning, solid waste open burning, and residential cooking. Realistic emission reduction scenarios will be developed and assessed using a modeling tool. Through its involvement of researchers from Vietnam, Indonesia, and the United States, the project should create new knowledge on the interactions between emissions, local and regional air quality, and regional climate as it promotes the development of a strong research network.
Summary of Recent Activities
During the third quarter of 2014, PI Dr. Nguyen Thi Kim Oanh of AIT continued coordinating this multifaceted, multinational project. She and her team in Bangkok completed an emission inventory (EI) regarding residential cooking in Yangon (Myanmar) and updated the EI database for Southeast Asia (SEA) focusing on anthropogenic sources in Vietnam, Phnom Penh (Cambodia), and vehicular traffic in Yangon. Mapping of levels of short-lived climate pollutants (SLCPs) in SEA was updated with the additional data compiled by AIT and the three other Asian institutional partners on the project. Activities focused on reducing emissions from rice straw (RS) field burning, an AIT target source, have begun with preparations for experiments to produce cooking fuel (briquettes) by RS densification.
| | |
| --- | --- |
| | |
| Students from HUS visiting a monitoring site at the Athletic Vocational School, Nam Tu Liem District, Hanoi (photo courtesy Dr. Kim Oanh). | ITB researchers install an air quality monitoring system in Karawang, August 2014 (photo courtesy Dr. Kim Oanh). |
ITB, HUS, and NLU collected data to update the national EI and SLCP databases. ITB collected and compiled available black carbon data in Jakarta, Bandung, Semarang, and Surabaya and simulated black carbon in ambient air using the WRF/Chem air quality model. In Vietnam, HUS completed a preliminary EI for industrial sources in Vietnam for 2010 and started an ambient air pollution monitoring campaign during the October 2014 RS field burning period. NLU conducted surveys regarding open burning and domestic combustion activities using agro-residue in the suburbs of Ho Chi Minh City and An Giang Province. NLU also began testing RS bio-charcoal products in Tien Giang Province. Networking and outreach efforts have been expanded through the meetings of teams from the four participating institutes with their national partners and stakeholders (organizations and local governments) and through field visits and participation of PEER project partners in workshops and conferences.
In the last quarter of this year, the project database on SLCP levels and EI will be compiled to cover all four participating countries. The selected air quality-climate model system will be operated for the SEA domain, and frameworks for activities for reducing target source emissions will be finalized. The project teams will also continue cooperating with national partners for research dissemination and policy recommendations.